Uloops Studio for Android Reviewed
Handheld FruityLoops!
Mobile phones are becoming more and more involved with music production, mainly as devices for recording guitar or vocal demos. If you're more of a fan of electronic music, however, you might care to try Uloops.
Taking advantage of the tools provided on the Uloops website, this is a portable music sequencer app for Android, effectively a handheld version of the popular FruityLoops software. Using this app you can create a variety of different tunes by taking advantage of the sample loops provided in the app and play these back for the enjoyment of yourself or others.
Several similar apps are already available for Android, so as well as establishing if Uloops is any good, this review will help you decide whether or not this is the right choice for anyone looking for a sequencer app.
Uloops Mobile Sequencer for Android
Designed for all versions of Android, Uloops should be able to work on pretty much any handset as there is little in the way of sensor or touch-screen related special features to this application - just lots of music making wonder!
Two versions of Uloops are available for Android. The free version is ad-supported, while the premium version can be downloaded for $7.49. The pro release includes a six month subscription, while both versions require registration. Both versions support App2SD to allow you to store the app on your expansion card.
For your copy, search the Android Market or use a QR code via a site such as www.appbrain.com. Full details on the app and its use can be found at uloops.net.
Portable Studio Features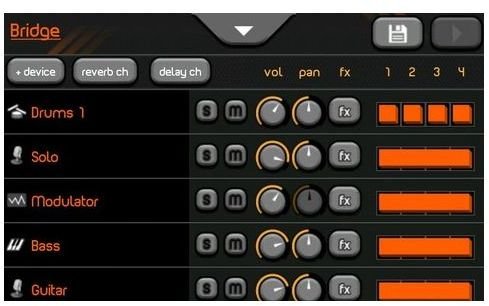 The feature list of Uloops is impressive, offering a microphone, instruments and full track-building functionality. The following list is a bare summary of the complete list of features, some of which are exclusive to the paid version:
12-channels loop-oriented sequencer with MP3 export.
Sound Recorder with noise reduction and other equalization.
Polyphonic synthesizer with 125 instruments.
Drum Machine with 35 drum kits.
Song Sequencer with publishing.
Access to a user community.
While there are other music making apps for Android, none has the comprehensive feature list and functionality offered by Uloops.
Simple User Interface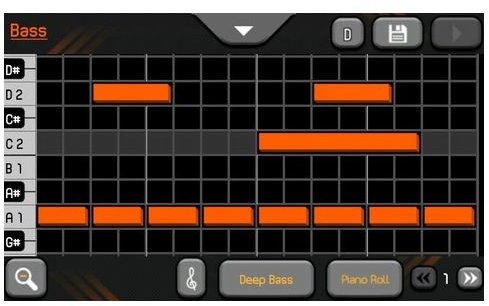 Uloops features a superb and intuitive user interface, enabling quick understanding and interaction with the massive selection of features. While it might appear on first glance that adjusting a dial on a touch-sensitive display might prove difficult, adjusting gain on a specific track is easily done.
Whether you're tapping something out on the keyboard or building a drum track, sequencing a full track from your own manual recordings or downloaded loops, for a sequencer app this is surprisingly easy to use; arguably it's easier to use than many popular desktop applications offering the same functionality.
Get Sequencing! (5 out of 5)
Fifteen years ago I was writing and recording demos on an expensive multi-track portable device with a small hard drive - little did I know that making music would move right out of the studio and onto a mobile phone!
An effective and interesting tool, Uloops is capable of producing superb results when unleashed with the power of your own imagination and musical tastes. Finished tracks can be uploaded to uloops.net and rated by others, while your user profile can be completed and used to promote your tracks and talent.
Uloops is a feature packed mobile music composition app and it is something no Android using musician should be without!
References
All screenshots and references via www.appbrain.com, https://www.appbrain.com/search?q=uloops