Appsfire Android App Review
Finding Good Android Apps
As the Android platform grows ever more popular, the number of apps released in the Android Market is increasing at an amazing rate. There are thousands of great apps to choose from, but an awful lot of the apps being released are not worth your time. You can always check out articles on the best apps such as 20 Best Free Android Apps, and you can find links to loads of recommendation articles in our Guide to Android App Reviews.
A new alternative that is emerging is apps which are designed to highlight the cream of the crop for you. These app recommendation applications are convenient to use, and there are more of them appearing every day. Appsfire is available for Android and iOS and, much like AppAdvice on the iPhone, it aims to help you find great apps.
Appsfire Features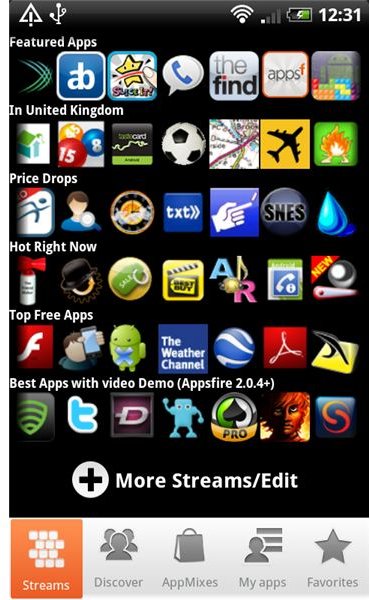 When you open Appsfire for the first time, you'll be greeted by a mini tutorial that let's you learn how to use the app. The menu sits along the bottom, and is clear and easy to use. It is divided into Streams, Discover, AppMixes, My apps and Favorites.
The first screen is the Streams, which by default, offers you various categories including Featured Apps, In United Kingdom (this will default to your location), Price Drops, Hot Right Now, Top Free Apps and Best Apps with Video Demo. At the bottom you'll find the option to edit or add more streams, and you can select from a larger list and simply tick the ones you want by tapping on them. It is easy and efficient, so far, so good.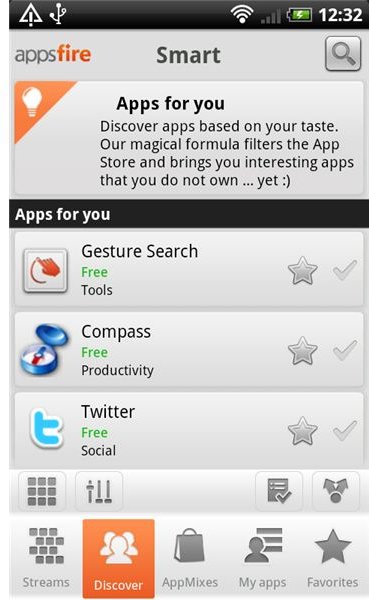 If you go into Discover you'll find some clever options. You can link up your Facebook account, and find out what apps your friends are using (assuming they use Appsfire). You can check out what VIPs are using, though I'm not sure what the criteria are for being listed as a VIP (I didn't recognize any of the names). You can see what's hot with other Appsfire users, and there are a few other options too. Most interesting is the "Apps for you" option, which allows you to let Appsfire scan your existing apps list and make a recommendation on what it thinks you might like. It takes a while to come up with the recommendation, and to be honest I wasn't very impressed with what it came up with – a smattering of typical popular apps.
App Management with Appsfire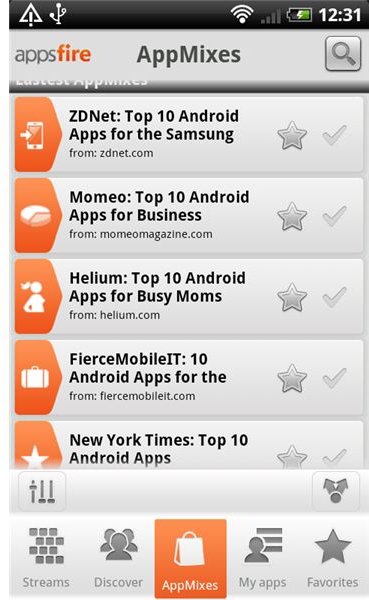 Once your apps are scanned you can see a complete list from the My apps tab. This is well thought out, because it highlights apps that have available updates, and it also allows you to move any eligible apps to the SD card. In addition, you can mark your favorites and they'll appear in your Favorites category. Any app you click on will provide you with the full description, screenshots and video demo (if available). You'll also see a meter denoting how "hot" it is, and get the option to install, or if already installed, update or move to SD card (if applicable). In addition you can mark your favorite apps, or share them via options at the top.
The final Appsfire tab is AppMixes, and this is a great addition. It basically lists app round-ups from websites, and covers all sorts of different categories - if you click through you'll just get the app lists, it doesn't actually link you to the article. The only slight problem with this is that it clearly trawls from the first page of the article, so for example, if a top ten article is split into two pages it only lists the five apps that are on the first page (it's a minor complaint).
Verdict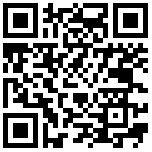 The Appsfire app is well designed, with an attractive and easy to navigate interface. There are recommendations in various categories, and the added ability to manage your existing apps is a clever inclusion. If you use a lot of apps then this will undoubtedly prove to be a useful tool for you. The fact it highlights recent price drops is another great touch that could save you some money.
On the downside it did crash once when I exited via the home button (tested on my HTC Desire), but this wasn't a reproducible bug and I've used it without fault several times.
Overall Appsfire is well executed and worthy of recommendation. It is also completely free so there's no real reason not to check it out. You can find out more at the Appsfire website or use the QR code to download it.