Best Android App: Time Billing Tracker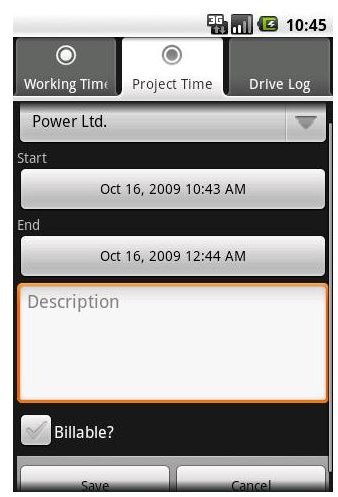 Android App: Time Billing Tracker
An effective time billing solution is essential for those who charge their clients for time spent completing a project, and time spent driving to assignments. This article covers virtual punch clock apps for Android phones.
timr
This is a multi-user time billing solution. You simply specify the account you want to bill or track, start the timer and then stop it when you are done working. You can also use the app to track time spent working on a project, or the time spent driving to and from an assignment. If you forget to stop the time, you can log on to a special website to make the necessary corrections. Yes website, this app integrates with timr.com, which you have to pay a fee to use. Fees are charged on a per user basis that starts at $10.95 per month for a solo user, and rises to well over $250 for 50 users and more.
There is also an Enterprise version that you can buy outright, but if you choose this option you will need to install your own servers to support the app. There is a free version for single users, but it restricts you to tracking no more than 5 tasks, no more than 2 work types and just one drive log. In any case, you will need to still sign up even if you choose the 30-day trial. You can download the app from this link.
Time Tracker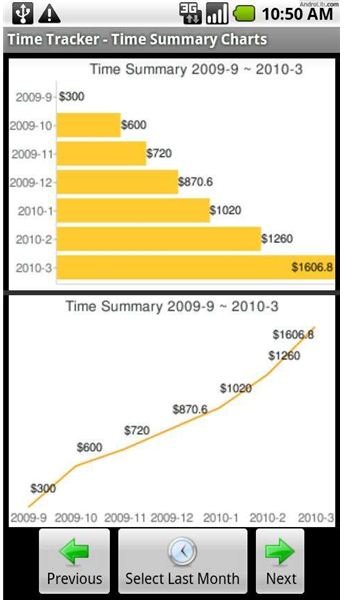 This is a flexible solution for tracking everything from hourly projects, to grants or billable time for tax purposes. When it comes time to analyze the records you can do so with the charting feature to review when and by how much you worked on a particular assignment. Some notable features include:
Support for multiple clients, projects and tasks.
Monthly summary report.
Charting and filtering capabilities.
Password protection.
Backup and restore capabilities.
Time Tracker costs $12.99 and can be downloaded from this link.
Timesheet2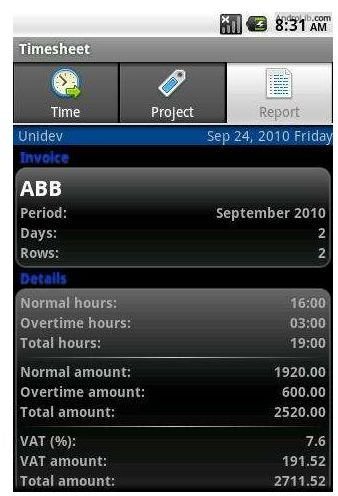 This is perhaps the best Android time billing app. In addition to being able to record the specifics of work duration, and the project or client to be billed, you can specify overtime charges, expenses and miles traveled to the destination, apply tax and include notes on the type of work that was done. The app also has export (CSV and email), backup and restore features. Best of all, the app costs only $1.55 to download and use. You can download a copy of the app here.
TimeClock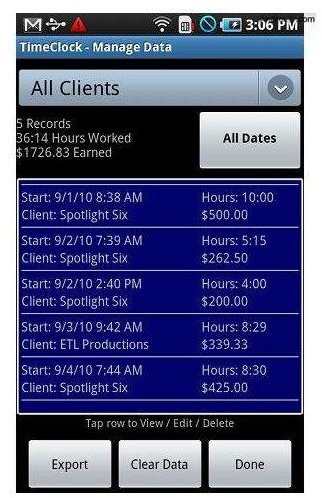 This is a great time billing Android app for lawyers. The app can track the hours worked, clients to be billed and store notes on the type of work that was done. It can also be customized to calculate the fees that are due. If you make a mistake while entering billable information, you can also go back and edit each record after the fact. When it comes time to send your client a bill, you can filter all records by client name and view the total that is billable on each project. TimeClock costs $3.99 and can be downloaded from this link.
Image Credits:
Timesheet2 - Android timecard app
timr - Android bill tracker app
Time Tracker – Android Timecard, Project Time and expense Tracking App
TimeClock - Android apps for lawyers