Outdoors Apps: Android Applications for Hunting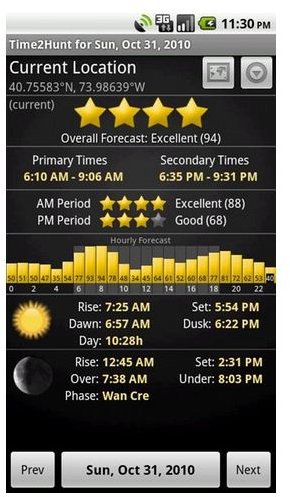 An important part of having a successful hunt is knowing what times the animals are likely to be up and about, knowing how to get to a good hunting spot and having the right tools and resources. Here are some Android applications for hunting to make your next trip a success.
Time2Hunt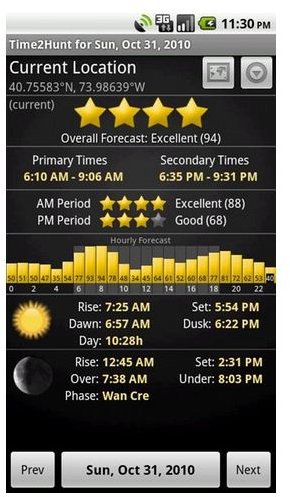 Time2Hunt was created specifically for deer and elk hunting; it is designed to forecast what is the best time to go hunting using complex solar/lunar data. The app ranks the best hunting times on a score/rank basis and suggests the best and next best time interval to go out.
The app also provides important bits of information such as the moon phase, sunrise and sunset, which is important information to help you maintain your cover in darkness. You can download a copy of this app from the QR Code. If you decide to get Time2Hunt you will have to pay $2.99 though.
Hunter Calendar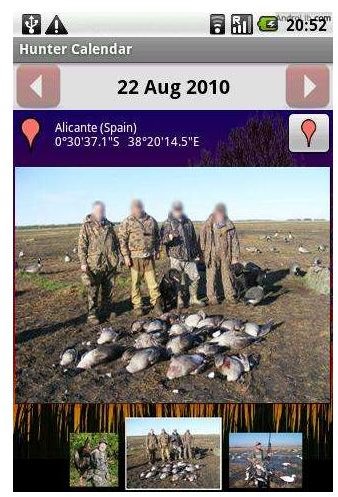 Like Time2Hunt this app tells you when is the best time to be out hunting. The app shows the best moon phase days and hours to go hunting. The app also has a photo sharing and ranking feature with which you can add notes to the map, which will help you mark the location where you got the most action. The app does more than just tell you when the best times to go out hunting are, it also gives location specific information for your area, and will even work in hunting locations around the world. Hunter Calendar costs $4.00.
Favorite Animal Calls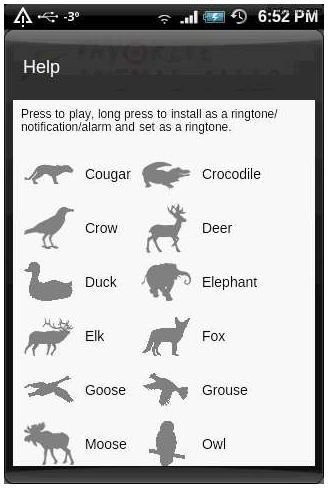 One of the fun parts about hunting is the chase or stalk, but if you prefer to have the animals come to you then you will need an animal call tool. Favorite Animal Calls has audio that can mimic the call of game such as elk, moose, rabbit, duck and deer. You can also mimic the sounds of predators such as the wolf, owl, cougar, and rattlesnake.
By no means does this Android hunting app have a comprehensive list of animal calls; nevertheless you are likely to find the call for your favorite animal in the app. As with other animal call apps, you may find the audio volume too low to be really effective. In any case, users have reported that they have attracted animals with this app in real-world outdoor situations. The app is free.
Army Survival Guide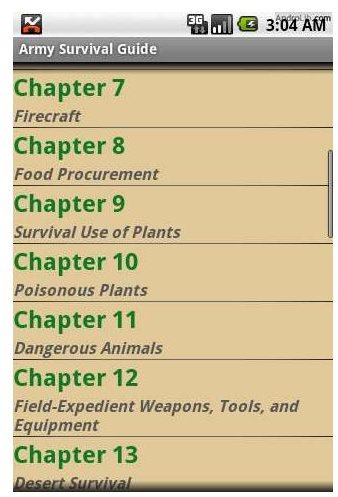 Sometimes nature can turn the tide and make a fun-intended hunting trip into a fight for survival. If you are going into the great outdoors it is a good idea to have some outdoors survival skills, or at least have an outdoors survival guide on your person. Army Survival Guide for Android has great information to help you survive and even thrive in difficult situations. The app has information on firecraft, food procurement, poisonous plants, dangerous animals and how to make the most of your environment to keep yourself alive. The app costs $0.99.
GPSHunt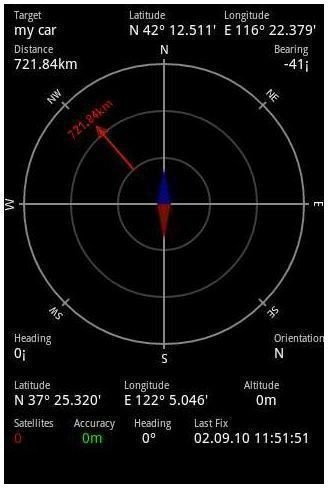 It is good to know that there are satellites above that can help you navigate your way around the most remote of places, but you will need the right device to do so. Call your Android phone to GPS duty by installing GPSHunt before you go on your next hunting trip. You can use the app to find your way back to important waypoints (i.e. your car, a brook, or a successful hunting spot) or use it to play a GPS game of hide-and-seek to add more fun to your next outdoor excursion. The app is free.
Other Android Applications for Hunting
There are a host of hunting guides for Arkansas, Florida, Indiana, Oklahoma, Alaska and similar areas with many more apps that provide animal calls, but we only included those that can be highly recommended. If, for example you are interested in finding a hunting guide specifically for your area you can try AndroidPit.
References