Use Moxier Mail as Your Android ActiveSync Task App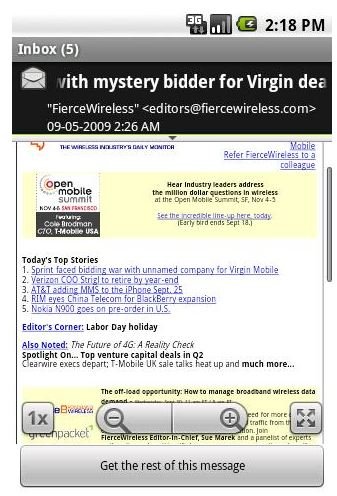 Access Exchange Mail on Android
By connecting a Windows Mobile phone to a PC with Microsoft ActiveSync installed, you can sync calendar and contacts information, even emails and web pages for viewing offline.
Thanks to mobile internet, ActiveSync can also be used to sync an email account with an Exchange server, ensuring push email and calendar updates can be received while in transit and maximising the potential for business use. This is a feature that Android can only manage natively with Google email accounts.
Syncing a Windows Mobile phone with ActiveSync is a simple matter – but what about an Android cell phone?
For this you need Moxier Mail, which might already be included on your Android.
System Requirements and Download Link
Designed for all Android users, Moxier Mail (Exchange Server) provides email, calendar, contacts and task sync with a Microsoft Exchange server. This means that you can utilise all of the same mobile email services that you previously enjoyed with Windows Mobile!
If your phone didn't come with Moxier Mail installed, this small suite of mobile Exchange clients is available via the Android Market for $24.99. This might seem quite expensive compared to other apps, but it does include other features such as remote wipe.
You can download Moxier Mail either directly via the Android Market or using a QR link found at www.appbrain.com/app/moxier-mail.
Moxier – An Android ActiveSync/Exchange Client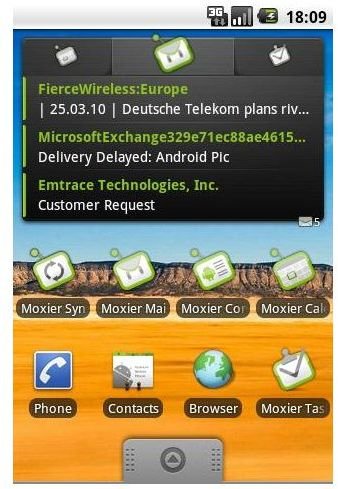 Using Moxier you can synchronise calendars, mail, contacts and tasks. Application setup takes place via any of the client widgets on first run, where you need to enter your Exchange server email address, username and password.
Naturally your Exchange server will need to be configured to sync with external connections if it isn't already. Note that you can only use the Moxier app with mobile internet.
With these details entered Moxier will begin connecting to your Exchange server and allow you to make some configuration options such as deciding which items to sync.
Ease of Use
Access to your email, calendar, tasks and contacts is via individual item widgets found on the programs menu on your Android phone. These can easily be setup as widgets on your Android home screen, and the email and calendar widgets will notify you of any changes such as new emails and appointments.
Note that there is a limitation with Moxier Mail (Exchange Server) in the shape of a single mail box. If you have multiple exchange accounts you will have to decide which one you're going to use when mobile.
Performance Issues Let Moxier Down (3 out of 5)
This calendar, mail and tasks app is effectively an Android ActiveSync replacement, fulfilling all of the same functions as Microsoft's mobile sync tool on Windows Mobile 6.0 and 6.5. Sadly this isn't where the similarities end – Moxier Mail (Exchange Server) isn't 100% reliable and includes various speed and performance issues, particularly when multitasking. Ideally it should possibly be used in conjunction with an Android task management app.
Also note that if you're unhappy with the application, it is tricky to uninstall. There have also been reports of poor or non-existent customer support from the developers.