The Best Android App for Syncing with Lotus Notes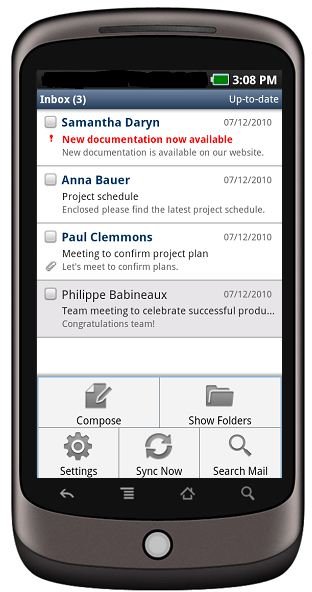 Being able to sync your Lotus Notes emails, contacts, calendar, tasks and notes with a mobile device can greatly improve efficiency and productivity, in that you can now have access to critical work tools even while you are on the go.
There is now a software solution that gives Lotus Notes' Mobile users access to important work assets. That solution is Lotus Notes Traveler and it is supported on Android, iPhone, Symbian and Windows Mobile platforms. Lotus Notes Traveler is included in the Lotus Domino Messaging Client Access License and the Lotus Domino Enterprise Client Access License.
This means that eligible customers can download the software from the Passport Advantage and PartnerWorld sites for installation onto their mobile devices without incurring additional charges. Android users must have Android 2.0 and better though, and are required to be running Lotus Domino 8.5.2.1 or later on the server side.
Key Features of IBM Lotus Notes Traveler
Once the Lotus Notes Traveler is installed the mobile user will enjoy the following features:
The ability to access Notes from multiple devices running on popular mobile platforms (Android, iPhone etc).
A no-charge Lotus Notes mobile solution for customers who qualify.
The ability to remotely sync email (including attachments), calendar and contact data.
Email encryption.
Remote wipe, just in case the mobile device is lost.
Installing Lotus Notes Traveler
You will need to contact you Domino server administrator to get the Lotus Notes Android download link, which should be the address for the Corporate Lotus Traveler server. Once you have identified the location of the installation files, you can follow these steps to set things up.
Using your Android, navigate to IBM Passport Advantage Online and login.
Select the appropriate version and download the software.
Enter your username, password and the Lotus Traveler server (i.e. traveler.be.ibm.com) you will be using; your corporate Lotus Domino Server administrator should be able to provide this information.
The device should get registered to the server automatically and give you an option to start the synchronization process.
Select what you want to have synchronized.
Conclusion
There is at least one other Android app for syncing with Lotus Notes; it's called MyLink Access. It can sync your Android with your Notes email, contacts, calendar, and tasks, but it doesn't work as seamlessly as Traveler. Users will also want to consider the risk of allowing confidential company information to be accessed by a mobile app that doesn't have a remote wipe feature.
The mobile wipe feature is a most critical feature of Traveler, owing to the fact that the data and information that is transmitted via Lotus Notes is often very confidential. For that reason, it is not recommended that a solution other than the official IBM Lotus Notes Android client be used to access corporate Notes servers. Considering the fact that the Lotus Notes mobile client is free to most customers, there is no need to take additional risks.
Image Credits:
"IBM Lotus Notes Android sync - Lotus Notes Android client." IBM