Why Do Android Downloads Fail?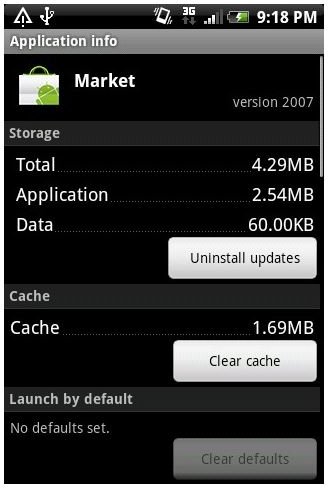 Most Android users won't know this – but sometimes it isn't possible to get a new app downloaded and installed.
Many of us know how frustrating this is, however, and some users might even give up trying knowing that the attempt is doomed to end in failure.
The reason these failures occur is due to conflicts with the Android Market and other applications that have already been downloaded. This results in the new download looking for all the world like it is going to install and then failing. Problems of this sort may be down to your mobile internet or wireless connection but most likely they are due to a software issue.
As with all problems, there are solutions that can be applied to your Android phone to re-enable full access to the Market and let you start installing apps again!
Since mid-2009 this problem has become more and more common, regardless of your Android version. Old Android 1.6 devices are just as likely to develop the problem as newer 2.1 and 2.2 handsets, so the likelihood is that this is either a software conflict between a third party app and the Android Market or – brace yourself – some form of malware. As there has been no word from the Android developers explaining exactly what the problem is, both possibilities should be accepted.
The easiest way to resolve the problem is to clear the Market cache. This is done in Settings > Applications > Manage applications > Market > Clear cache.
Clearing More than just the Market Cache
If you have failed to resolve the problem after clearing the Market cache you can go one step further. First restart your device and then repeat the step above.
Next, restart again and open Google Talk, where you will need to enter your email address and password. Once accepted you should be able to reconnect to the Android Market and successfully download apps.
When this method works it does so because the Android Market is failing to authenticate your device as an accepted means of downloading apps. Entering your credentials in Google Talk should provide a way around this.
Guaranteed Fix when Android Downloads Fail
One way you can get your Android to start downloading from the Market again is perform a factory reset on your device.
This will delete all data on your phone, so before proceeding make sure you have everything backed up. If you use Google Mail and your contacts are synced along with Google Calendar data then you should have nothing to worry about as these can be quickly retrieved post-reset.
Restoring the factory defaults is the intended outcome here, removing the component that is conflicting with Android Market and thereby allowing you renewed access to new apps.
To perform an Android factory reset, go to Settings > Privacy (or on older devices Settings > Storage) and tap Factory data reset. To confirm your choice select Reset phone to continue. Your Android will restart with a clean slate.