Send a Fax from Your Phone with an Android Fax App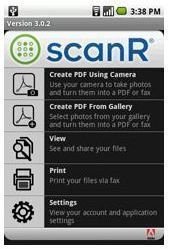 ScanR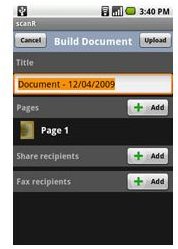 ScanR is an Android fax app that converts your Android powered mobile phone into a mobile fax machine. It utilizes the camera on your phone to scan a document. Once the document is scanned, it is uploaded onto the scanR servers where the image is processed and converted into an Adobe PDF file. You have instant access to all your documents in orderly lists. You can identify individual documents by giving unique titles to each file, and you can create multi-page files as well. Usually, every scan you perform with the camera on the phone becomes one page in a PDF file. The files can be transferred by email or sent via fax. In fact, scanR can send your fax to over 90 countries. In addition, this app lets you print Office files that are sent as an email attachment. To download the app, visit the official site of scanR.
FilesAnywhere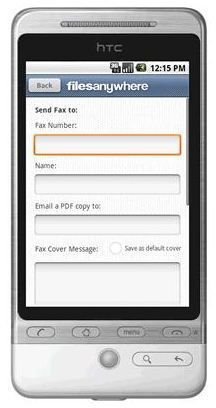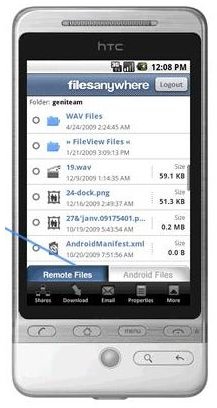 Another Android fax app that allows you to send a fax from your Android phone is FilesAnywhere. This mobile app works in conjunction with an online account with FilesAnywhere. The account stores documents, spreadsheets, photos, music, and videos. The app allows you to access documents that are in your online account. Select the document you would like to send as a fax and type in the fax number. You can also submit a cover sheet by typing it in the appropriate box in the app. You can also send the file as a PDF via email. Some account plans offered by FilesAnywhere include a private fax number, which you can use to receive faxes. The fax will be sent to your account as a file, which you can access remotely using your mobile phone. To download this app, scan the QR code below, or visit the official site of FilesAnywhere.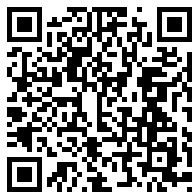 Mobile Fax Free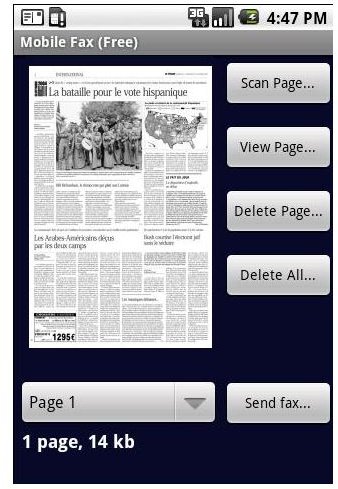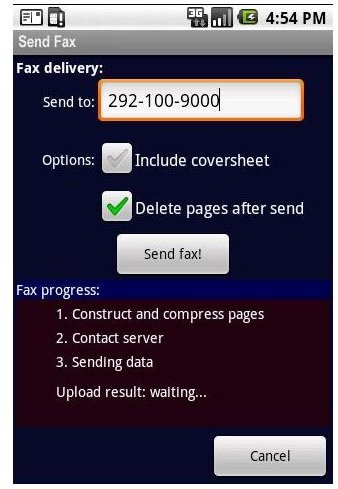 Mobile Fax Free is an Android app developed by Burrotech. It is similar to scanR in that the app works by scanning documents with the phone's camera and converting the image into a PDF file. The file can be viewed and saved on the Android powered mobile phone. If you would like to send the file via fax, simply select the send fax button. On the subsequent screen, fill out the fax information, including the fax number, and cover sheet. You can choose to delete the file after faxing or save it. As the fax is sent, you can see its progress on the screen. The basic app limits users to one fax per day, while the premium version lets users fax several pages per day. To download this app, visit this site featuring Mobile Fax Free.