The Top 5 Android Financial Software Apps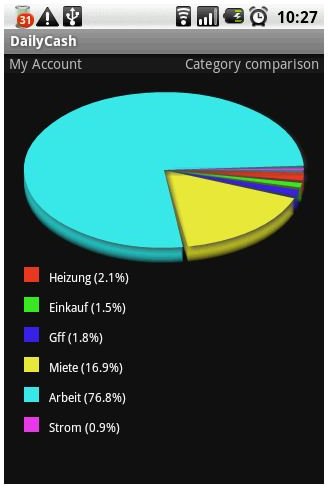 The Best Personal Finance Apps for Your Android Mobile
Managing your personal finances is not difficult nowadays, thanks to a variety of personal finance apps available for your Android phone. By using the best Android financial software, you can easily monitor your cash flow, income, expenses, credit card and bank transactions and keep track of your investments.
With an intuitive interface, smart graphs and real-time charts, the best financial applications provide a good, graphical overview of your financial situation. Here are some of the best finance apps for Android worthy of becoming your personal financial assistant:
DailyCash
If you want a nifty alternative to your handwritten account book, then you must opt for DailyCash. It serves as a personal financial assistant, giving you comprehensive information about your income and expenses graphically. You can create multiple accounts for each currency and save all your transactions for future reference. You can also export your personal finance data and email. You can also password-protect your account to ensure your transactions don't fall prey to hackers.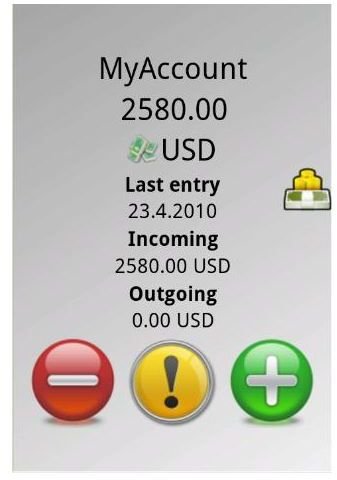 This Android financial software is available free, but is ad-supported. You can buy the Pro version for $6.00 to get more financial reports and charts, add photos to your financial entries and other additional features. The free version is sufficient for those who want plain personal financial management software for their Android.
DailyCash Free and Paid Version QR Codes (You can find the QR code at the bottom of the developer's web page)
FireWallet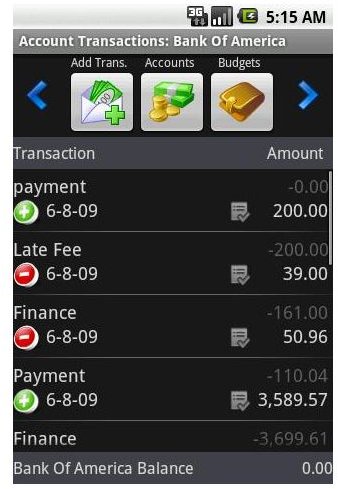 The current price rise of goods and commodities compels us to track our expenses. With a good number of useful Android finance apps, maintaining a personal budget nowadays is quite easy. The FireWallet application is one of the most popular personal finance apps for your Android. It provides superb graphs and charts that help you get a visual drift of your expenses. You can also get regular updates and alerts of your upcoming bills. The application lets you protect information by entering a four digit pin.
If you compare FireWallet with Daily Cash, you will find the former a bit difficult to navigate. But, overall, this is a great app for users who want a free application to manage their income and expenses.
Toshl Expense Tracker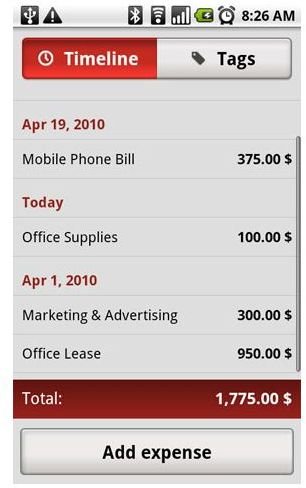 With a simple user-friendly interface, this Android financial software app helps you curb your lavish spending habits. You can keep track of your expenses by categorizing them in different tags. Listing your expenses by tags lets you check exactly how much you have spent on commodities, petrol and services. You can add expenses by simply tapping on a tag and adding a description and title for the expense. The tags you have created for each expense automatically get converted into eye-catching graphs that can surely give a visual insight of your expense habits. You can then compare graph-to-graph of any two months or years.
You can also sync your expenditure data across multiple devices and computers by signing in for a free or pro Toshl account.
Get the Toshl Expense Tracker App Free
Mint for Android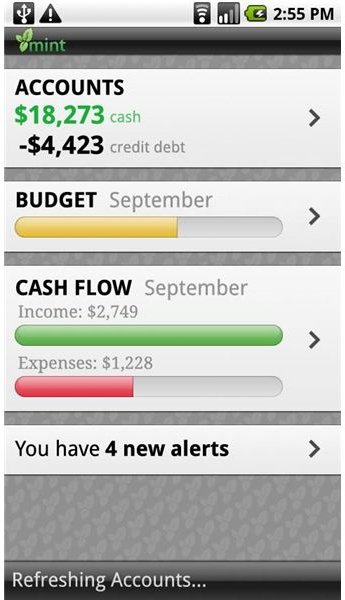 The Android version of Mint has many features for users who want a sophisticated finance manager. It calculates the average spending of a user and provides an easy interface to compare the spending year-to-year or month-to-month. Budget creation was never so easy, thanks to Mint's excellent widget.
This Android financial software app also lets you track your savings and help you save more. Its unique Goals feature lets you set objectives like retirement savings, buying house and debt management. You can also customize your savings goal with a nifty wizard.
Besides tracking income, expenses and savings, you can also monitor your investment portfolios using the right tools. Mint provides excellent graphs and charts that can help you determine your position in the financial market.
Overall, Mint is one of the most detailed Android finance apps, and the best part is that it is absolutely free.
Pageonce Personal Finance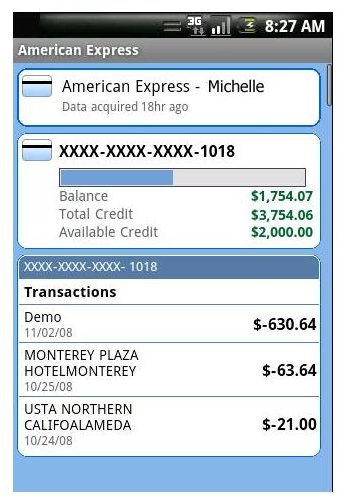 If you are searching for a personal finance manager that keeps track of your credit cards, investments and bank accounts and notifies whenever bills are due, then Pageonce Personal Finance is the right app for you. It provides detailed account and bill statements and helps you monitor your investment portfolio. You can view all your bank, credit card and investment account details in one place. What's more, Pageonce also lets you track frequent flyer miles. If you upgrade to the Pro version, you can also view flight information in real-time.
With Personal Finance, you will also get real-time alerts on whether your bills have passed due-dates or whether your credit card rewards have expired. The best part of this Android financial software is that it meets the highest security standards in Internet security by providing bank-level protection to your account. You won't have to worry about your SSN, credit card number or bank account details being leaked or hacked as the security standards meet the strictest requirements laid down by VeriSign, Trust-e and McAfee.