Android Applications: A Guide to Alternative Android App Stores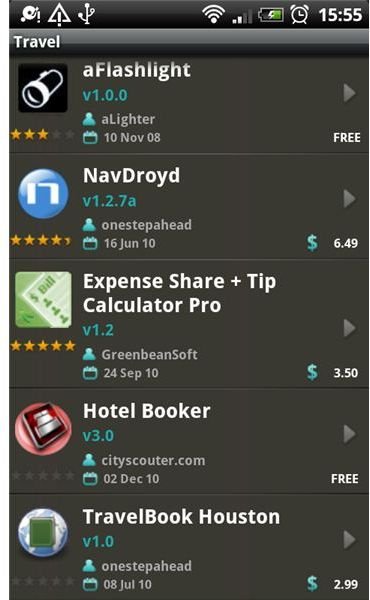 Why They Exist
One of the biggest advantages of Android is the openness of the system. The Android Market has no restrictions in applications like Apple's iOS does. Android even allows anyone to install applications from external sources other than their own Android Market. As this almost sounds too good to be true, you might wonder how come alternative app markets not only exist, but are used in large numbers at all?
There is no clear answer to this question. It is true that not all users are able to pay for applications in the Android Market, as country restrictions apply. It is also not unthinkable that developers just prefer alternative means of distribution. Whatever the reason, there are indeed many alternative Android app stores, of which the best ones are discussed here.
SlideMe App Market
SlideMe claims to be the largest alternative Android app market available and sure enough it holds a large number of applications. The application closely resembles the first version of the Android Market but has a lot more categories to choose from. In general, SlideMe has a few extra features as compared to Google's version such as an SD Card Installer and many alternative payment methods. This last feature is the biggest selling point as anyone all over the world can download paid applications from SlideMe.
Users have to create a SlideMe account to do so through either the website or their dedicated Android application. In there, new profile payment details can be added, which includes support for PayPal, Amazon payment or a credit card. Once verified by SlideMe, paid applications can be purchased. The number of applications available is still tiny when compared to the Android Market and many applications exist in both markets. Nevertheless, for those that cannot pay in the Android Market or want to check out a few worthwhile unique applications, SlideMe is a good choice.
YAAM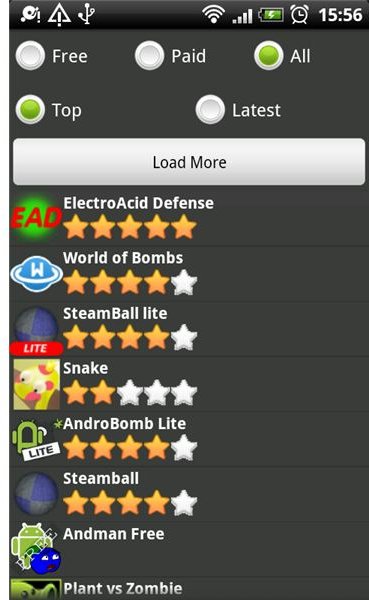 YAAM stands for 'Yet Another Android Market' and is of French origin. YAAM is the more obscure brother amongst alternative Android app stores and also doesn't hold too many applications. As a relative newcomer, YAAM is still filling up with applications that may or may not live in the Android Market as well. Unfortunately for YAAM it is very obvious that the application is still in a development phase as the entire platform feels very BETA. The user interface is not very friendly for the eye and navigation is anything but smooth. The application is also lacking in stability and crashes every now and then.
On a more positive note, the developer of YAAM is determined to provide an Android Market like experience but without the 'defects'. Already there is no country restriction but as PayPal is so far the sole payment method, restrictions are applied through this. As of now, YAAM has a long way to go but if the developer can stay devoted, YAAM is the one to watch.
AndAppStore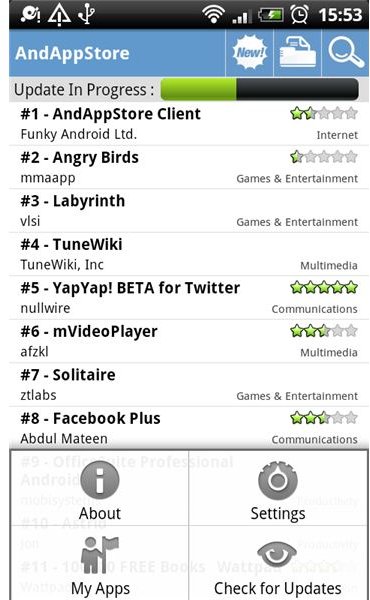 AndAppStore is another alternative Android Market aiming at finding a niche in the genre. In this case, the developer tried to distinguish many different categories to filter out the applications. This is also one of the many rare good features of the application as there is a lot of work to do in the usability area. First of all, the large number of categories does look appealing but applications are often only vaguely connected to them.
Many of the available applications can also be found in the Android Market so true differentiation is rarely made. To add insult to injury, the entire package isn't very pretty and users will not find it easy to find that great app they are looking for. Although the application has some potential it is currently too half-baked to really be relevant.
Appoke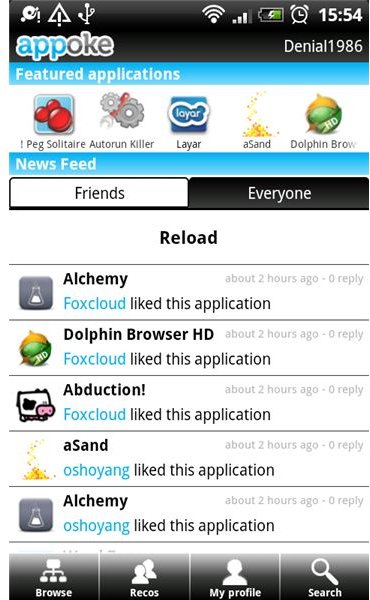 Appoke is an alternative Android app store that takes the concept a bit more seriously and really tries to go the extra mile to deliver something unique. Although it is not necessarily too hard to compete in a scene that is dominated by mediocre Android Market alternatives, Appoke is a lot more relevant than any of them. The strength of Appoke lies in the social aspect of the app store concept.
With Appoke it is possible to interact with other users and exchange application recommendations. What others like and recommend is truly the driving force behind the system, which makes for a more enjoyable browsing experience. As probably the only alternative Android app store that has such a system it is also the sole Android app store that truly offers something else besides just alternative payment options. Appoke is also visually appealing and logically divides apps into categories. Although applications can mostly be found in the Android Market as well, the fresh concept and execution of it makes Appoke an enjoyable alternative and probably the best one currently available for Android.
The Ultimate Alternative to the Android Market
Although the concept of freedom is very appealing it is a bit surprising that there are no real contenders for the Android Market available. The above-mentioned options all try hard to bring something new to the table, but most of them seem redundant from the start. Only an alternative Android app store like Appoke seems to get what Android is all about and so far is the only one that tries to expand the boundaries of what an app store should do.
It could either be the lack of ingenuity of others or the quality of the original, but for now the ultimate Android app store is still the default Android Market. With new improvements coming in regularly at this stage it will be hard for others to catch up or outdo the Market.