How to Accept Outlook Appointments to Android Calendar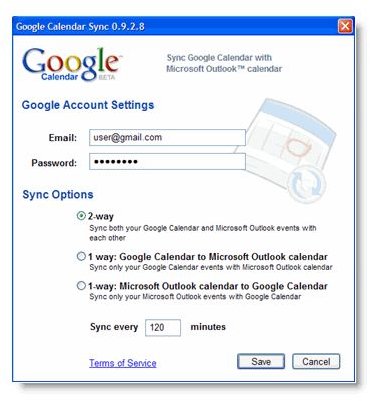 The State of Outlook and Google Calendar Integration
One of the most powerful elements of an Android phone is its integration with Google. Google Mail and Google Calendar all sync effortlessly via the web, allowing you to stay on top of email messages and appointments without having to worry about checking your desktop PC.
However, not all users are so lucky as to have all of their calendar information on one system, and certainly not on Google. The majority of desktop calendar users are set up with Outlook, usually with a corporate Exchange account and unfortunately there is no way to accept Outlook appointments in an Android calendar.
This doesn't mean that there is no synchronization possible – just that it is pretty tricky or expensive to do.
Standard Google Calendar Sync
Google provide a tool that allows you to sync your Outlook calendar appointments with a Google account and by extension an Android phone. Although a popular means of syncing calendar items, the drawback with this system is that you cannot accept Outlook appointments to the Android calendar.
To use this method regardless, visit google.com/googlecalendarsync to download the desktop sync tool. Once installed, this tool will sync your Outlook appointments with Google Calendar by connecting to the PST file that stores your data in Outlook and your Google account, the details for which you enter on the Google Calendar Sync tool.
Google Calendar Sync has options for a two-way sync as well as one-way syncs from either calendar. Syncing this way can be used to manage calendars on other mobile devices, not just Android.
(Image via www.google.com)
Download and Install CompanionLink
In order to have the full functionality that you're looking for – the ability to accept Outlook appointments to Android calendar without using your desktop to accept the appointments in Outlook – you need a sync tool that will provide full synchronization between the two calendar platforms.
The answer to this problem isn't free. It comes in the shape of CompanionLink's Sync Android with Outlook tool, which takes advantage of a CompanionLink desktop app to synchronise data between Microsoft Outlook and your Android device, via the Google Calendar.
Setting this up is easy, and while the $39.95 price (for the desktop sync utility) might seem prohibitive, there is also a trial version available for you to try the utility out. Download via www.companionlink.com/android/outlook.
How to Accept Outlook Appointments to Android Calendar
Once installed, proceed to configure CompanionLink on your desktop or laptop Windows computer and run it. In the drop down box select Google – a second box should appear in which you must select Microsoft Outlook.
Next find the Google Settings button and enter your Google username and password, then use the Outlook Settings tool to select the correct Outlook folders to sync. On the Applications tab, specify what kind of sync you wish to use. Click OK to proceed and go to Advanced settings to configure how to deal with calendar item conflicts and specify a date range for your calendar, as well as set up a sync period.
When you're happy with these settings, click OK and use the Synchronize button. This may take a short while, but once complete all you need to do is visit your Google account to view the synced calendar items.
Your Google account will probably already be synced with your Android phone, and in minutes you should have all tasks and appointments on your device, and be able to accept and add appointments sent from Outlook.