Which is the Best Android Audiobook App?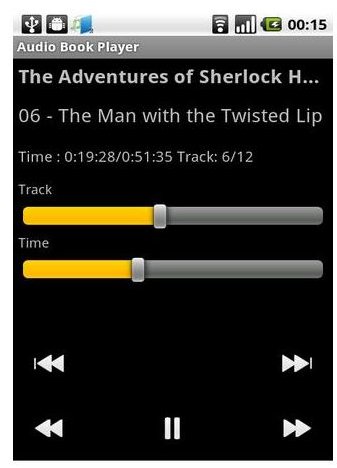 Audiobooks - a Great Pastime
Just as many Android owners make use of their phone for listening to music or reading eBooks, so many others combine both pastimes and enjoy audio books.
Audiobooks are an increasingly popular medium, especially in a world of regular long haul flights, long train journeys and marathon car trips to the office, so you can see why an Android audiobook app might be considered useful.
This selection of apps are all useful audiobook tools that can be downloaded free from the Android Market – with apps like these available, you should have no need of a premium application.
Audiobook Player 2
Designed to be an audiobook player that can be used long term, Audiobook Player 2 avoids inclusion of "bells and whistles" in favour of functionality. To this end, basic features such as track skipping and browsing, screen orientation and various headset settings are included, but there is little in terms of Bluetooth control, which means pausing your audiobook has to be done on the phone rather than on a Bluetooth headset.
Also missing is support for the popular M4A audiobook format – only MP3s can be played.
However Audiobook Player 2 is free, easy to use and is available for all Android versions. Find out more and get the QR code at www.appbrain.com/app/audiobook-player-2.
Audible for Android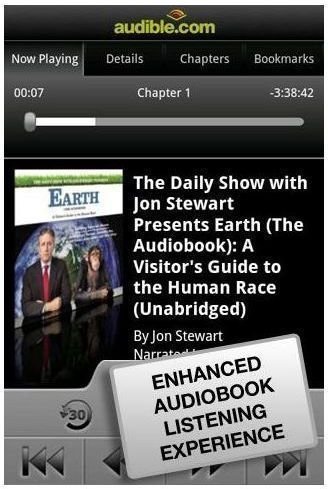 What Amazon is to print and eBooks, Audible is for audio content. A vast library of fiction, autobiographies and more is open to you via this excellent Android audiobook app, and they have a special "one book free" offer for new sign ups to the AudibleListener Gold program.
With a slick user interface that allows you to easily browse and buy, Audible for Android also offers good playback options and should be your first choice for an audiobook player.
Audible for Android is free and you can download from the Android Market or get the QR code at www.appbrain.com/app/audible-for-android.
MortPlayer Audio Books (beta)
This popular audiobook player began life on the Windows Mobile platform and has since migrated to Android to take advantage of a superior platform and devices. The beauty of this free Android audiobook app is that along with the usual playback options (play, pause, skip, browse, etc.) it also allows you to add bookmarks to the track you're listening to, so that when you return to your audiobook (from a selection saved on your microSD card) you can carry on from where you left off!
MortPlayer Audio Books (beta) is intended for all Android versions and is free. Get the QR code from www.appbrain.com/app/audible-for-android.
Audiobooks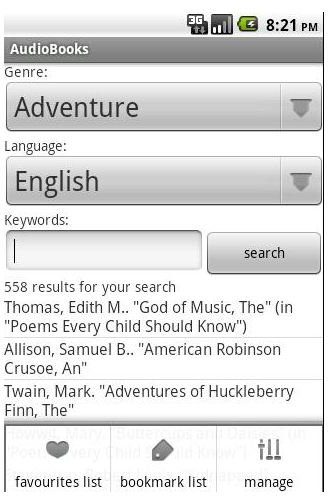 With over 2,800 classic books available to listen to for free, Audiobooks is a superb option for any fan of the spoken word. This particular Android audiobook app features a browsable library with a search function and titles separated into genres, narrators, languages and more, and the player will allow you to stream or download content.
Because the titles are classic and therefore out of copyright, they are available free; many of the titles included might be available in print form under the Penguin Classics imprint, for instance, and you should be able to find titles here such as Treasure Island or A Christmas Carol.
A visit to librivox.org will provide a list of all available titles on this application, which is intended for all Android versions.
Note that there are several apps available that access the librivox.org library (another is Jagamaga) of which Audiobooks is probably the best.You can download this free app for all Android versions from the Android Market or via a QR code from www.appbrain.com/app/audiobooks.