Best Live Wallpapers For Android 2.1 or Higher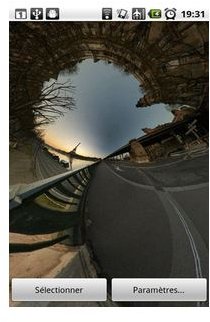 How to Install
Android live wallpapers can be easily set as your phone's background, if you have a rooted Android device running Android 2.1 or above. Follow these steps to install live wallpapers on your Android devices.
Download the essential lib files and the live wallpapers. You can download the lib files from here. Also remember to install Busybox on your Android phone, if you don't have it.
Unzip both the downloaded files and place them on your SDCard. Create two folders with different names such as lib and app. Store the lib files in the lib folder and the wallpapers files in the app folder.
Restart your Android device in the recover console and choose mount sub-menu.
Mount system and SDCard.
Then type – 1 busyboc cp/sdcard/libs/*/system/lib and 1 busybox cp/sdcard/app/*/system/app
Now unmount both system as well as SDCard and restart your phone.
Android Live Wallpapers
Here are some of the best Android live wallpapers that will animate your Android device's background.
PanoPlanet Live Wallpaper
PanoPlanet is an interesting live wallpaper which turns and twists panoramic images into cool backgrounds. The wallpaper follows your movements and rotates the panoramic background image. You will have to get your own images and this wallpaper will make them exciting. This Android live wallpaper comes in desktop slide, touch and sensor rotation modes.

Price: $1.29
Shamrock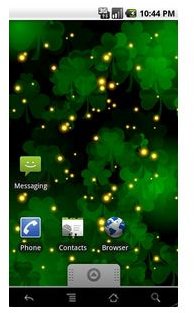 This magical shamrock wallpaper comes to life with fireflies populating the screen. When you touch the screen, the fireflies will circle near your finger. Celebrate and enjoy St. Patrick 's Day with this startling wallpaper. You can also set the number of fireflies that you intend to see on your screen.

Price: Free
Nicky Bubbles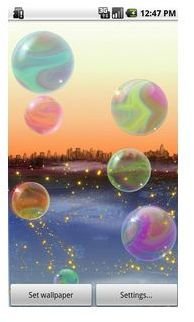 Nicky bubbles add life to your phone whenever you tap to pop them. Shake the handset and watch the bubbles go crazy. This wallpaper's settings include choosing the number, size and speed of the bubbles. Your personal picture or any skyline from the 4 default skylines can serve as a background in this wallpaper.

Price: $1.11 or try the free version of this live Android wallpaper.
aniPet Koi Live Wallpaper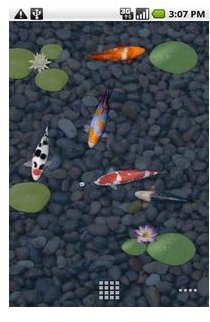 If you like koi fishes, then you will love this cool koi fish aquarium wallpaper. You can choose from 12 types of koi fishes, select the animation speed and change the background image with your favorite image. You can even feed the koi fishes and touch the water to create a ripple effect.
Price: Free
Fantasia Nr 7 Live Wallpaper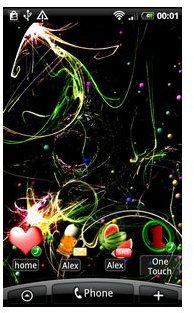 This fancy Android live wallpaper is made of numerous multicolored particles that move around your phone's screen.

Price: Free
Beautiful Live Weather Live Wallpaper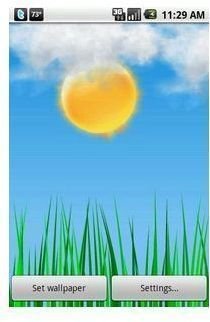 Beautiful live weather wallpaper displays real weather condition background images. You can experience sunny, rainy, snowy or stormy weather conditions right from your phone's screen.

Price: Free
Wakka Live Wallpaper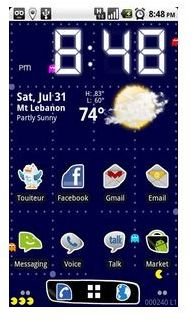 Wakka is an Android live wallpaper that tries to look like a popular 1980′s arcade game.

Price: $1
Super Mario Live Wallpaper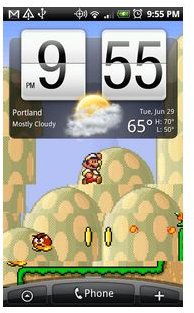 Super Mario Live Wallpaper is one of the best Live Wallpapers of all time that promises to turn your phone's background into random sections of the classic Mario game. Mario jumps, flies and smashes through your screen.

Price: Free
Ocean Waves Live Wallpaper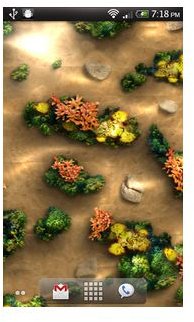 Ocean waves is a great looking Android live wallpaper that emulates ocean waves.

Price: Free
City at Night Live Wallpaper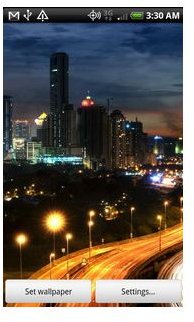 This wallpaper portrays a beautiful image of a city at night with streaks from the traffic and moving clouds.

Price: $0.99