Augmented Reality on Android: The Best Five Reality Overlay Android App Options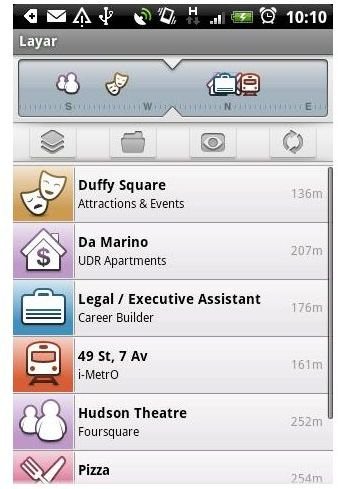 Augmented Reality Apps on Android
Augmented reality applications on Android phones truly show off the power of your handheld. What these augmented reality applications do is put a reality overlay on your Android screen by using your camera as the 'eye'. The picture that is shown on your phone contains certain data that is put over this view and thereby presents the real world plus a whole lot of extra data. This data can relate to various things, and there are an increasing number of applications that try to use this concept to create a compelling reality overlay Android app. There are only a few that do it really well, however, and they are discussed here.
Layar Reality Browser
The Layar Reality browser is the best example of augmented reality and it uses practically all the aspects of your Android phone to provide a reality overlay. Layar uses the in-phone camera, compass, GPS module and accelerometer to provide an image and a custom layer over it with useful information about your surroundings. There are currently 445 layers that can be added to the application, which includes everything from restaurants, hotels and bars to gas stations, ATM machines and hospitals. This makes it more than just an application: Layar is an augmented reality platform.
The application itself runs really well, even on older, slower Android devices. Once any layer or a number of layers are loaded into the application and all the sensors are activated, all a user has to do is point the phone in any direction and check on the screen the distance to the points of interest that match the layer. The application works as advertised, which is saying much as the concept is truly ingenious. Besides being a gimmick, the application is certainly of use and has created a great following. The application updates regularly and is free in the Android Market, making it the perfect showcase reality overlay Android app for what your phone can do.

Tweeps Around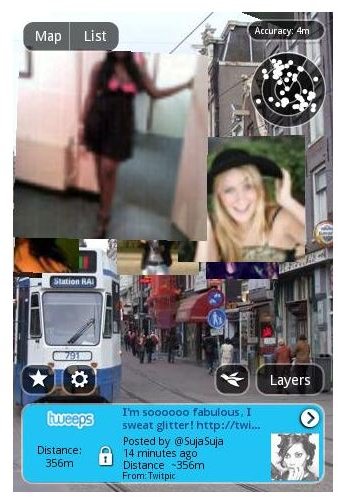 Tweeps Around is a plugin for Layar and one of the most impressive ones for the platform. Layar itself doesn't need any further introduction and Tweeps Around is basically nothing more than a shortcut to the 'Twitter' layer it entails. Although just one of the many layers available, Tweeps is probably one of the most used and interesting ones around. Everyone that uses Tweeps and Twitter will carry around their status with them so that within Layar the person is 'tagged' with it. The application is an excellent example of the power of Layar and shows that not only buildings serve as points of interest. Tweeps Around is free in the Android Market.

Google Goggles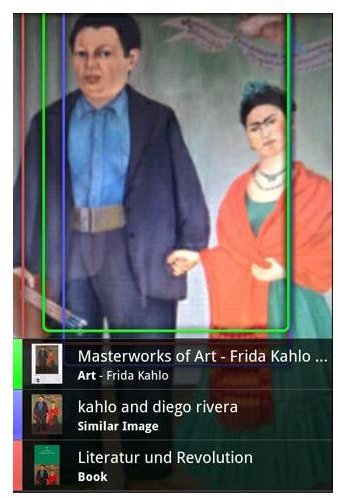 Google Goggles is an augmented reality app that does things a bit different from Layar. Although Layar puts layers on reality, Google Goggles takes only snapshots of it. Goggles lets you take pictures of any kind of subject, a book, building and uses the picture to do a Google search. This visual searching then brings up any kind of result. For instance, when scanning a book, the search might come up with places where this book is the cheapest to purchase. Although the search results are a bit hit and miss at times, it is still amazing to witness the engine at work, providing you with suggestions for your scanned object. Although not as useful (yet) as for instance Layar, Goggles has the potential to be a lot more useful if only it can shake the 'BETA-feel'. Nevertheless, Goggles is a cool gimmick that shows the power of your Android device. Google Goggles is free in the Android Market as well.

Wikitude World Browser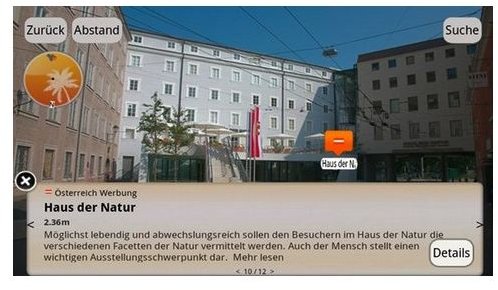 Wikitude World Browser has the exact same concept as Layar but is more focused on travelers. Instead of plugged in layers, it uses a variety of resources to project points of interest on 'your reality'. These include booking.com, Wikipedia, Flickr and many, many more. If the results are a bit obscured by the sheer amount of them, there is always the option to revert back to the map as well, which nicely builds a personal overview of sightseeing spots in your destination.
Wikitude as an augmented reality browser is a bit too similar to Layar to be really groundbreaking, but if you are in a new city and want some quick and concise suggestions, Wikitude might just be the better option. Luckily for you, the application is free in the Android Market.

3D Compass (AR Compass)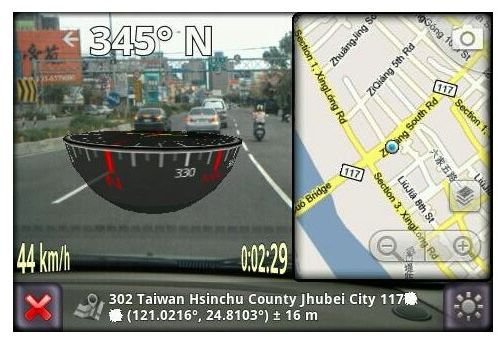 The 3D compass application has a few basic features but still provides for an interesting augmented reality experience. Like with Layar and Wikitude, the application uses the camera to project 'reality' on your screen. At the same time a 3D compass is pictured together with a small sized Google Maps to indicate your position. Furthermore it is able to show the address of your current location. The compass and map rotate as you move around.
Although very basic, the application does exactly what you might expect from a 3D compass type of app. The application is useful in that it not only provides you with a location but also the orientation of your position. The package is a bit gimmicky but nevertheless a good example of augmented reality on your Android Phone. A free version is available, which is ad-supported. A full ad-free version is $1.99, available in the Android Market.

Augmented Reality on Android, Gimmick or Asset?
As the Android system is relatively new, developers are still trying to explore all the possibilities the platform has. Its full potential is now starting to show and augmented reality applications are a nice example of this. However, it will still take a little bit longer to transform this concept into a truly useful asset of your Android handset. Although it has to be said that the reality overlay Android apps mentioned here are really starting to become mature offerings that will surely make a proud Android owner.