How to Use Android Phone as a Wireless Modem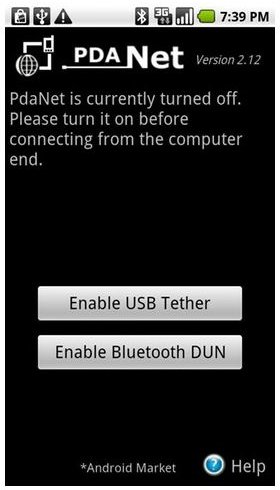 Tether Your Android!
It isn't rare to find yourself in a café or hotel in a strange town and find that there is no wireless internet – or that the bill is prohibitive, or that you simply don't get a good enough reception. A common result of this is that you will then try and perform all internet based tasks on your Android phone.
Wouldn't it be better to connect your Android phone to your laptop and use it as a modem? This is the process known as "tethering" and basically involves installing a dedicated app from the Market and hooking up your phone via USB to take advantage of your mobile internet.
Using your Android phone as a wireless modem would be a great solution to the problem – but how do you do this? How do you tether your Android to a laptop or PC?
What You Need
Before looking for and purchasing a suitable app, you will need a few things:
Android phone
Android phone drivers for your laptop or PC's operating system
USB cable
You should also be aware that using your mobile as a modem will impact on your data plan, so make sure that tethering your phone won't result in a huge bill from your network. Note also that some networks block tethering, which is why you might need to root your Android.
Best Programs to Use Android Cell as a Modem for My Computer
The first thing you need to do is find a suitable app. Several are available from the Market each with different requirements. Some must be paid for, whereas the free ones will usually require root access.
Four popular Android tethering apps are:
PDANet – costs $9.95 and doesn't require root access; also requires a desktop app.
EasyTether –this app is also $9.95 and doesn't require a rooted phone.
Tethering Widget – a free tethering app that requires your Android to be rooted.
Tethering – a free app that doesn't require rooting.
Once downloaded and installed, these apps can then be tethered with a USB cable to use your Android cell as a modem for your computer.
Setting Up Your Android Phone Wireless Modem
Now that you have chosen and installed a suitable app to use your Android phone as a wireless modem, you can take advantage of the functionality it delivers. Once your phone is connected to your PC or laptop you should find that with the app installed and running, and the correct drivers installed on your PC, the computer will detect your phone as a modem and let you access the Internet with it.
There are differences in the various apps at this stage (for instance PDANet employs a client app on your PC) so you will need to check the instructions for the one you choose. The general rule is that with mobile internet active on your phone, your Android connected by USB to your computer and the application running, your PC will now be able to use the phone as a new network connection!