Android Security: Round Up of the Best Android Backup Apps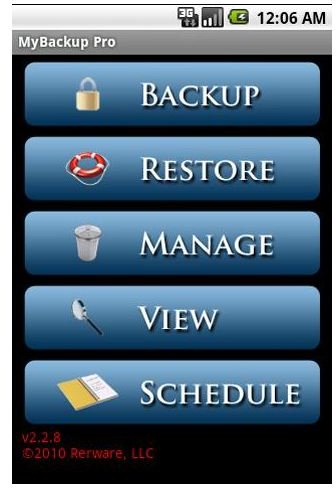 Google's Android system is currently preferred by a lot of smartphone owners and as the feature-package keeps increasing, there is more data to be protected. There aren't too many dedicated backup applications available in the market and there are many that are able to backup certain phone elements. However, for true power users only a complete backup solution will do the trick. Find out which are the most suitable Android backup apps for this task.
MyBackup Pro
MyBackup Pro is probably the first choice from the available Android backup apps for anyone that has an unrooted Android device. The application supports options to backup, restore, manage, view and schedule backups. These backups can either be done on the local SD card or online. Either way the result will be the same and the application is an excellent tool for safeguarding your precious apps and data. The application does exactly what it advertises and works like a charm.
MyBackup Pro can backup either Data or App files. Within these categories it is possible to further narrow down the options. For instance, within data backups, the user can predefine anything from system settings, to alarm clock settings. Obviously it is also possible to predefine which applications need backing up. With the scheduling option you don't even need to manually back up every time as the application will do it for you at any given interval. MyBackup Pro is an excellent companion for those that like to secure both their applications and data on their Android devices. My Backup Pro has a free, one-month trial version, and costs $4.99 in the Android Market.

Titanium Backup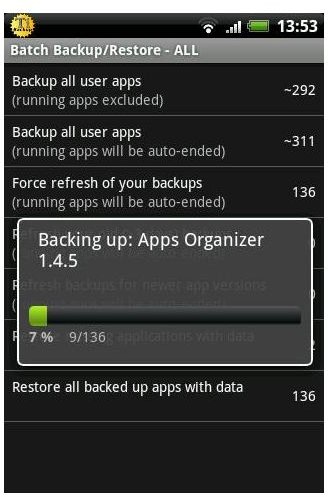 Titanium Backup does a similar job to MyBackup Pro, but is only available to rooted users. The reasoning behind this is that it can do rooted tasks which unrooted devices are unable to. Such tasks include the deleting of applications, and even system apps, ability to update system apps directly into a ROM and backing up of protected apps. A major advantage over MyBackup Pro is also that Titanium can restore the Market links so that applications can be updated in the 'Download' page of the market without any hassle. It can even restore Wi-Fi access point data.
Because of all these features, Titanium is a bit more powerful and advanced than MyBackup Pro and probably more suitable for Android power users that like to switch around ROMS a lot. For those users Titanium Backup is an excellent Android backup application to purchase and it will keep many from having to do tedious re-downloading. Titanium has a free version in the Android Market, but to fully unlock all features, the full version has to be purchased. This version costs $5.81.

mIQ – Backup, Sync, Restore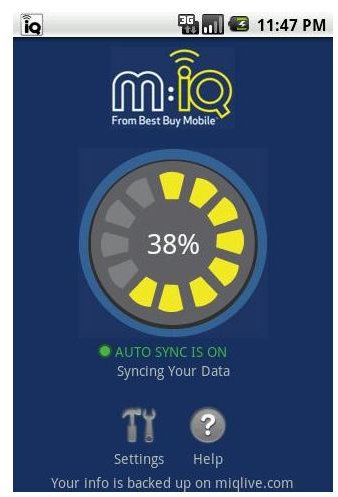 mIQ is a more simple option for restoring and only works via an online account. Features are quite bare-bones but nonetheless will do the job. Once the user has signed up to an account, the application will have the option of synchronizing certain phone elements to the online servers. The user can predefine what is synchronized and options include 'Contacts', 'Calendar, 'Messages', 'Calls', 'Bookmarks', 'Photos' and 'Videos'. Sync Mode can either be Manual or Automatic, although in automatic mode intervals cannot be chosen. In Media Mode the user can select to backup only when Wi-Fi is available and there is also a privacy mode, although it is a bit unclear what this entails precisely.
All-in-all mIQ is a no-brain option that will backup certain vital phone elements, although much remains to be desired. Real Android power users will probably not consider this option but for basic users, mIQ will do just enough to provide a sense of security. However, the application is not much more than passable. The free price tag compensates a bit in that regard.

Astro File Manager Backup Option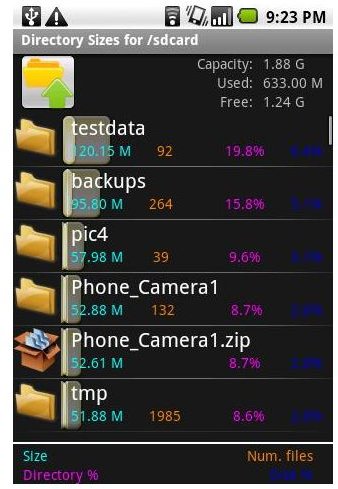 Although not a dedicated backup application, Astro File Manager does a decent enough job in backing up applications. Astro File Manager is best known for providing the Android phone with a file explorer option. However, the application has a process killer and backup option included as well. Although by far not as powerful or advanced as any of the options explained before, the application will provide an option for anyone that doesn't need extensive backup software but likes some of their applications backed up. Astro File Manager is free in the Android Market.

Other Backup Options
Backup software is handy for those that like to fiddle around a lot with their phones. Android's focus will increasingly be on cloud computing, meaning most of the important data will be backed up online anyway. Therefore it is not necessary to use any software to backup things like contact lists, photos and videos, Google calendar and the likes. There is also software like Dropbox available that lets you backup and synchronize any files you upload to it, providing for an efficient backup solution. However, for those that like to keep every aspect of their Android phone backed up, all the Android backup apps mentioned here will make sure of it.
Depending on how intensely you use your Android device there are plenty of options to keep your apps and data secure so that you never have to worry about losing anything important.