Can You Adjust Font Size on an Android?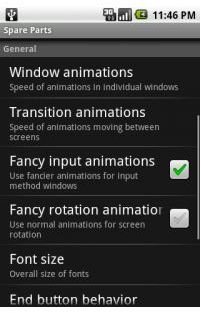 Adjust Your Android's Font Size with Spare Parts
With an Android phone, you can enjoy a wide selection of premium and free apps, have the pleasure of a sensible mobile user interface and access various settings and configuration menus – but you can't change the font size in emails and other text-centric applications.
As you might have guessed, there is a solution available via the Android Market and some newer Android phones have this app already installed. Spare Parts is a free app that can be downloaded in seconds and allows you to not only adjust the font size on your Android phone but also adjust the way the display acts in certain situations, adjust brightness and even set a Wi-Fi sleep policy.
Installing and Using Spare Parts
Spare Parts is available via the Android Market – your best option for downloading it is to search the Market for the term "spare parts" and you should see it as the top option.
This app is free to download (although ad-supported) and can be used on any version of Android. The basic idea of it is that you can alter phone settings that don't appear in the settings menu, for whatever reason. A good reason might be that a mobile phone carrier has removed them, or the changes might not be appropriate for all devices. As such there is a certain element of risk attached to changing anything on your phone with this app, so use with care.
You can also install Spare Parts via appbrain.com/app/spare-parts.
(Image credit: www.gadgetrie.com)
How You Can Adjust Font Size on an Android
Once installed, Spare Parts can be found in the usual program menu in Android. You will find several options, from showing a compass in maps to adjusting the behaviour or the End button, with various display options in between. If you scroll down the list to Font size, this feature is how you can adjust the font size on any Android phone with Spare Parts installed.
Font Size offers the following font display size options:
Extremely Small
Extra Small
Small
Normal
Large
Extra Large
Extremely Large
All you need to do is select the one you want, and the default text size in emails and web pages should change accordingly!
Other Display Settings
With Spare Parts, you're not just limited to adjusting the font size – other display settings can be adjusted. For instance Brightness Mode lets you choose between Manual and Automatic, although this option requires a phone restart to take effect. With Automatic selected, rather than change the brightness in the main Settings menu the phone will detect the strength of the external light source and adjust the screen appropriately.
Via the General section, you can also adjust the speed of transition animations between screens and the speed of window animations.
Spare Parts is a very useful app that brings vital additional configuration options to your Android.