Best Android Apps for Sign Language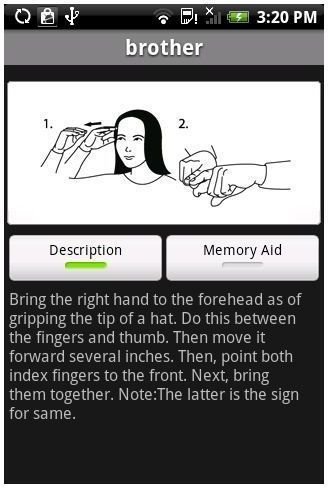 Android Apps: Sign Language
There aren't many Android sign language apps available; perhaps it is because those who depend on sign language to communicate are already proficient in sign language. However, for those who want to learn the skill, having a sign language reference on their smartphone can be a blessing. Here is a review of some Android American Sign Language Apps.
ASL Ultimate
This sign language app enables its users to easily reference more then 1,400 words and their corresponding signs. ASL Ultimate makes the
learning process easy by including a clear description for completing each sign along with a graphical representation of the sign.
You have the choice of going through the entire library of signs using the categories feature or to find a word using the search option. This is a particularly useful feature for situations in which you need to use some sign language skills but need a reminder on how to sign a word. There is also a quiz feature that will test you on how well you are progressing with your word mastery.
ASL Ultimate costs $4.95 but you can download and try the free lite version before you make a purchase. Even though ASL Lite has only 100 words all the features are the same as you will find in ASL Ultimate. You can find a download link here.
My Smart Hands
Sign language can help babies communicate long before they are able to speak. As a matter of fact, babies that learn even a few sign language words are usually less frustrated and in turn will spend less time crying because they can let their caregiver know what they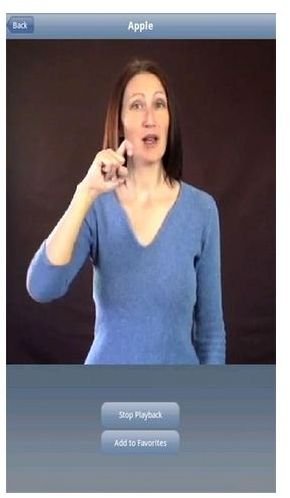 want and what they are feeling.
My Smart Hands is an American Sign Language tool that shows how to teach a baby over 300 words using detailed instructions and memory tips to ensure that the lessons stick. My Smart Hands is not compatible with all Android phones though, so it is a good idea to try the free version called Smart Hands Lite before you purchase the full version. The full version costs $4.86 and can be downloaded from this link.
Learn Sign Language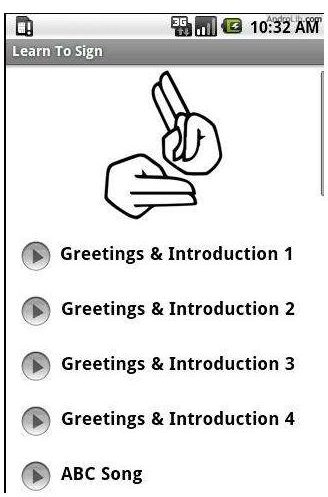 This app takes a different approach to teaching sign language in that it uses a collection of 20 videos to teach the basics. Some of what you can expect to learn includes: greetings, colors, numbers and animals.
The lessons also include instructions on making conversation with common phrases and simple sentences. The app provides a simple redirect to a popular video-sharing site, which makes it questionable as to whether it's worth the $6.28 asking price. Nonetheless, it can be downloaded from this link.
Conclusion
The manual communication technique of sign language is an absolutely important tool for effectively interacting with the hearing impaired and babies whose language skills haven't been yet been fully developed. Whether you use Smart Hands to communicate with a toddler or ASL Ultimate to communicate with grown adults these Droid sign language apps are a great way to learn ASL or keep a quick sign language reference close at hand.
Image Credits: All images are the property of the app developer.
Android apps sign language
My Smart Hands
Learn Sign Language - ASL or sign language Android