Remote Control Your Desktop with Android VNC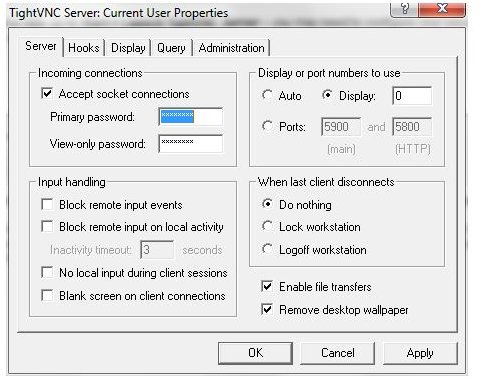 Access Your Desktop Via Android
One thing about the increasing power of mobile phones is that we often expect them to be able to do more than they can – like managing downloads or running software designed for desktop platforms. So we try the next best thing – running the application on our PCs, and then finding a way to dial-in and use the tool that way.
Being able to control your PC remotely is great – and there are so many ways to do it, from web services like LogMeIn to setting up a VNC. There are several apps available on Android for doing this; let's take a look at how to remote control your desktop with Android-VNC-Viewer.
Getting Started with Android VNC on Your Desktop
Before we get into the process of installing and remote connecting over the virtual network computing (VNC) connection, we need to setup the desktop client that will allow the connection to take place.
Designed for Windows, you can get this from sourceforge.net/projects/vnc-tight. Tightvnc-1.3.9-setup.exe is a 1.5 MB executable file that can be installed without changing any of the options.
Once you have installed the desktop app, go to Start > Launch TightVNC Server – you may need to configure your security options to allow the tool to connect to the internet before you can proceed.
Configuring TightVNC Server on Your Desktop
Before you can begin the Android VNC session, you need to alter the TightVNC Server properties – namely by entering a password.
You'll find the field for this on the Server tab, under Incoming connections. Set a new password of 8 characters for the Primary password, and use a different one for View-only password beneath it. Also you might need to change the Display or port numbers to use field; rather than Auto, choose Ports:. You shouldn't need to change anything else at this stage, so it's time to head for your Android!
(Image by author)
Installing Android VNC
In the Android Market, search for android vnc – android-vnc-viewer should appear (near the) top of the list; Install this.
When installed, you should run the app. You will then see a connection form – leave Nickname blank, but enter the same Password as you set up in the TightVNC Server properties. For the Address field, you'll need your PC's external IP address. There are a number of ways of doing this; if your PC and Android are both on the same wireless network, the easiest way is to go press WINDOWS + R to open the Run box, and type CMD. From here, enter ipconfig – your PC's IP address will then be displayed. Enter this into the Address field and click Connect!
You can also get Android VNC Viewer from www.appbrain.com.
Controlling Android VNC
With the app setup and connected, you should see your desktop represented on your Android display. With the Zoom tools you can increase or decrease magnification of the monitor, or via the Scaling options in the menu you can choose between Zoomable, 1:1 and Fit to Screen.
Other menu options allow you to Send text, alter how the mouse pointer behaves or even send a CTRL-ALT-DEL to your PC to access the shutdown menu.
Android VNC viewer is a great tool, and used in conjunction with TightVNC Server you will be able to interact with your PC remotely!
(Image via www.appbrain.com)