Android Cooking Apps Round-Up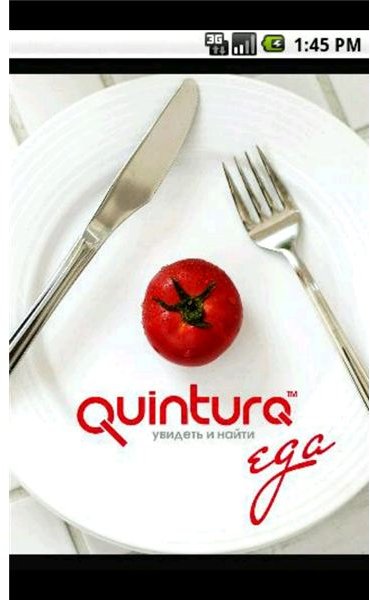 Quintura Cook
Quintura Cook is a visual search engine for recipes. Culled from Quintura's latest collection of recipes, the app gathers information from the best websites on cooking to help you find recipes for everything from pastries to sweets, soups and sauces, meat and fish, vegetables and fruits. The app also provides you with a Quintura tag cloud which gives you access to carefully picked cooking web sites. Using the app is as easy as cooking your favorite recipe. All you need to do is to tap a word in the tag cloud to search for a recipe or use the custom search box. What's good about this app is that once you get the initial search result, it will also suggest more tips. (Price: Free) (Download link)
Chinese Cooking Video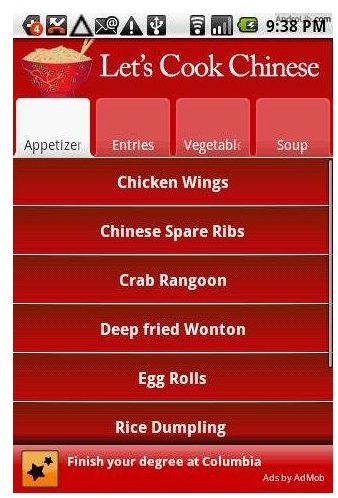 Who doesn't like Chinese food? We all do, right? So if you've always wanted to stir up your frying pan to get that Yong Chow rice perfectly done, this is the right app for you. This portable video guide contains various instructions on how to cook your favorite Chinese dishes. The video instructions are presented in a very organized way, ensuring that you'll never miss an important step when preparing a sumptuous Chinese-inspired meal in the comfort of your own kitchen. (Price: Free) (Download link)
Cooking Capsules Brunch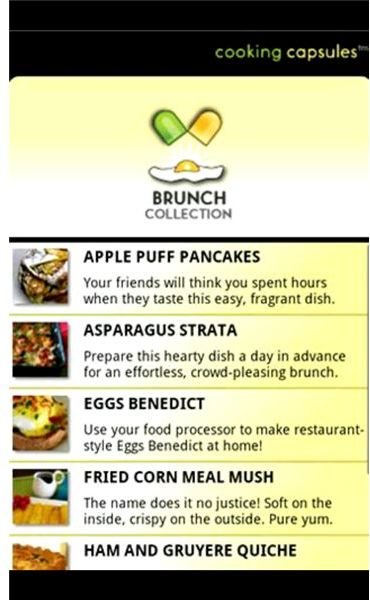 This app is perfect for urban warriors who are always pressed for time. Cooking capsules are easy-to-use encapsulated units of hands-on recipe information for your mobile cooking convenience. Great thing about these cooking capsules is that you can watch, shop and make options anytime. Cooking Capsules Brunch Android app gives you a uniquely packed cooking show, grocery list, and recipe steps which make it fun, easy and inexpensive to prepare impressive breakfast or brunch dishes at home. Perfect if you're in a hurry to do something else. (Price: $0.98) (Download link)
Here's a full Cooking Capsules Review.
Diet Cookbook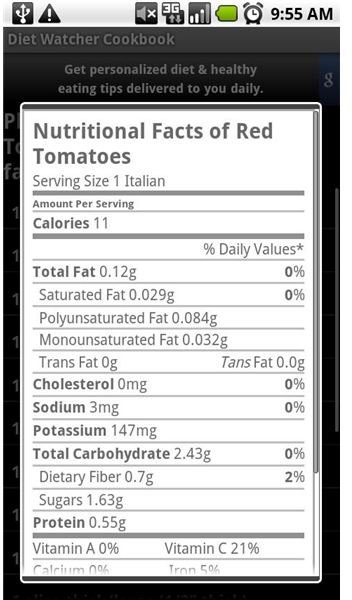 Time to get healthy people. If you're watching your diet, you'll surely love the recipes featured in this Android cooking app. What's unique about this app is that it lets you look up recipes of your favorite food, regardless of how unhealthy it may be. After finding the recipes, you can then look up for their nutritional value so that you can adjust the serving size to give you a healthier meal. Sounds better than the usual diet cooking recipes, right? At least you are not being deprived of the good food and yet it enables you to maintain your diet. (Price: Free) (Download link)
EasyRecipe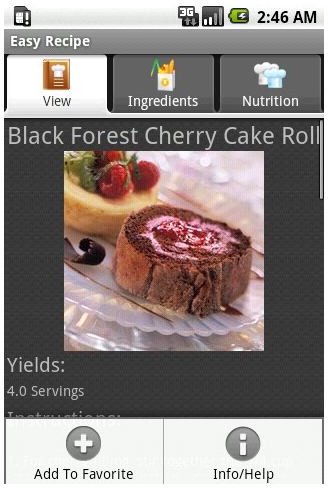 This Android cooking app provides you with around 10,000 recipes of popular dishes and the cooking skills needed to prepare those dishes. It allows you to browse, search and save any recipe you like on your Android phone. The app has three main features - search, favorites, and recipe index. When searching for a dish, you can just enter an ingredient that you would like to cook and the app will list down all the dishes that use that ingredient. Select a dish and the app will display an introduction about the dish and other information including cooking skills, ingredients and nutritional facts related to the dish. If you like a particular dish, you can save it to your favorites and the app will store it on your phone allowing you access to it later on. The recipe index includes more than 10,000 popular dishes and their nutritional value, arranged by most popular, main ingredients, categories, cuisines, courses, appliances, and holidays. (Price: Free) (Download link)
Patrick's Easy Cooking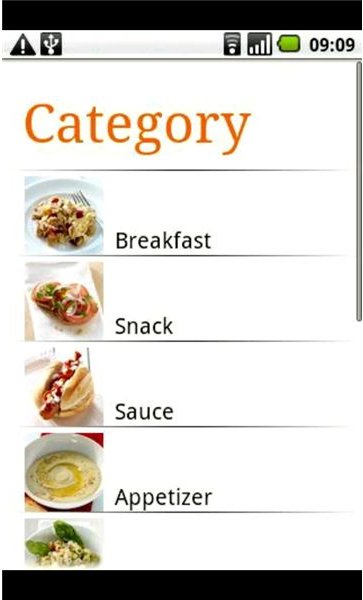 If you know the famous chef Patrick Jaros, you'll love this app. If you don't know him, you'll still love this Android cooking app because it contains 72 innovative recipes that you will surely love to try doing in your own kitchen. What's interesting about Chef Patrick's recipes is the use of leftover foods as the main ingredients of his innovative dishes. For example, one of his dishes turns leftover rice into a refreshing Italian rice salad or sushi from the day before is turned into a fried savory canape with sesame. You will surely pick up an idea or two from this Android cooking app. It contains step-by-step slide shows, illustrated shopping lists, recipe search, favorite recipe list, and send recipe by email. (Price: $3.3) (Download link)
Digital Recipe Sidekick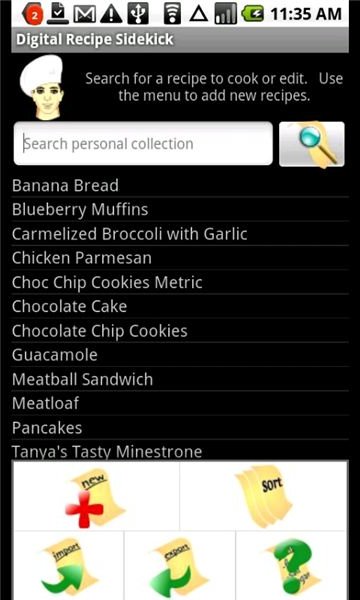 Consider this app as a GPS for cooking. It is a very cool app indeed that lets you use your Android phone as a digital cookbook and an interactive recipe reader. As a digital cookbook, this app lets you edit recipes directly on your Android device and expand your recipe collection by downloading recipes from various sources from the web. You can also import recipes from memory card or input them yourself. As an interactive digital reader the app reads recipes based on voice commands so you can focus your hands on what you are doing. The app also tracks your progress so it can tell you what to do next. (Price: Free) (Download link)
Recipe Distiller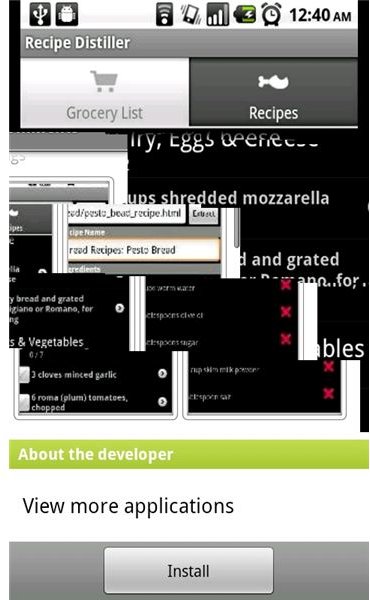 How about this? An Android cooking app that turns recipes into a handy grocery list. Sounds cool? Indeed, this app is pretty cool and useful as well. What it does is to let you convert cooking recipes you found online into a handy grocery list. Very helpful when you're out grocery shopping for ingredients for what you're going to cook. It practically eliminates the need to print out recipes. This app also lets you group grocery list items into a set of predefined aisles, place recipe ingredients automatically into aisles, and add color coding of recipe ingredients. (Price: Free) (Download link)
BigOven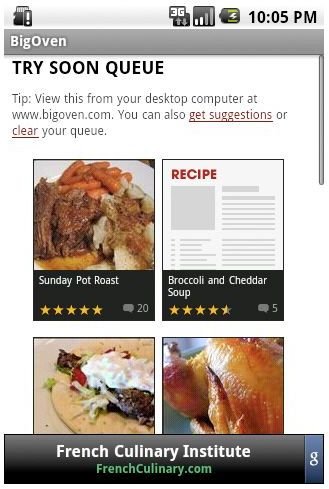 Here's one of the most popular Android cooking apps - BigOven. This app lets you find nearly any recipe that you can think of. The app is easy to use as well - you simply enter 3 ingredients in your pantry and you can find suggested recipes that you can prepare using those ingredients. The app lets you do the following too - search 170,000+ recipes by title, tag or more, use the leftover wizard, mark/unmark recipes as favorites, create a "try soon" list, rate and comment on recipes, display ingredient qunatities, and see "what's dinner?", which is an ongoing, live list of dinner suggestions. (Price: Free) (Download link)
Epicurious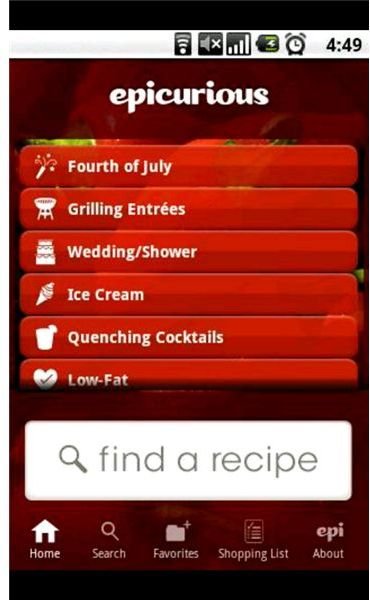 This app provides you with more than 28,000 recipes which you can search through the app's excellent search interface. These recipes were culled from the eponymous forum and other sources including from top chefs and food personalities. All these recipes can be searched through by text or using the voice-to-text feature of your Android phone. The app also features "recipe of the day" on your home screen via an Android widget. If it matters at all, this app was developed by Conde Nast, popular for their digital magazines. (Price: Free) (Download link)
Check out our Epicurious iPhone App Review.