Best Android Podcast Software: The Three Most Outstanding Apps Revealed

Podcast Apps and the Android Platform
The Android Market is well filled with a great range of podcast applications. Each of these apps provide a basic set of features that will do a good enough job for everyone that enjoys podcasts. Many music player apps also integrate a podcast feature, such as DoubleTwist. However, it is the dedicated podcast managers that dominate the market. Here are three offerings for anyone seeking the best Android podcast software.
Google Listen
As Google's native podcast app on the company's Android platform, the 'Listen' app cannot go unnoticed. As it is the only free option discussed here it is no surprise that in its concept, it is the most simple. In the case of Listen, the simplicity is definitely not a bad thing. The app comes with the four menu options on its home screen, which are 'My Listen Items', 'My Subscription', 'Popular Searches' and 'Recently Played'. Naturally, there is also a search option to find new content. Right off the bat, the best part of Google's Listen application is by far the option to link to one or more Google accounts. As the Android system functions with a Google account, it is easy to integrate the app with it. Subscriptions can then be synchronized and managed through Google Reader, which sort of validates the application. Beyond this, the application incorporates basic podcast playing options, although nothing too extensive. All in all Google Listen is a nice option for those seeking a quick and simple podcast player that syncs with their Google account. It is one of the best Android podcast software options.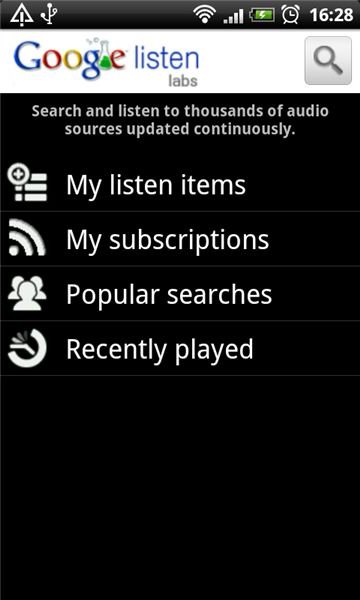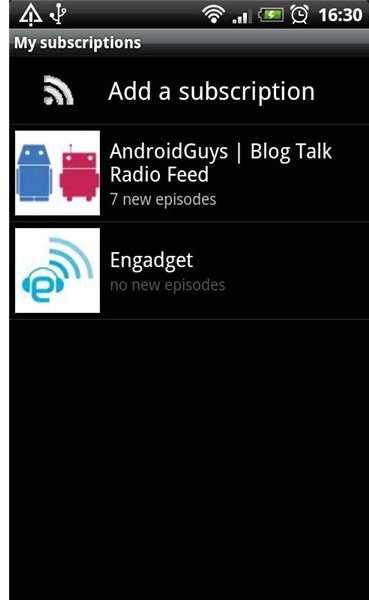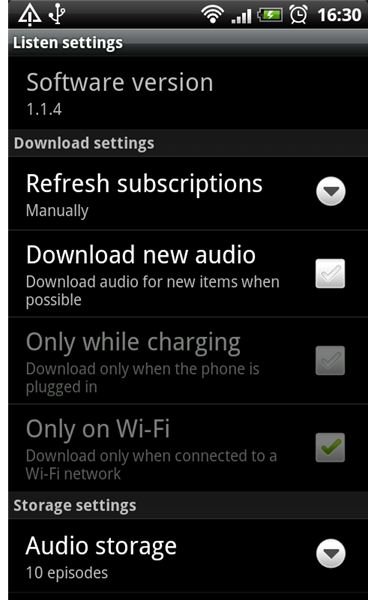 Doggcatcher

Doggcatcher is one of the most popular podcast applications in the market. Even though the price point is a bit hefty at $6.99, the application has everything you might come to expect from a decent podcast player. To begin with, search options are very extensive. For instance, users can look for most listened to feeds, recommendations based on their podcast listen history, the traditional keyword search or by RSS URL. Also, the app has popular directories to search through, such as YouTube, BBC, Twit, Revision3 and NP3 directories. Also OPML files can be imported from either File or Web, making it easy to switch from another podcast manager or import from Google Reader. Unfortunately two-way synchronization with your Google account is not possible as of now.
Feeds are easy to manage as all the subscriptions are listed on the home screen after the app is launched. Podcasts can either be streamed or downloaded to the SD Card, which will potentially save on mobile Internet costs. Downloads can also be automated and managed. This includes setting a maximum number of downloads, auto-deleting policy, downloading only on Wi-Fi or when then phone is powered. A lot of extra nifty features are also available that will let a user tweak the application's behavior in great detail. The level of detail in which the application is built is truly shown in all its preference options and even a video player is built in. Doggcatcher is by far one of the most extensive and most intuitive podcast apps on the Android Market.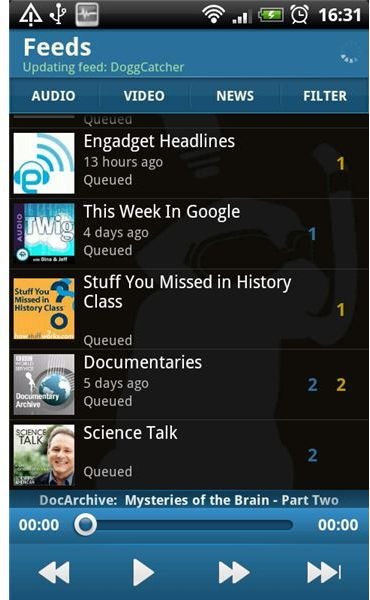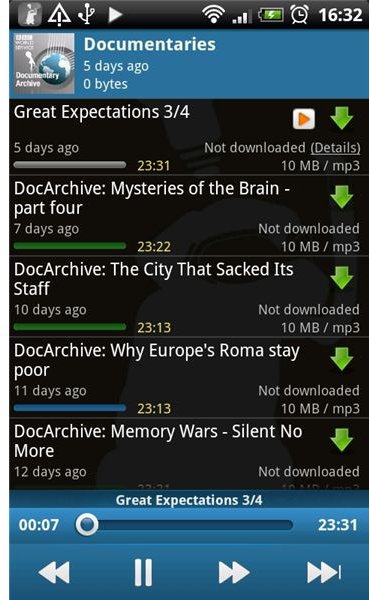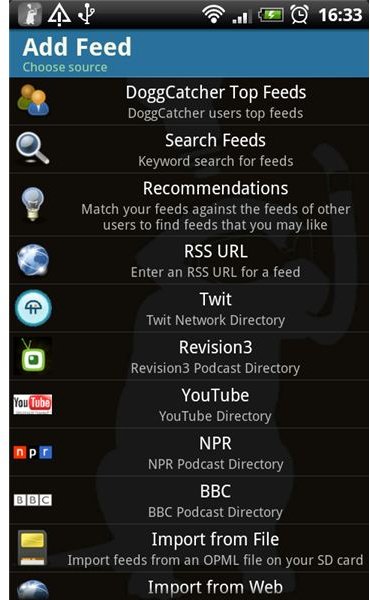 BeyondPod Podcast Manager

The BeyondPod Podcast Manager for Android stands out because of its form factor. It is by far the most intuitive of the three apps dealt with here, and in terms of functionality it combines the feature-richness of Doggcatcher with the Google Reader integration of Listen. But the application provides more, with some useful features of its own. For instance, it is possible to categorize streams, which can then be individually managed. This feature is in line with the entire concept of an Android podcast application which is truly intuitive to use. To go through the various menus, a simple left or right swipe will suffice. Another unique feature is the 'smartplay' feature, which builds a playlist according to listening preferences. This type of playlist building is comparable with the last.fm method, which itself is also supported. Like Doggcatcher, BeyondPod also has widget support. The BeyondPod Podcast Manager is free for 7 days after which a $6.99 key must be bought to be able to fully enjoy all the features the app has to offer. Which such a great range of possibilities, the application is well worth the price.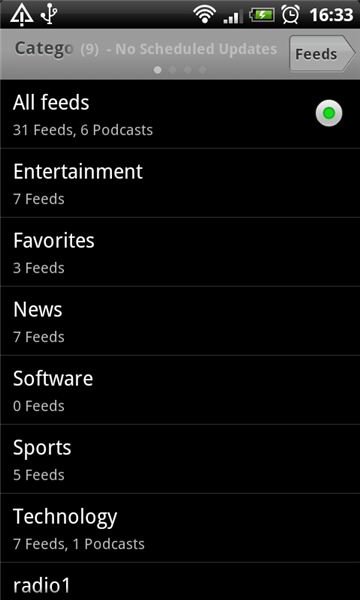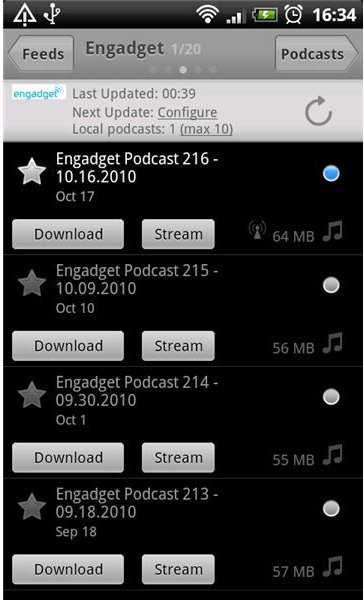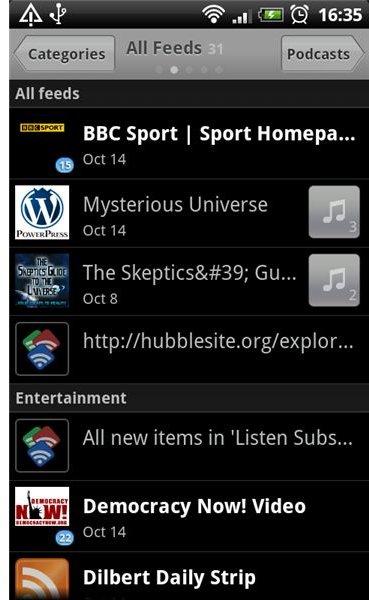 A Definitive Podcast Manager on Android?
To determine if there is a definitive podcast player is not an easy task. If free is the way to go for you, Google Listen does a good enough job providing the basics. With Google account integration it will match your Android system seamlessly. For those that need a little extra, however, there isn't much between DoggCatcher and BeyondPod. If you are in the market for a slick iPhone-like interface and Google integration, BeyondPod will probably be the podcast player for you.