What is the Best Android Mileage App?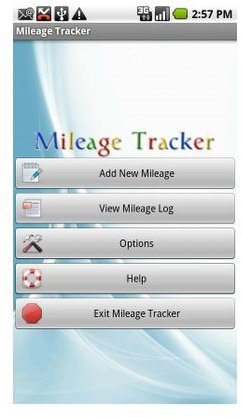 Mileage Tracker
A very robust mileage tracker for your Android phone is Mileage Tracker from Frank Android Software. The application is a simple solution for tracking mileage for taxes and expenses. To track your mileage with Mileage Tracker, simply enter the Vehicle, Rate, Payer information and starting odometer reading at the beginning of your trip. After you arrive at your destination, edit the log to enter your ending odometer reading and save the mileage log. It is that simple and does not require you to have your phone on the entire time. Some of the features for Mileage Tracker are:
Password protection to secure your mileage logs.
26 different currencies to choose from.
Ability to enter payer information.
Backup and restore databases from your SD card.
Export logs into CSV format for use with Microsoft Excel.
Ability to Email databases via CSV attachment.
Summary and chart options.
The amount of options and ease of use puts Mileage Tracker high on the list for mileage tracking apps on your Android phone. The simplicity makes up for the lack of GPS automation. For more information and download links, visit the Frank Android Software website.
Trip Master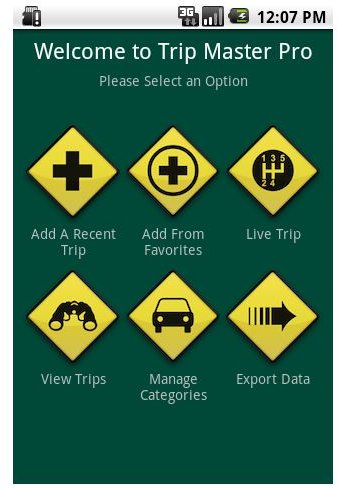 Trip Master is another simple Android mileage app that allows you to track mileage on your Android phone. It allows you to enter the starting odometer reading of your trip and when you reach your destination, your final odometer reading. The interface is simple and intuitive and will show you a map of your route. It has the ability to backup your database, but only one database at a time. This is a minor caveat, but could be a deal breaker for some people. Trip Master comes in both free and pro versions. For more information click here to visit the Trip Master website.
VR Mileage Tracker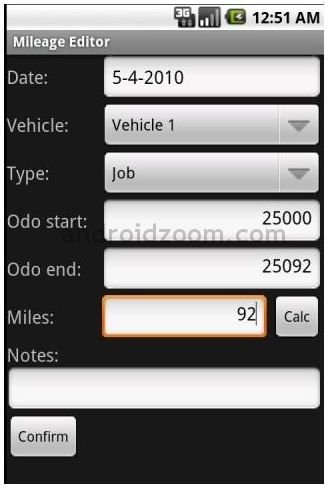 VR mileage tracker is another Android mileage app that is available on the Android Market for the low cost of 99 cents. It allows entry of unlimited vehicles and trip types with an easy to use interface. You can view mileage stats and export your data in .csv format for record keeping. If you are looking for a cut and dried application for logging your mileage on your Android phone, be sure to check out VR Mileage Tracker.
MileageTrac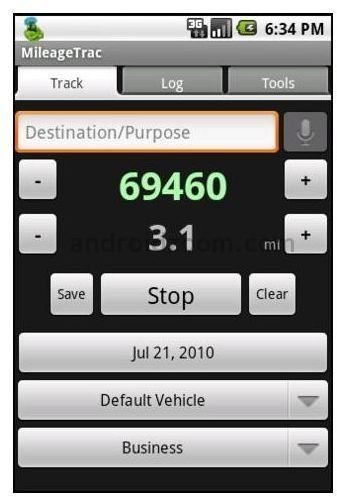 If you would like to take advantage of your GPS in Android phones for tracking mileage, be sure to take a look at MileageTrac. You will never have to worry about writing down your beginning and ending odometer readings when using MileageTrac. One of the cool things about MileageTrac, is that it can even log distance when walking or running. This may come in handy for you joggers out there. Kick on MileageTrac before you jog and find out exactly what distance you covered. For more information about this Android mileage tracker, click here to visit the MileageTrac website.
MyTracks
Another Android mileage tracker that uses GPS for its calculations is MyTracks. MyTracks will allow you to record your mileage information and view live statistics like time, distance, speed and elevation. This can be useful for business travel, running, biking and many other activities. The information logged with MyTracks can be uploaded to Google Spreadsheets and used with Google My Maps. For more information on MyTracks, check out the MyTracks website.
Which to Choose?
It is hard to pick the best Android mileage app from the five mileage trackers covered in this article. My suggestion would be to try them all and see which one you like the best. I use Mileage Tracker for the simplicity and robustness. It does exactly what I need. The GPS applications are great for logging mileage, but using GPS will consume massive amounts of battery life. Hopefully one of the five apps covered will help you with your mileage tracking needs.