What is the Best Dictation App for Android?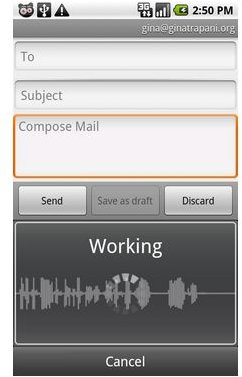 SwiftKey Keyboard gains speech-to-text
SwiftKey is a keyboard but with a new feature that many keyboards do not have - a speech to text option - it can also serve as a dictation app for Android. The microphone has a button in the usual place, which is to the left of the space bar; however, the implementation is slightly different.
When you press the button, it brings up a blank screen showing a "Speak now" dialog. This is different. In part, this may be due to another feature that comes up after speaking, a pop up appears to let you select what you meant to say. Does this mean that it will reduce the frustration of the speech-to-text program not understanding you, or could this be just to add another step? Actually it could be both. So while it is functioning to make texting a little easier, the extra steps may hold you back.
.
Score: 3/5
Image: AndroidCentral
Download: AndroidZoom
ShoutOut
The Shoutout text to speech app provides integration of voice addressing into the Android mobile device. It provides one-touch navigation to all the recent incoming and outgoing messages. It gives you a natural alternative to typing on the screen without using your hands.
While there has been a lot of talk about outlawing texting while driving, this program and others like it can make that legislation unnecessary, or at least make this type of dictation app for Android a legal requirement. Especially if it is free.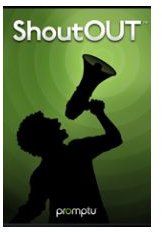 Score 4/5
Image: Tnerd
Download: Shoutout
HandCent
A dictation app for Android that has been around for a while is Handcent. It provides SMS and MMS Support. You can perform Group Send. You can do SMS Popup with Quick Text. There is a customized look with theme Support. There is individual contact and notification with look settings. The app also has security lock options. It also has a knockout user interface**,** that includes different themes and different conversation bubble styles.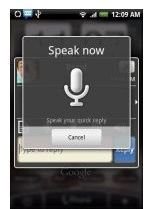 You can specify different ringtones like LED, vibrate, signature, background, or bubble style that can be used for different people. There are multiple font sections and also support for 15 languages.
Score 5/5
Image: AndroidTapp
Source: Handcent
Download: AndroidFreeWare
Voice Recorder
Here is a dictation app for Android that has many good features, but is hampered by its voice to text operation. Since Voice Recorder uses the Android phone's microphone, sound quality can be a problem. It will not be as rich as a stand alone recorder that has better sound in the microphone. In other words, if you are recording for broadcast or music listening quality, this can be a problem. Furthermore, distance from the source of the sound may result in low quality, as well.
Overall, Voice Recorder is an easy to use app that will give basic, low to medium quality sound recordings, but with various problems and instabilities that need to be addressed before the app can be seen as a consistently reliable tool. It is highly likely that, with the proper updates, these problems will find relief.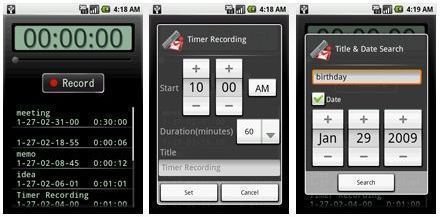 Score: 3/5
Image and Download:AndroidFreeWare
See Also: Voice Recorder App Review For Google Android
BuzzVoice
If it's news that you want to stay on top of, but you don't have time to read about it, BuzzVoice is the app you should get. This will do a text to speech conversion and read the news out loud for you. Anything on your news desk will be available. BuzzVoice has two plans, the Basic and Pro, which you can get with a free trial. With the Basic, you get 15 News and Blog sources available from the Playlist. You get 5 AutoStream features, 5 saved searches, and 10 Daily Buzzcasts. The Pro allows you 100 news sources, and there is no limit to the the auto-streams you can get, and 30 saved searches with 30 minutes of daily buzzcasts. You can also get trending topics, Batch select features, BuzzRadio (streaming stations), and alerts.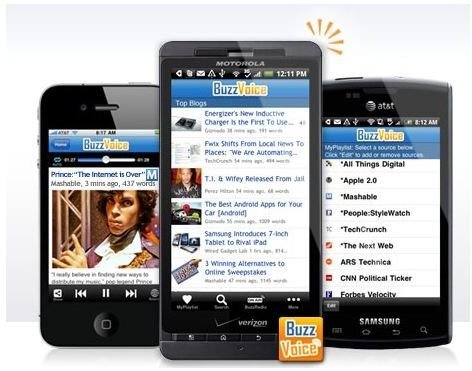 Score: 4/5
Image: BuzzVoice
Download: AndroidZoom
Summary
Various speech to text and text to speech apps exist. They perform well with limited conditions, but HandCent was the most reliable and had the highest quality. The other dictation apps for Android had features that made them appealing, but there were limitations that may be improved over time.
Rankings:
HandCent: 5/5
BuzzVoice: 4/5
Shoutout 4/5
VoiceRecorder: 3/5
Switfkey: 3/5
The best one to use is HandCent.
See Also:Speaking Pad Review For Google Android. Text To Speech Solution