What are the Best Android Flashcard Apps?
TinyClassroom
For users that have an interest in learning a foreign language, then TinyClassroom is an Android flashcard app that can help you. The developers used their own language learning experience as a model, and brought it to the mobile app. It comes with operation instructions for using the app, and also you can download content from various locations. For instance, from the Web you can locate sites that have content already available, like flashcard exchange. You can also pull flashcards from another app as long as they are in CSV format. You can also create your own in txt format. Those two formats are the basic ones although, in some cases, an advanced format will allow users to create extra columns.
.
.
Source: TinyClassroom Image: TinyClassroom Word Groups Download: SlideMe
Flashcard 101
This Android flashcard app works with flashcards created via Quizlet.com. At that site, users can create different flashcards, and then import them into Flashcard 101. The subjects that users can make are in Languages and Vocabulary, Standardized Tests like the SAT, GRE and others, Math and Science, History and Geography; Arts and Literature, and Professional and Careers. The price is $1.99. Creating flashcards at Quizlet is free, but you must share the cards with other users.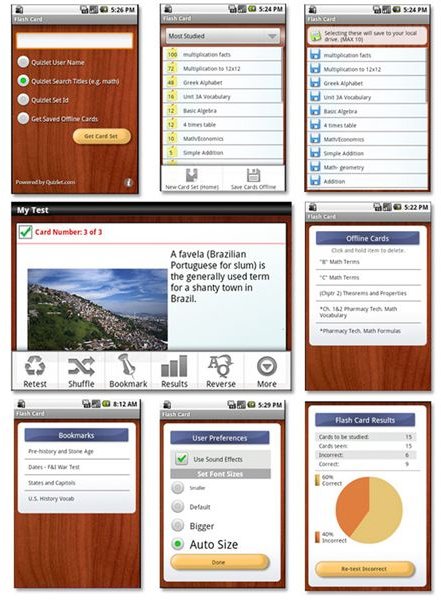 Image: Flashcard101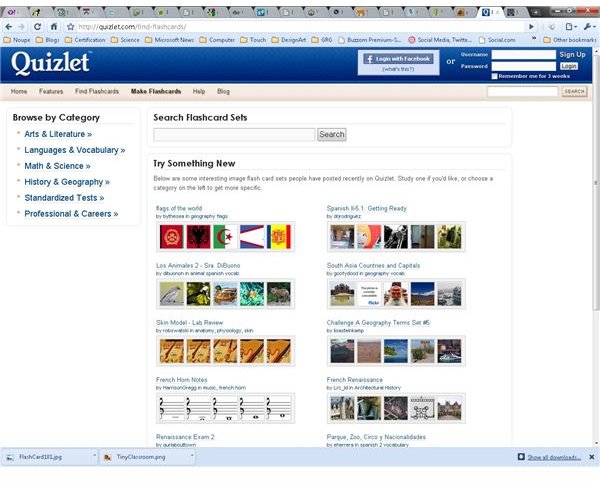 .
.
Image: Quizlet Flashcard Download: MyPocketTechnologies
See Also: Using Science Flash Cards: Studying Techniques for Science Class to Make the Grade
StudyDroid
This app has similar features to the other Android flashcard apps on the list. You can create your own cards, upload the card to their website and sync your 'packs' to your phone. They have a database of 3 million flashcards packs. However, you can create your own if necessary. Registration is free. You can sync the flashcard to the Android mobile phone. You can run the flash cards from the web or from your mobile.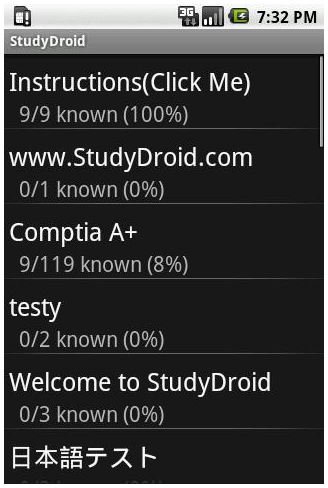 .
.
Download and Image: Appbrain Source: StudyDroid
Kaka Flashcards
This Android flashcard app is similar to Flashcard 101. You create your flashcards with Studystack or Quizlet and then synchronize them to the Android phone. You can also import or export the cards in CSV format. You can also perform autotranslation and download the stacks using the QR codes.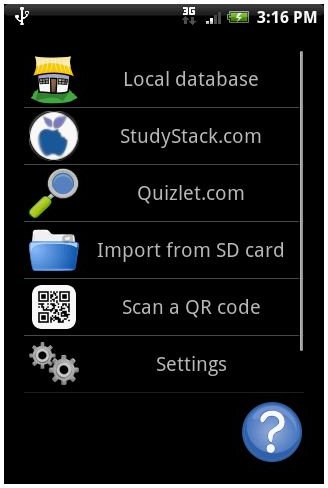 In addition, the flash card system uses the Leitner method. This is a method for the effective use of flashcards. It uses the concept of spaced repetition, where the system reviews cards at increasing intervals.
In this method, you organize the flashcards into study groups according to how well you remember each one in the learning box. It works like this. Recall the answer on a flashcard. If you succeed, the card goes to the next group. However, if you fail, the card goes back to the first group. Thereafter, it takes each succeeding group a longer time frame before you must revisit the cards.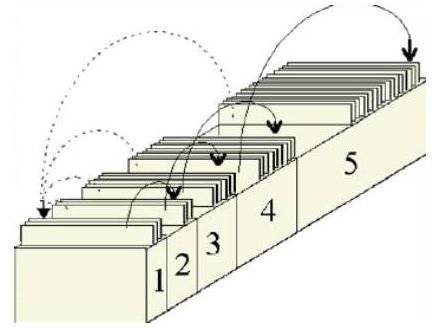 .
Download and Image: AndroidZoom Leitner Image: Chinglish-Online Source: StudyStack
Vocabulary trainer for Gdocs
Start with a Google Spreadsheet then add a flashcard trainer. The spreadsheet is the source for your study material. You can upload the vocabulary-lists to the spreadsheet, or create them with it, and import them with this app into the Android phone as a flashcard trainer. Some of the available features are updates from GoogleDocs, and Text-to-Speech.
Some problems are that you cannot go back to previous cards, and the breaks are too long.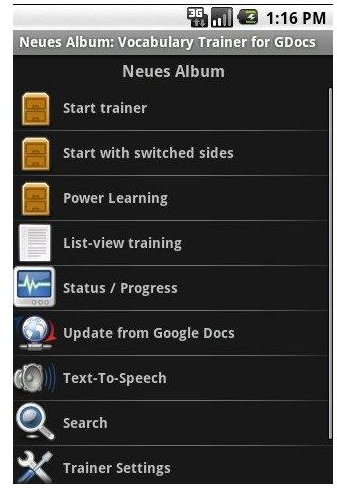 .
Download: AndroidZoom Image: Appbrain
Summary
Many Android flashcard apps allow users to access flashcards from the web and sync up the systems. They are convenient because they have to be direct in their style in order to maximize their operations. The five reviewed here offer many similar features, but there are also differences. They are fun to use, and if you need to pick up knowledge in a short period of time, these Android flashcard apps will help.
Source: flashcardexchange.com.
See Also: Flash Cards For WebOS. The Perfect Study App For All Ages