Best Android Budgeting Programs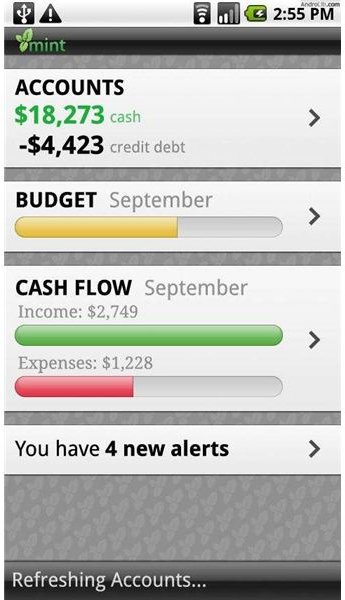 Though some people have much more income that they can reasonably spend, most have tight financial constraints that make it important to control the amount that is spent on a daily basis. Here are some Android budgeting apps to help you stay on top of your income and expenses and ensure that you have both properly balanced.
Mint.com Personal Finance
This Android budgeting program is much more than a simple spreadsheet you use to track personal line item expenses, it is in fact
one of the leading online personal finance apps. In addition to being able to track all your expenses according to categories and specific expenses you can use the same app to keep an eye on your bank accounts and credit card balances. The summary sheet shows you what you have to spend, how much you have been spending as well as your current cash flow.
The app not only helps you track the money you are spending but it can help you to save money as well. The app's alert feature can notify you of a number of events such as due dates, overdraft thresholds and bounced checks and it can also notify you whenever your bank charges you a fee so you can find hidden charges and avoid the bogus ones.
Despite its list of impressive features the app is free and can be downloaded from this link.
.
Easy Envelope Budget Aid: Sync
Allocating budgeted amounts to separate envelopes is a tried and tested way of ensuring that your budget is not exceeded. EEBA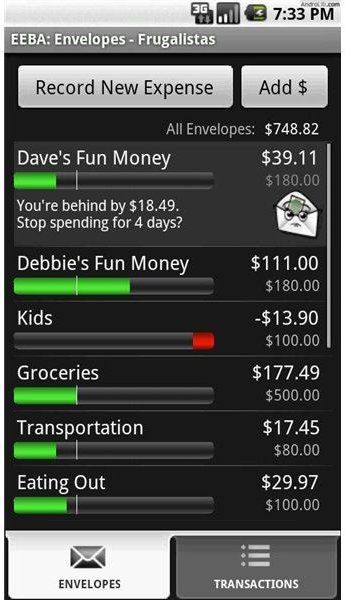 (Easy Envelope Budget Aid) is an online and mobile budgeting solution that uses this principle by giving you five envelopes/spending categories that you can use to track your expenditure.
Once you have signed up for your online account and set up the app you can allocate money to each of the 5 envelopes and use the app to monitor how well you are sticking to your budget during the month. In fact, the app displays whether you are right on target, or spending too much, which will allow you to make the necessary adjustments in order to stay within your spending limits. You are not limited to monthly budgeting though as you can adjust the time period to your preference.
While the app is free to download and use, account tracking is only available to paid subscribers. Notwithstanding the five envelope limit, the feature set of the free version is robust enough to satisfy the budgeting needs of most people. You can find the app at this link.
Financisto
If you are browsing Android budgeting programs in search of a simple to use solution to manage project expenses or your personal spending Fanancisto is an option you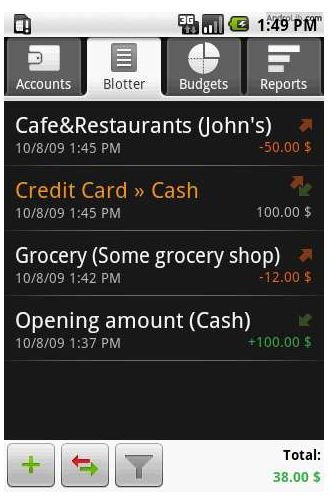 should consider. The app allows you to manage your bank account, credit cards and schedule recurring transactions. Once you have everything setup you can view reports on each account and evaluate how your budget for that item is going. You can also view items hierarchically and assign attributes, which allows you to apply filters when generating reports and budget summaries. The app is free and can be downloaded from this link.
EasyMoney
Here is another personal finance Android application that combines a budget manager, bill reminder, expense tracker and checkbook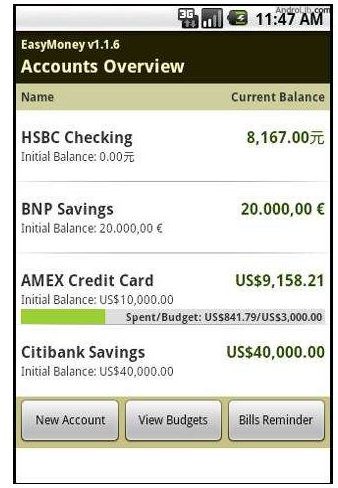 register. The app allows you to split transactions between expense items, record transactions in multiple currencies and see reports of your activities graphically.
A handy feature that most users will like is the ability to capture and store a photo of your bill/receipt so you don't have to stuff your purse or wallet with paper trophies of your spending habits. While the app costs $9.95 you can get a trial version to test it out before you make a purchase. The app can be downloaded from this link.
Loot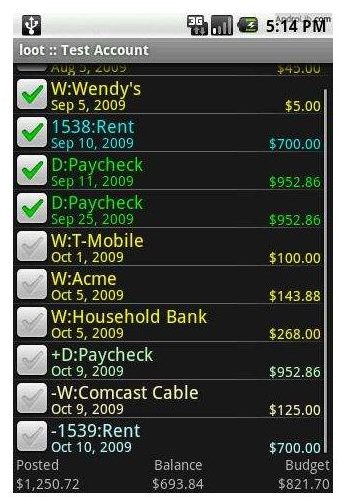 Keeping your personal accounts balanced is an important pillar of proper financial management and Loot helps you to do just that. Use Loot to review transactions that are charged to your bank accounts, set up up recurring transactions, tag and search bank charges as well as transfer funds to cover upcoming expenses. Unfortunately, there is no option to track debt accounts, and if you want to import or export transactions you will have to purchase the paid version. In any case you can get a copy of the program from this link.
Conclusion
There you have the best Android budgeting programs on offer. If all you are looking for is an application to help you track expenses and set monthly spending limits then any of the apps that we reviewed in this article will serve you well. But if you want to be able to manage your budget and review your running bank balances at the same time then Mint and EEBA are the options you want to strongly consider, especially since they allow you to sync the app with an online account.
Image Credits: All the screen shots are the property of the app developers.