MP3 Editing On Android: The Best Three Options for Tagging Audio Files

Audio Editing on Android, is it Even Possible?
The Achilles heel of the Android mobile platform has long been bad support for audio and video playback. As Android manufacturers are now only using standard plugs to fit all common, 3.5mm, headphone jacks, Android phones are becoming increasingly attractive as alternatives to dedicated MP3 players, or even the iPhone. On the software side, a greater influx of multimedia players has resulted in an increasing number of users transferring audio content to their Android handsets. On the down side, this can often go hand-in-hand with song tag annoyances. An option would be to re-tag the music locally on the computer, which can prove to be a tedious matter. The Android Market has a few alternatives that will help tagging on the phone itself. What you need is an Android ID3 tag editor.
Mp3tagger
The Mp3tagger app does what it indicates: change tags for MP3's. The app comes in two flavors, one being a free, rather 'slim', version and then there's a more advanced version that costs $1.36. The free version will only retag a single MP3 at a time and is able to edit the ID3 v1 and v2 labels for Artist, Album, Title, Title No. and Genre. This is a bit of a meagre selection; as for instance classic music devotees would surely welcome a 'composer' field.
A handy feature is without a doubt the ability to copy the tag of ID3 v1 to v2 and vice versa, which could be a potential time saver. As the default player, together with most of the alternative players, only needs the v2 tag, the v1 can generally be ignored. Upgrading to the pro version of the app brings with it an album art editor and bulk tagging of albums and directories. While the options are still a bit slim, with only the before-mentioned five changeable fields, the app will do a good enough job to ensure a pleasant music browsing experience on Android. It is a decent Android ID3 tag editor for quick fixes, potentially avoiding a tedious retagging process on a computer.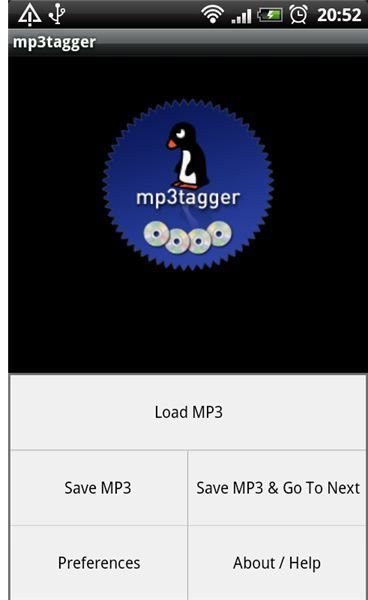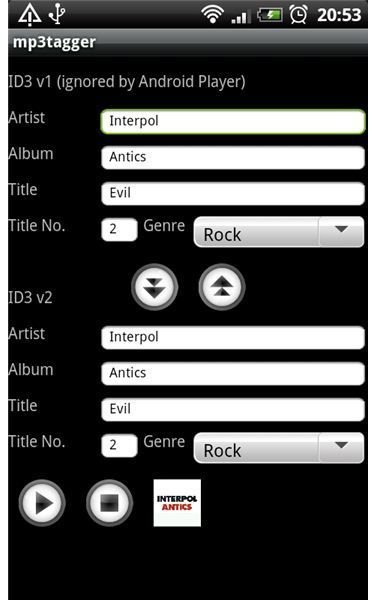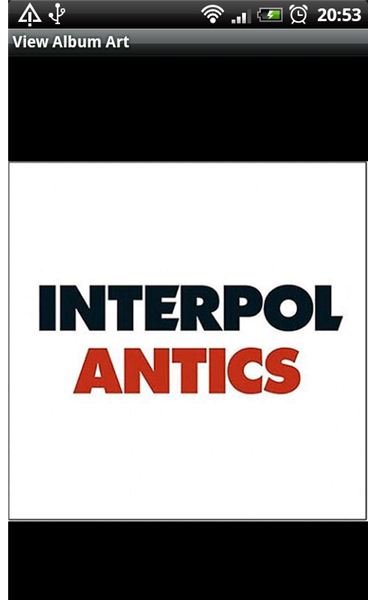 Audiotagger

Like Mp3tagger, Audiotagger comes in a paid and free version. Unlike the prior, however, the free version provides a full experience, that is only limited by the amount of files that it is able to tag; namely only a hundred. To continue after the 100th tagged file, the standard version must be purchased for a hefty $3.14. Besides just MP3 this app supports a few other files types, and therefore somewhat justifies the higher purchasing price as compared to Mp3tagger. Supported file types are Ogg Vorbis, Flac, WMA and, of course, MP3. This is particularly extraordinary, as many of these formats are not even supported by the majority of the audio players.
The number of options available to tag is also more extensive in both the batch and individual mode, as a distinction is made between 'Common Fields' and 'Extra Fields'. Additionally it is also possible to add artwork to the files, making Audiotagger a good all-round file tagging application for Android.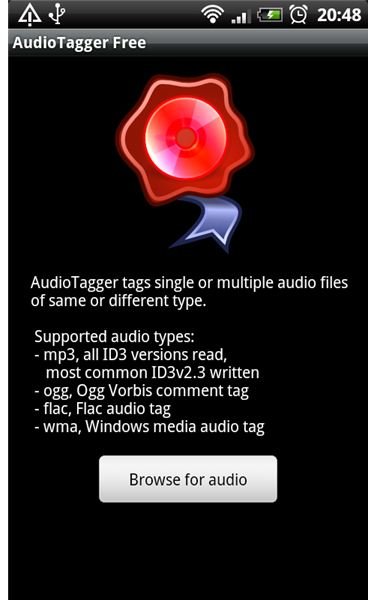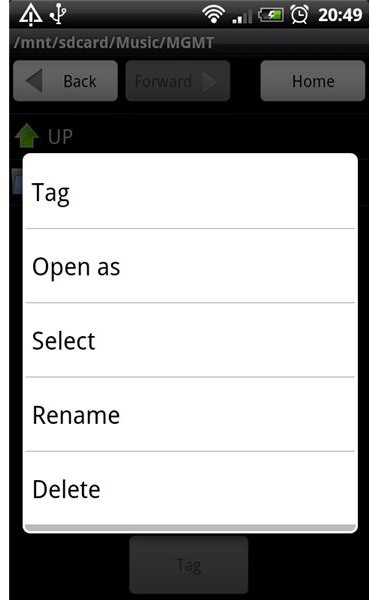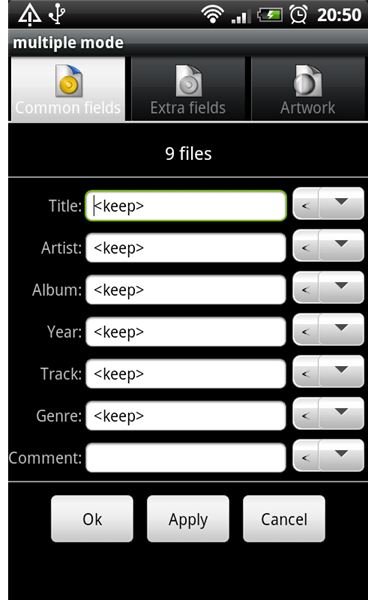 iTag

iTag is a popular option in the market and only has a single, free, version. That it is free will without a doubt be the reason for its popularity, as options are a little slim as compared to Audiotagger. This doesn't mean that the app doesn't come without its perks. Unlike both Mp3tagger and Audiotagger, iTag finds songs automatically and thus doesn't require a manual selection. Another unique option is the search bar, which makes it easy to find just that one song that needs tagging. Album art can also be added to a song, which really benefits the usefulness of the app.
The 'free' aspect of the app becomes apparent in the limitations of the app. First of all, no batch tagging is available, which can be a real pain on occasions when a long album, or more than one, have to be edited. Furthermore, the available fields to alter are also limited, like with Mp3tagger, although a user is able to add a comment to a song. Also, only MP3 is supported at the moment, although the developer has indicated that AAC support will be added in the (near) future. As this app is well designed and easy in terms of usability, it almost a pity that no paid version is available that is able to overcome the few downsides of the app. Even with all its shortcomings, however, the iTag app is still miles ahead of the free version of Mp3tagger, and has the potential to be the best option in the Android Market.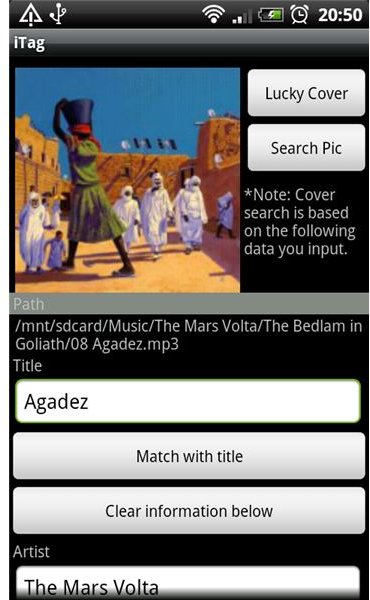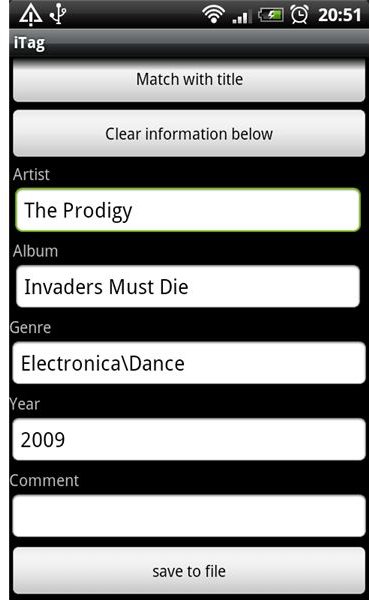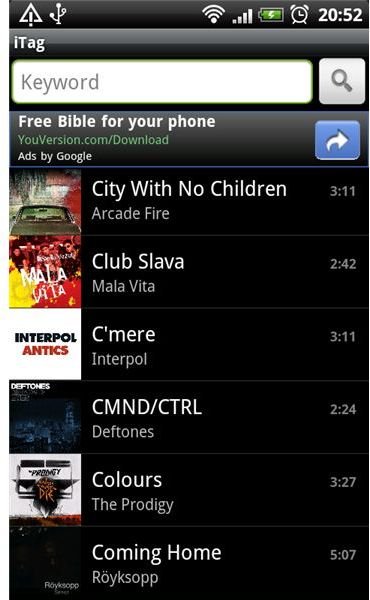 Audio Tagging on Android is a Real Option
While many people do not bother with retagging their music on a mobile phone as it seems a bit of tedious process, there are a few decent options available in the Android Market. Even though there is a bit of a discrepancy between free and paid apps, many people will only need a quick fix to be able to enjoy a well-organized mobile music library. The above-described three options will all be able to do this, but all have their own advantages and disadvantages. If a user is serious about audio tagging on Android, however, the paid version of Audiotagger is by far the best option.