Best Android Bible Software - Devotional - Reading Plan - Study Tools and Multi Versions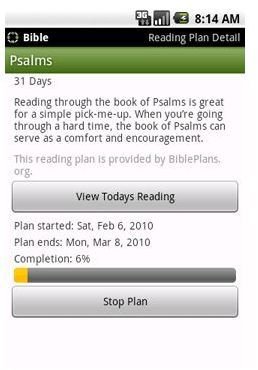 The word of God gives wisdom, encouragement and guidance in ways that no other book can. Unfortunately, a busy lifestyle often makes it difficult for people to spend quality time perusing the bible as often as they should, especially since it isn't always convenient to carry a bible around. Here are some great Android bible software apps to enable Android users to carry the word with them wherever they go.
Bible
This app is a 100% free Android bible software app that does what it was designed to do very well. In addition to being able to search through
scripture, you can save more than 20 reading plans, share what you are reading on Facebook and Twitter, as well as see Live Events that are being hosted by LifeChurch.TV. The app is powered by YouVersion.com, so you can see contributions that are being made by community members to discussions on portions of the scripture and make your own contributions if you like.
The app comes with over 44 free translations (NIV, ESV, MSG, NKJV, NLT, KJV…) and 22 languages. You can download the app from here.
Daily Bible
The bible is filled with so many stories, words of wisdom and end-time prophecies so much so that it can be challenging to just determine where to start and what to read. Daily Bible makes following a daily reading plan easy by serving up daily devotionals, reading plans and quick chapter and verse searches to the casual reader.
If you prefer to hear the devotionals you can opt to listen to as many of the podcasts as you like. The app is free and can be downloaded from this link.
Bible King James Version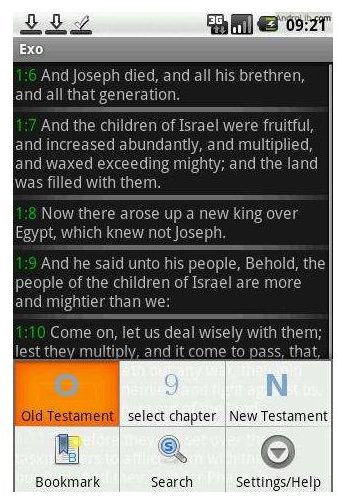 The KJV version of the bible is the most popular and favorite English version for many, and this Android bible software app caters to that demand by providing an easy, yet powerful way to carry the KJV on your Android phone. While the app does have an online search feature to facilitate more in-depth study, the bible contents are completely available offline so you can search and access all 66 books without an Internet connection. In addition to the above-mentioned features the apps also has:
3-year daily reading plan
Red lettering
Search
Bookmarking
Daily read popup menu
You can download the app from this link.
Bible Verses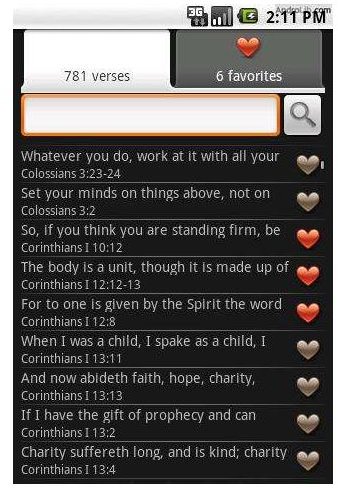 This Android bible app is not for those who are looking for a robust bible study resource. Instead, Bible Verses serves up random but great verses every time you open the app. You can mark the verses that you like as favorites or share them with a friend who you think needs to hear a word using the Facebook integrated share feature. This is a great way to memorize one or several bible verses per day as well as use the "previous verses" feature to remind you of the verses you have looked at before. Bible Verses is also free and can be downloaded from this link.
The Olive Tree BibleReader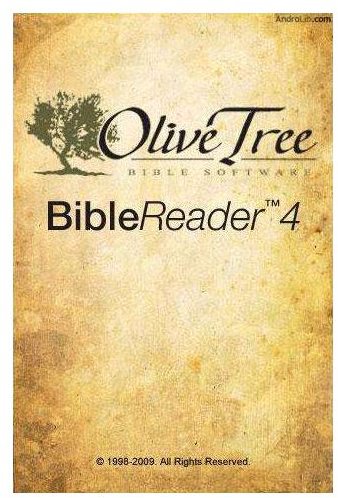 Olive Tree bible software is one of the most often downloaded and used software apps for mobile devices. It has become popular because of the efficient way it allows the user to navigate and use the application. For example, it only takes 3 clicks to reach any verse and once you get there you can continue reading for many chapters by smoothly scrolling through without having to click to advance to the next.
The BibleReader is stand-alone Android bible reader software so you will need to download the various versions that you want. Fortunately there are quite a few free translations that Olive Tree makes available to BibleReader users. They include:
New English Translation - NETBible
Modern King James Version - MKJV
American Standard Version - ASV
Darby's Translation
Young's Literal Translation
Weymouth New Testament
There are many other versions that are available, including the popular NIV, NKJV and Amplified bibles, though you may have to pay for them. The good news is that there are over 200 concordances, study guides and other bible resources that are available. However, the reader itself is completely free to download and use. You can find the app Olive Tree Bible Reader at olivetree.com.
Conclusion
The great thing about Android bible software apps is that you can conveniently carry the word with you wherever you go, enabling you to do a quick study, find a reference text or simply draw on the words of God when you need to. There are quite a few options to choose from but Olive Tree's solutions often tops the pack of competitors with its sound basic offerings and a large list of over 200 resources.
You may also be interested in these articles: