Looking For The Best Android Application Firewall?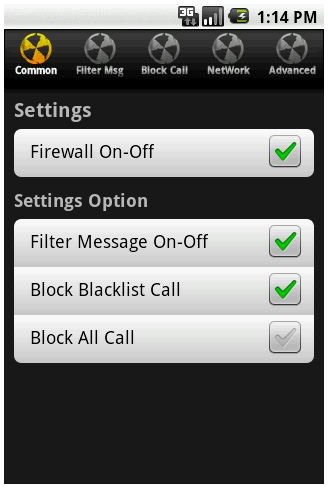 Network Security on Your Android Phone
Network security is an increasingly important aspect of using a mobile phone, and the Android platform is no different. Over recent months firewall apps have been made available to be used in the prevention of internet-based intrusions to your Android.
Amazing as it might seem, threats to mobile phone security are real - and increasing all the time. As we perform more and more tasks with our mobiles, such as accessing bank accounts, etc, there is every reason for them to be targeted by those with nefarious agendas. Even if this wasn't the case, the number of email addresses, phone numbers and addresses most of us carry around with us would be enough of a draw to hackers.
The security apps featured here range from comprehensive to those that target particular firewall tasks – and we've compiled a list of them here for you to choose the best Android firewall application!
AndFire
Offering a great user interface and the ability to block not just intrusions but also messages and phone calls, AndFire is a free app that will radically change the way you use your phone.
Using AndFire you can block network intrusions as well as cold-calling interruptions, and there is even a virus firewall included to prevent virus attacks. The user interface is very clear and easy to use, and all functions can easily be enabled and disabled as required.
Not available via the Market, you can acquire AndFire via www.slideme.org.
91 Panda Firewall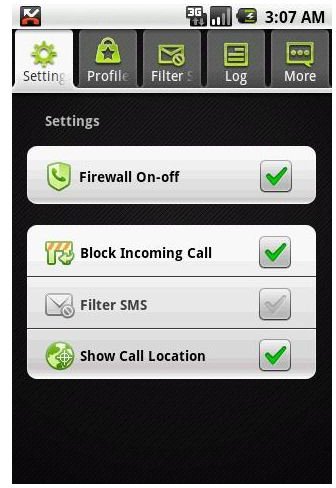 Although terming itself a firewall, 91 Panda Firewall is in fact only an Android call firewall application. While it can certainly successfully offer call firewall and SMS firewall functionality, 91 Panda Firewall isn't necessarily a security app, it's more of a convenience app.
It is blessed with a good user interface, however, that makes it easy to activate and deactivate the call firewall, setup profiles depending upon your current situation and it is also possible to forward calls to other numbers using this free Android app.
You can install 91 Panda Firewall via the Android Market or www.appbrain.com.
Bluetooth Firewall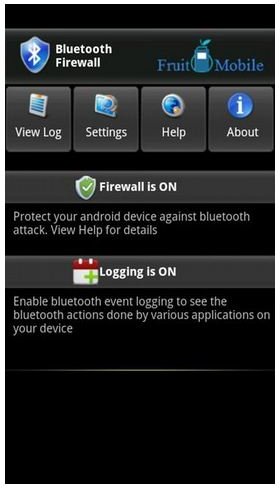 If you're concerned about the number of Bluetooth devices out in the wild that might acquire information from your Android phone, then an app like Bluetooth Firewall is vital.
Designed to alert you when any installed app attempts to perform actions requiring Bluetooth, this app also offers logging of all Bluetooth actions. There are several Bluetooth hacking tools available online, so an app such as this is extremely useful. While you should always check the comments and ratings for a new app in the Market, and never install anything that might pose a security risk, this is nevertheless a useful app.
Bluetooth Firewall can be downloaded from the Android Market for $0.99 or via www.appbrain.com.
DroidWall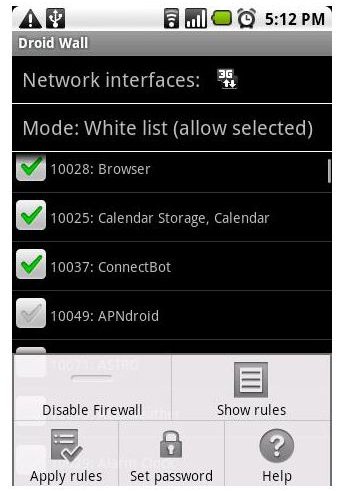 Requiring you to root your Android device, DroidWall is designed to protect users who don't have unlimited or at least generous data plans with their mobile networks from applications that habitually connect to the web to exchange information.
Cleverly, this app can tell the difference between Wi-Fi access and cellular data – as such it is able to permit all data transfer via Wi-Fi, requiring apps to be added to a whitelist in order for them to access the cellular data network.
Available free via the Android Market and AppBrain.com, note that DroidWall can only be installed on a rooted device.
The Best Android Firewall Application Is…
After weighing up the evidence, the decision was quite simple. There are certain things that the majority of users want from a mobile phone app, and quite high on the list is the ability to use the app on any phone.
DroidWall doesn't offer this, unfortunately, due to the requirement that the Android device in question must be rooted. Meanwhile Bluetooth Firewall, while very useful, doesn't protect from web-based attacks; it should be used in conjunction with our top choice here rather than instead of.
So, get yourself to SlideMe.org and download AndFire – it's our recommended Android firewall application!
(Images via corresponding product weblinks)