Looking For The Best Android Webcam?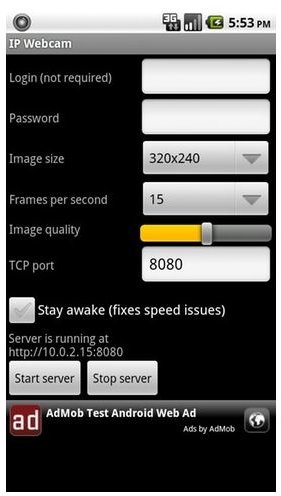 Why Can't I Use My Android Phone as a Webcam Already?
By connecting a mobile phone with a built in camera to your PC via USB or Bluetooth, you would expect it to be possible to configure your mobile to act as a webcam.
Curiously, this is one of those uses that has always seemed to come as an afterthought to mobile phone designers, particularly when it comes to building the operating system. You only have to look at computers such as the Apple iMac to see that users expect a built-in camera to act as a webcam.
Throughout 2010, more and more apps have become available that enable you to turn your Android phone into a webcam. We're going to take a look at some of these and assess which one is the best Android webcam.
IP Webcam
If you're planning to video chat with Skype, Chatroulette or Windows Live, IP Webcam is a suitable choice that can also be streamed through VLC player or your browser. Unusually for this sort of application, IP Webcam doesn't need any PC client software installed – you can literally plug in and go! With your Android phone positioned how you want it and connected to your PC via USB (for best results), this IP Webcam is a popular choice.
It may even work with some third-party webcam software, although you might have problems selecting which camera to use on some multi-camera handsets.
Designed for use with Android 2.2 and available from the Android Market, IP Webcam can also be downloaded via the developer page at ip-webcam.appspot.com.
DroidCam Wireless Webcam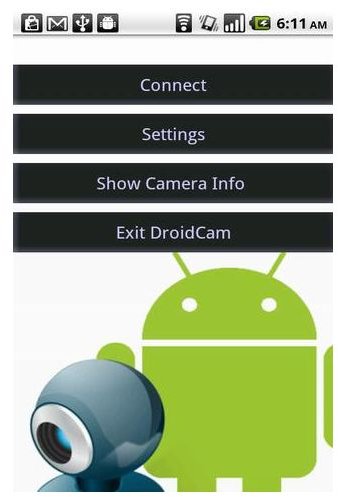 Meanwhile, DroidCam requires a PC client module to be installed in order to view the output from your Android phone camera, but on the plus side it works both wirelessly and is designed to work with most chat applications.
The killer element about all this, of course, is the word "wirelessly" – using your Android phone's Wi-Fi capabilities, DroidCam Wireless Webcam finds itself in this list of the best Android webcams because of its cable-free capabilities.
As ever, DroidCam is available from the Android Market. Find more information about this app and download the client at www.dev47apps.com.
Qik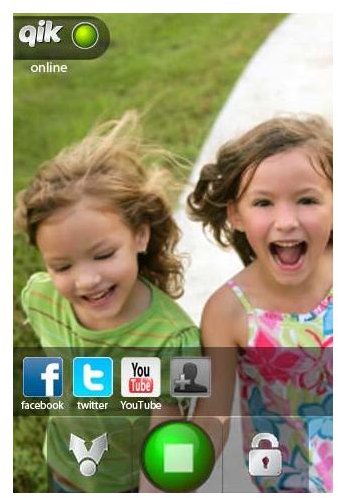 Qik is a great alternative for anyone who is using an Android phone that doesn't support either of the other two options.
Using your mobile phone camera and a Qik account, you can stream video images via Wi-Fi or your mobile network (check you have a generous data plan first of course!). This is a great tool for hosting webcasts of events such as talks or conventions, and has a massive user base.
While Qik won't let you use your Android phone as a chat client webcam, you can certainly use it as a powerful video streaming communication tool.
Sign up now at qik.com, and download your Qik app via the Android Market.
The Best Android Webcam!
Well, it is a tricky one – each of these apps has its advantages and disadvantages. However, after testing them all, and already being familiar with the pros and cons of Qik, based on the evidence and testing I have performed, it is only fair to declare DroidCam Wireless Webcam the out and out best Android webcam!
Note of course that the version of Android you are using will affect whether or not you can use these apps, so take note of the descriptions above.
However, declaring a webcam as the best is easy – it is how you use it that is important. The majority of Android phones don't have legs or stand up on their side too well, so in order to get the best webcam experience, I would recommend a mobile phone tripod.
(All images via AppBrain.com)