Best Android Email App - Free Download From Android Market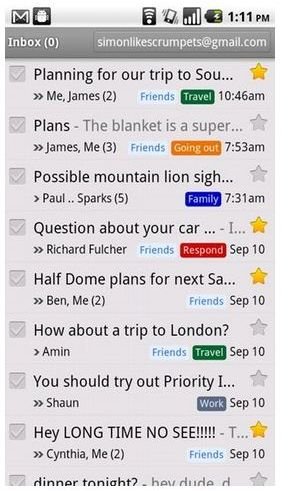 Find The Best Android Email Apps for Free!
Truly one of the greatest things about smartphones is the ability to send and receive emails. If you have a regular Wi-Fi connection or have a generous data-plan, you can connect to the internet and check emails as often as you like; thanks to a useful software or hardware keyboard you can tap out messages to friends and colleagues.
All of this means of course that a good quality email client is required on your mobile device in order to get the most out of this form of emailing. The best place to find these is on the market – and the best price is of course free!
Let's take a look at the best Android email apps available free on the Android Market.
Gmail
Naturally available on your Android phone by default, this app for some reason doesn't handle multiple email accounts. However, if you're happy to use a single account then this app will push emails to your phone instantaneously as they arrive. This is probably the single most slickly integrated email option on any mobile platform, restricted only by Gmail's own limitations.
You can also set an alert sound specifically for this app to notify you when mail is received, as well as set a signature to appear in your messages.
K-9 Mail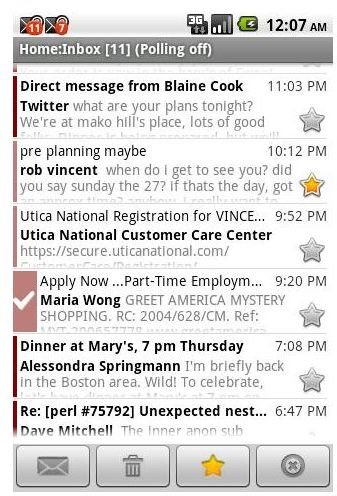 This very competent email app seems to do everything a desktop client would do – it is quick and easy to set up, can forward multiple emails and allows you to reclaim full control over your email messages whether you're using POP or IMAP or Exchange.
I've tried several email apps for Android and repeatedly find myself coming back to K-9 Mail because it is both easy to use and gives me the results I want.
You can also setup signatures and view IMAP folders with K-9 Mail, which is free to download from the Android Market or can be downloaded with a barcode reader via www.appbrain.com.
Improved Email
A popular choice, Improved Email is considered by some to be the best email choice, but is restricted to Android 2.2 Froyo users – so basically if you have an older device, you probably won't be able to install this.
Basically an enhanced version of the default Android email app, Improved Email is likely to become one of the top choices as more and more users graduate to Froyo.
Improved Email allows syncing with multiple accounts (even Exchange) and is built around the default email client that comes native with your Android device.
Get Improved Email via the Android Market on your handset or via www.appbrain.com.
My Email
My own Android phone came with two mail clients. One of these was labelled simply "Email" and was quite unusable. The second, which I've only recently found, is called My Email. I had been under the impression that both were the same app, but I couldn't have been more wrong!
This app lets me access non-Gmail accounts, and can be set up relatively quickly. It supports IMAP and POP, lets me view IMAP folders if I have them set up and also checks Hotmail accounts. I can also set signatures as well as configure an email checking schedule.
Before you go browsing the Android Market for a new email app, check what you have preinstalled on your Android mobile!
So Which is the Best Android Email App?
As much as I like the Gmail app, the fact that I cannot forward multiple email messages even in the mobile client means I'm going to have to plumb for the K-9 Mail, simply for its considerable competence and functionality.
Easy to set up, configure and use, I have been reading my messages via K-9 Mail for several months now, and would recommend it to any other Android users looking for a desktop-quality mail client for their mobile.
All of the Android email apps listed here are available free on the Android Market, and can be seen in more detail at www.appbrain.com.
(All images via accompanying links)