Chrometophone and FoxToPhone: Sending Links to Your Android Phone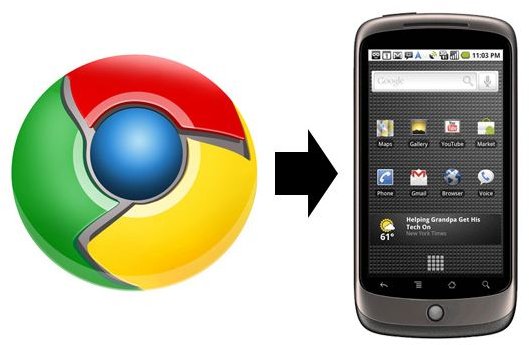 Introduction
One of the neat but unpublicized features Froyo brought to Android was the ability to instantly send links from your browser to your Android phone or device using the Android cloud. It is a very basic app but is very handy and extremely simple to use.
It is perfect for queuing up a list of things to read on your commute, quickly sending information and links to your phone (like installing apps), and much more!
Requirements
Since the Chrome to Phone uses the Android Cloud to Device Messaging (C2DM) service, it is only supported on Android 2.2 (Froyo) or later versions.
Android phone or device running Android 2.2 (Froyo).
chrometophone app.
Chrome to Phone browser extension or FoxToPhone (Firefox Add-on formerly known as SendToPhone).
Installing and Setting Up Chrometophone

Phone Instructions
1. Download the chrometophone app with the above link or QR code.
2. Login with your Google account.
Browser Instructions for Google Chrome
The extension can be found in Chrome's Extension Gallery. Install it and login with the same Google account.
Browser Instructions for Mozilla Firefox
Download and install FoxToPhone from the Mozilla Add-ons library. Restart Firefox to complete the installation. Click the Send to Phone button and login with the same Google account.
Once fully installed, give it a quick test, a notification should pop up on your phone nearly right away!
Special Links Open Correctly
Most links you send popup in the notification pane and can be viewed in your browser. There are a few special link types that open up in their respective apps on your phone to make life easier.
Google Maps open in the Maps app.
Youtube Videos launch in the Youtube App.
SMS (smsto://) links open in the default messaging app with the recipient field correctly addressed.
Market (market://) links open in the Android Market for easy browsing and downloading.
Telephone (tel://) links launch in the phone app and dial the number in the link.
It was very thoughtful for Google to treat some links differently, optimizing them for the Android environment in apps like the phone, Maps, and Youtube. It makes it easier to instantly view the right link in the appropriate app.
Other Useful Features
ChromeToPhone and FoxToPhone both allow you to send more than plain and special links from a page. You can also send the current page from your address bar and send currently selected text (up to 1024 characters) to the phone's clipboard.
With FoxToPhone specifically, you can send any link, image, or selected text by right clicking on a link or highlighted text and clicking Send this link to Android. You can also click on market:, smsto:, and tel: numbers as previously described to automatically send them to your phone. FoxtoPhone is even smart enough to detect links in QR codes from Google Charts. Lastly, you can send your desktop clipboard's contents (text only) to your phone.
Conclusion
So as you can see, the possibilities of the chrometophone app and Android Cloud to Device Messaging service are quite endless. Here's hoping that they bring a similar desktop/mobile syncing app out for browser bookmarks!