Round Up of the Top Android PIM Apps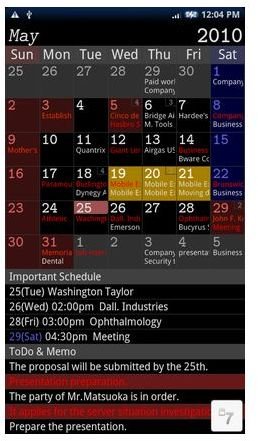 If you want to manage your contacts, calendars, notes and tasks, these 5 Android PIM apps are worth checking out!
Jorte
Android has decent Personal Information Manager (PIM) functionality, but many users prefer integrated apps that track tasks and calendars. Jorte is one such integrated app. It presents task and schedules in a completely organized manner. This app offers all types of calendar views to suit the growing needs of consumers, and works great as an independent PIM system. Jorte also syncs with Google Calendar to offer a complete PIM solution.

AnCal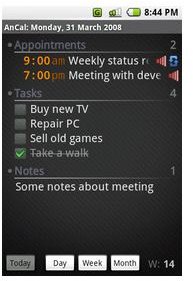 AnCal is an Android PIM app that helps users to stay organized on a daily basis. It stores tasks, appointments, and notes that can be easily edited. You can see day, week or month reports of appointments and set alarms for tasks and appointments.

Cards (-) PIM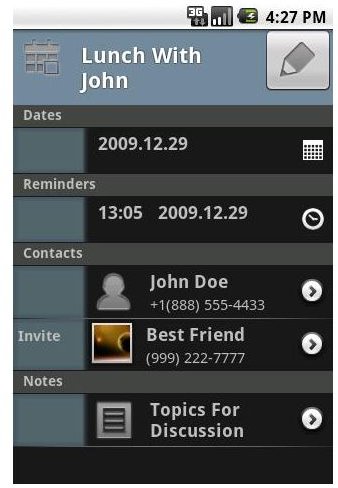 Cards (-) PIM stores everything including contacts, events and anything that needs to be stored, as a card. Cards (-) is the most basic Android PIM app that serves as a database for personal information. You can set day and week schedules and format date and time with it.

DejaOffice
Users can efficiently manage their calendar, contacts, notes, tasks and expenses on their Android devices with this full-featured PIM app.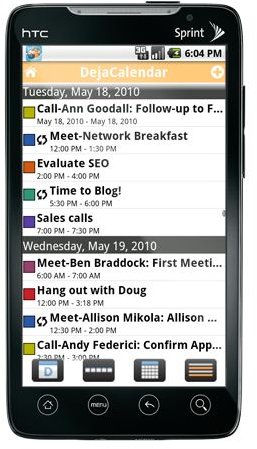 Features:
Deja Contacts can store up to 40,000 contacts and each contact has room for 9 custom fields.
Deja Tasks allows you to sort tasks on the basis of subject, category, date, and priority.
Deja Notes allows you to store thousands of notes. Its search option lets you browse through note tiles and text.
DejaExpense offers a quick record for expense reports and has an inbuilt tip calculator.
Some of its advanced features are:
Day, week and month list view.

Swipe navigation from day to day, week to week, and month to month.

Set week view to 5 or 7 day week.

For any date, a quick date-picker.

Alarm notifications.

Quickly add new events after tapping an empty time slot.

View today's appointments and due tasks.
e-Mobile Today
You can view appointments, all-in-one tasks, emails, phone calls, weather, stocks, news, and much more on the e-Mobile's today screen.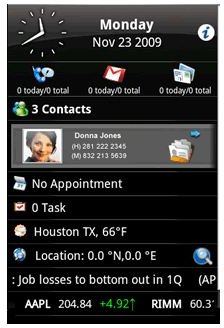 Features:
You can choose between digital and analog display.

Syncs with Google Calendar.

You can manage all contacts from the front screen.

Sending emails and calling contacts with press of a button.

Swift navigation through contacts.

Quick view of today's schedule.

Upcoming appointments and tasks can be viewed in today's page.

View today's tasks on home screen.

Priority setting for tasks on the basis of due date, completion status, time, etc.

Upcoming tasks organized in categories.

Watch today's new and updates from home screen.

Detailed weather forecasts

Also, view mutual fund and stock performance without leaving the home screen. The app also provides timely stock updates on the screen.
Verdict
In terms of features, nothing can stand up to the e-Mobile Today app – it's the next generation of PIM software. You may disagree and if you do, let us know which Android PIM app you consider the best.
References
All screenshots remain the property of the respective developers.