What is the Best Android Password Utility?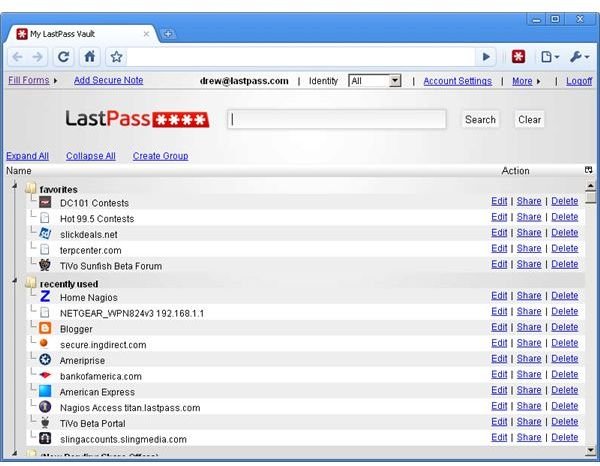 Android Password Utility
Maintaining your passwords on your Android phone can be a daunting task. You've got a password for your online banking, Digg, Facebook, Twitter, E-mail, MySpace, and if you're like me, dozens of other internet sites. Over time you can build a huge password list and maintaining them manually can be difficult as well as a potential security risk. The only easy way to maintain dozens of passwords manually is to use the same password for every site or keep a plain text list in a notebook or such. While both these methods are popular they both pose a great security risk. The most secure way to maintain your passwords is to use an Android password utility on your phone. Here are two of the top password managers for Android smartphones.
LastPass (5 out of 5)
LastPass bills itself as "The Last Password You'll Have to Remember!" and if you do a lot of online secure web browsing the tag-line may just be right. This is a very useful Android password utility. Some of the more notable features of LastPass are:
You only need to remember one master password.
Automatic form filling.
One-click login.
Data is encrypted locally using your master password.
Your password data is automatically synchronized across all your browsers and devices.
You can store any text based data in LastPass.
Built-in data import, export, backup and restore.
Generate secure passwords with a single click.
Cross-Platform: Windows, Mac OS X, Linux, Mobile.
Free (Premium upgrade available).
LastPass is an excellent (free) way to store all your online username and password information (securely). I put the LastPass for Google Chrome browser extension and LastPass for Android to the test over a seven (7) day period and it worked flawlessly. LastPass for Android gives you the choice of using the built-in browser that will automatically fill in your login information for each of your saved internet sites or your browser of choice to do the same. LastPass for Android also lets you add, update, and delete secure sites and notes right from your Android enabled device. One of my favorite features of LastPass is its ability to be installed to USB key via Firefox Portable or LastPass Pocket. Installing LastPass to a USB key and accessing your login and password database from the USB key increases your security and allows you to plugin your USB key anywhere and access all your secure online data.
KeePass and KeePassX (5 out of 5)
KeePass is a free open source password manager, which helps you to manage your password securely. You put all your passwords in one database, which is locked with one master key or a key file. So you only have to remember one single master password or select the key file to unlock the whole database. The databases are encrypted using the best and most secure encryption algorithms currently known (AES and Twofish). KeePass is designed for the Windows OS (Operating System) but makes available many unofficial KeePass ports and builds, including but not limited to:
Android
iPhone
Blackberry
PalmOS
Linux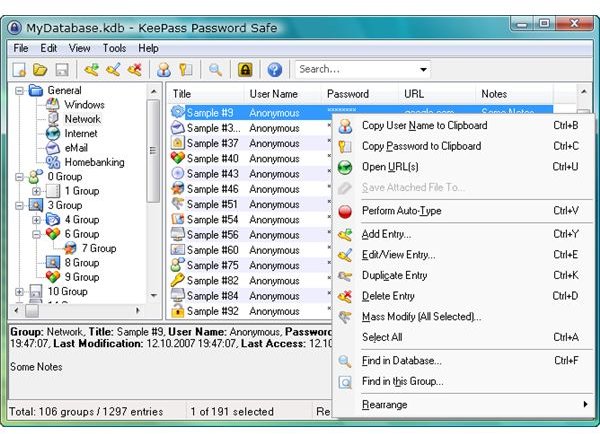 I have used KeePass and KeePassX in the past and continue to do so on my Ubuntu install and Android smartphone. KeePassX (Linux port of KeePass) has been my password manager of choice for the better part of a year now and it has never failed me. Like LastPass, KeePass(x) allows you to store your data on a secure USB key, and this is the route I have chosen to keep my data as secure as possible for my desktop PC. Some of the more notable features of KeePass(x) are:
Strong Security (AES and TwoFish).
Portable, no installation required.
Searching and sorting of passwords.
Excellent random password generator.
Extensible via plugin architecture.
Cross Platform (with unofficial builds and ports).
Open Source.
The Android smartphone implementation of KeePass(x), KeePassDroid, has been a lifesaver for me the last few months on my Android. This tiny Android password keeper app has allowed me to access my secure online sites from my Android smartphone with less worries when connected to public Wi-Fi networks. I use it often and KeePassDroid has quickly become indispensable on my Android device.
Best Android Password Keeper?
LastPass and KeePass are both excellent desktop password managers that have a top-notch Android password keeper version. To be totally honest, for the masses, I would have to recommend LastPass over KeePass(x), due to LastPass's native cross platform support and browser extensions. These two points alone make LastPass much easier for most people to use and even though KeePassX is my current personal choice for password management on my Android, you can't go wrong with either. I use KeePassX due to the fact that it's open source. Which do you use and why? Don't hesitate to give both a try and let us know what you think via the comments section below.
Photograph Credits