What is the Best Android SMS App?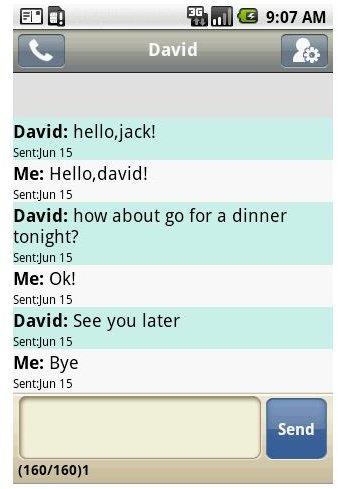 Handcent
Handcent is a highly rated SMS app. It comes with many features. For example, It has pop up capabilities with quick text reply, and a contact's picture appears with the message. If you install a voice data driver, users will have a speech-to-text and text-to-speech capability.
There is a call and view contact feature. There is also a delete feature where if there are old messages in the system, you can trash them. You can also refresh the user interface. Finally, users can customize the skin, themes, font size; they can modify text bubble and text bubble settings. All of this and it is a free app.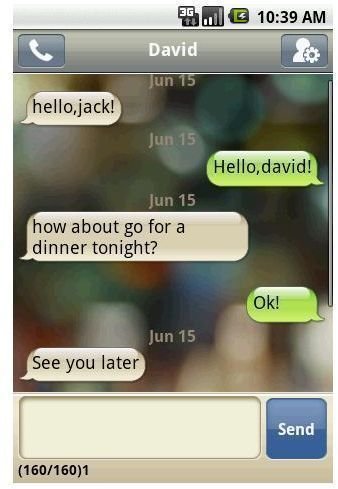 See Also:: My Favorite Android Apps
ChompSMS
Another popular Android SMS app is ChompSMS. Here are some of its features. There are two widgets, a ChompSMS Icon, and a ChompSMS Big. Quick Compose allows users to switch from using an app to sending a message. Chat Style Bubbles make the conversations easy to read.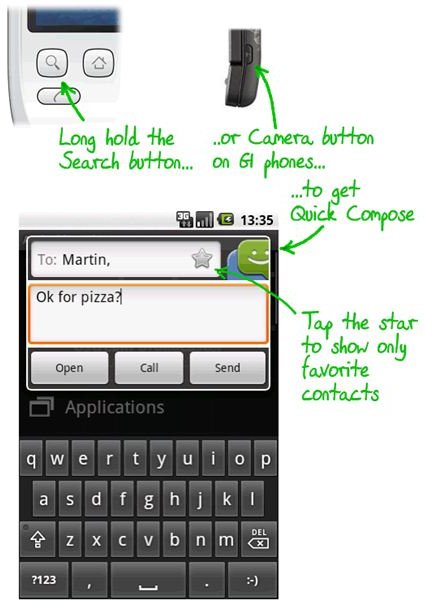 With Contact Pictures, users can see the person they are in contact with. Quick Reply allows users who may be web surfing to respond to a message, and go back to what they were doing. Character & SMS Counter allows users to keep track of the number of characters in the message. The app is free, however, they charge 12 cents per text message.
SMS Popup
Normally when an SMS text comes in, you will likely only get notified via an LED light, or an audible sound/vibrate action, or by actually waking the phone up from a sleep state to open an app to read an SMS text. However, with SMS Popup, you can get instant visual notification; plus the other notification forms already mentioned. The notification will appear in the form of a small pop up window on top of most applications that are running or even if the phone is in sleep state.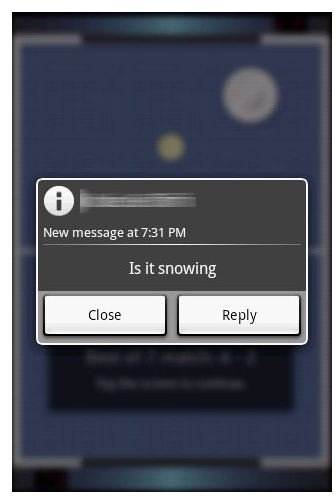 By default, users can read the entire message, and reply (which launches the SMS client) or close the SMS Popup window. SMS Popup has some additional configurations. Users can control screen timeout; you can set it to display anywhere from 10 seconds to 10 minutes. If you have a privacy concern, you can control how much of the message displays. Users can mark the SMS text as "Read" or not, and show a Delete button sitting alongside the Close and Reply buttons. Finally, users can also set a notification ringtone using apps like Rings Extended.
DriveSafe.ly Free
If you have common sense, you do not drive and text at the same time. One Android SMS app, DriveSafe.ly, however, allows users to do just that, but in a safe way. It announces SMS messages and email aloud in real time. It then automatically responds without drivers touching the mobile phone.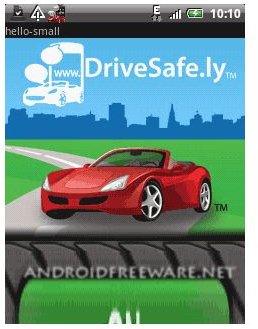 Other benefits are there is a one-touch activation; setup is not complicated and it is Bluetooth and compatible for radio transmitters. It is customizable and does not drain the battery.
This is not a free app. However, it is $13.95 for one user per year, or $34.95 for a family (4 members).
Image: DriveSafe.ly
Here I Am
This Android SMS app, in addition to texting, lets people know where you are. This application connects to Google Maps, so users can send SMS or email with your coordinates. This link also opens in the Maps application on Android, and can be an endpoint for driving directions.
This app uses both GPS and Network location providers. However, GPS will have priority since it is more accurate. The network location determines the location based on the availability of cell tower and coordinating Wi-Fi access points. Users can retrieve results by means of a network lookup.
In order to acquire the initial position fix, the GPS must have a clear view of the sky with sufficient access to four or five satellites continuously for a period of about 45 seconds. Users must be located in an area where there is a clear view of the horizon, so tall houses, buildings, trees and other objects will all affect this process.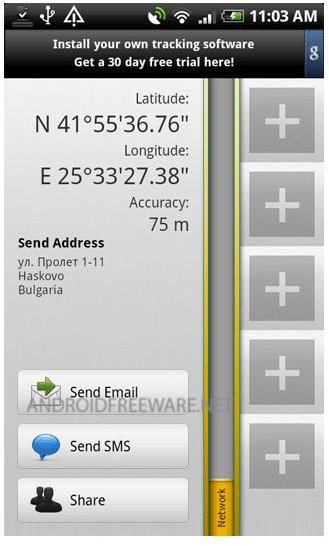 Image: AndroidFreeWare
Summary
Android SMS apps come in a variety of "colors and flavors." No two apps are alike. All will do text messaging, but they have different features that allow users to look at the messaging system from the perspective that they want. Of the five that were reviewed here, HandCent has the best options. However, users should look at what they want, because having the most features might not be the best for all users. If someone needs to communicate while driving, that option is available with Drivesafe.ly. Others will provide GPS locations, and others will have a screen full of information.
See Also: Ultimate Android Apps