Guide to Linking Facebook Contacts on your Android Phone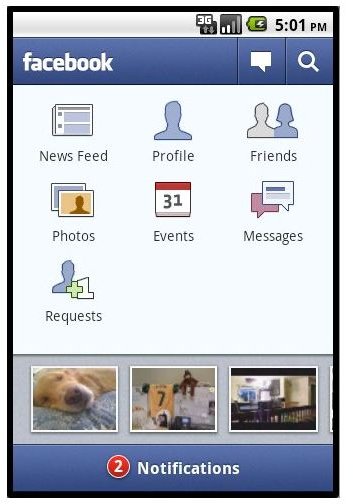 Introduction
The new Facebook for Android app has finally brought contact integration to your Android phonebook! Previously, only those with an HTC phone running the Sense UI could integrate social network sites into their phone, but now so can everyone else! Now, not only can you upload pictures to your Facebook and post on your friend's wall through your phone, you can also integrate your phonebooks and make staying connected easier than ever. If you are after Android apps to link contacts with Facebook this is the app for you.
Facebook for Android
Facebook for Android has several options for integrating your Facebook friends into your contacts. With it, there are three syncing methods. You can:
Merge your Facebook friends with the contacts already on your phone,
Add all of your Facebook friends to your phone's contacts, or
Replace your phone's contacts with your Facebook friends.
The first option is the most preferred. Chances are you already have a comprehensive phonebook in your phone with everyone you need/want to call or text, so by integrating Facebook into existing contacts, you can keep up with just those people and not every single friend on Facebook which would clutter up your phonebook.
What You Get
For each contact integrated into your phone, you will see their most recent status update, profile picture (as their icon), phone number, and email address. Any information pulled from Facebook profiles, however, will not be merged into your Google Contacts account; they will only show up on your phone. If you want that data saved, you will need to input it manually, and it won't be updated if any changes are made.
A sample contact page on your phone looks like this: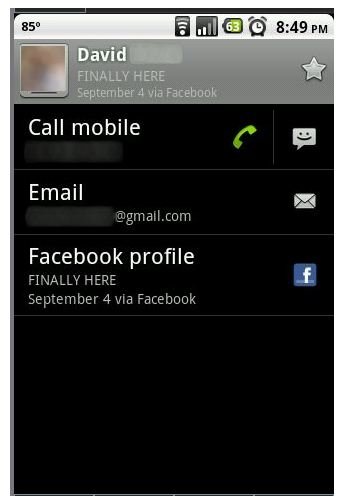 As you can see, this example contact includes their most recent Facebook status and the email address listed on their Facebook profile.
Setting It Up
Setting up a sync partnership can be done when you first open up the Facebook for Android app the very first time or by going to your phone's settings and going into the sync options where you can add it.
When adding a partnership, it will ask which method you would like to choose. After deciding, it will take a little while to sync up (depending on how many contacts you have), and you should be good to go!
Adding a Sync Account in Android 2.2: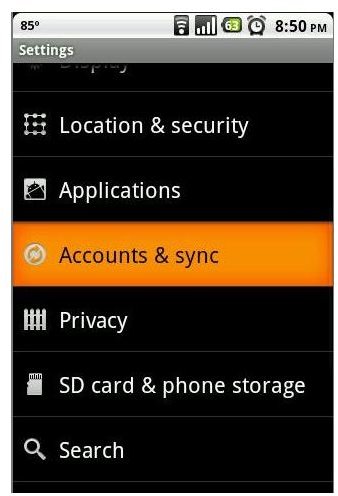 Settings > Accounts & sync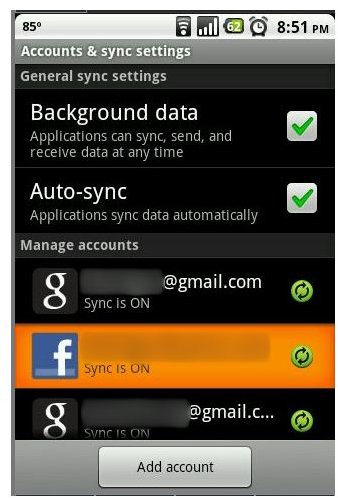 Add Account button > Select Facebook.
Troubleshooting
If your contacts are not syncing as they should be, make sure the name listed in your phone's address book is exactly identical to their Facebook name (first and last). This is the only way Facebook knows how to match up your contacts.
If none of your contacts are updating or syncing, make sure you phone has enabled syncing. This can be found in the settings and you can see when your phone syncs when the refresh icon appears in your notification bar at the top of the screen.
If problems still persist, you should delete the partnership (and/or update your Facebook App) and re-add it.