Top Five Android Aviation Apps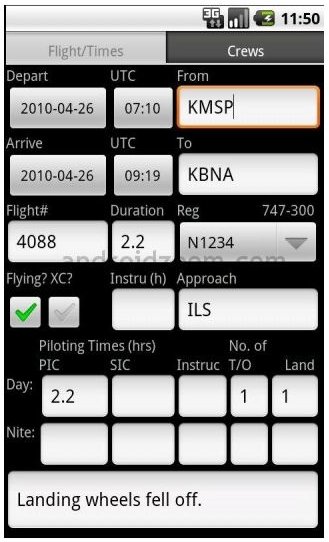 Intellipilot
If you are looking for a simple and handy application to log your flight details, then Intellipilot is a definite download. It features a database of more than 9000 airports to log your departure and landing times. Intellipilot allows you to log your flight crew details, type of aircraft, hours summary report, and my favorite, the ability to export your recorded data in CSV format. The application is currently available as a free download, but I suspect as more features get added a small fee may be incorporated.
Aviation Weather from NOAA/NWS
Having a tight grip on current weather conditions is a must have for any pilot. Aviation Weather from NOAA/NWS on your Android phone is a must have tool for your Android aviation arsenal. This application takes the weather data from aviationweather.gov and creates a convenient mobile application to provide you with weather at your fingertips. It includes radar, satellite, high resolution weather graphics and METARs/TAFs/PIREPS with the ability to save your favorite searches. Aviation Weather from NOAA/NWS is available as a free application at the Android Market.
AirWx Aviation Weather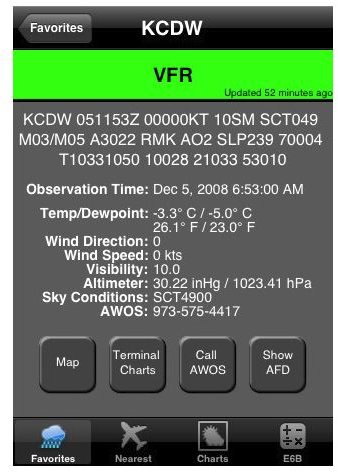 AirWx Aviation Weather is a great preliminary flight planning tool available for purchase at the Android Market. It features the latest weather data as well as several flight calculation tools for your Android phone. Like Aviation Weather, AirWx gives you access to real-time METARs, TAFs, and PRIREPS, but adds in AcCharts and NOTAM alerts. It also includes an E6B flight calculator and many Federal Aviation Administration documents like VFR, IFR and approach FLIP charts. AirWx is available for $4.99.
WingX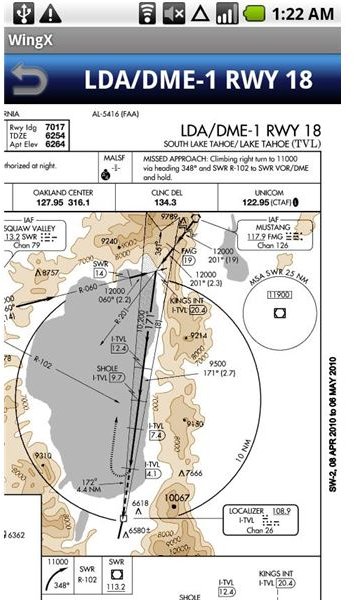 WingX is probably the most robust application for any pilot with an Android phone. The feature list is very extensive and the price reflects that. WingX is available at the Android Market for $99 dollars. Features include instant weather access with animated radar, many Federal Aviation Administration documents, a very in depth route planner, the AOPA airport directory, a digital E6B flight computer, IFR charts and many other features. All this information can be stored on your SD card allowing you to access it at any time without the need for phone coverage. The Android version of WingX is continually being improved, making sure the tools are up to par for your flying needs.
Avilution E6B Flight Computer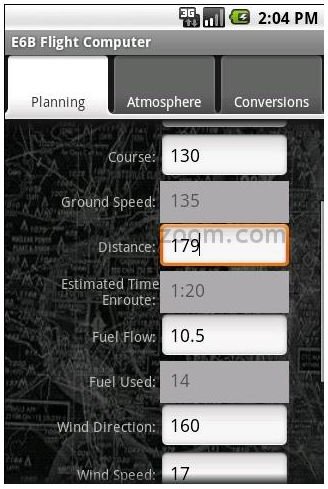 Avilution E6B Flight Computer is a great way to double check your "whiz wheel" calculations before take-off. Available for $4.95 at the Android Market, Avilution E6B Flight Computer allows you to calculate wind correction, route time, fuel burn and the like. A very simple interface allows you to enter the information you know and the application will calculate the rest. It can also be a great tool for flight Instructors to double check their students calculations!
So Many Options!
There are many available Android aviation apps or applications for pilots at the Android Market. Having this technology available on your phone can be a great resource for preliminary flight planning and in-flight information. Post a comment and let me know what pilot applications you use on your Android phone!