Create Stop-Motion Movies On Your Android Camera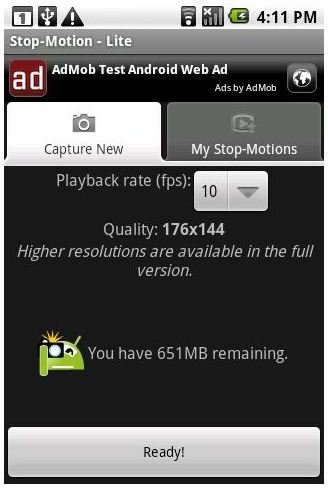 Stop-Motion - An Enduring Cinematic Artform
Wallace and Gromit are the fantastic plasticine characters that star in a series of films made by the Oscar-winning studio Aardvark Animations and their creator Nick Park. Using a store of plasticine models, model soundstages and immense patience, Wallace and Gromit are brought to life through an act of considerable coordination, and the use of stop-motion cameras.
Stop-motion cameras are ones whose shutters can be controlled to open only once and when instructed; traditionally this was by means of a remote but with advances in digital photography, this can be done by pressing a key on a keyboard.
Another advance in photography is the camera phone, and thanks to a superb Android camera app, it is now possible to create stop motion films on your mobile!
Stop-Motion Lite for Android Camera Phones
Available via the Android Market, Stop-Motion - Lite is a free version of a more fully featured application. Used in conjunction with your imagination, it can yield remarkable results, thanks to its simple user interface.
For instance, a basic animation can be created with a few common desktop items, such as a few pencils and a pair of scissors. In five minutes you can create a film that portrays the items snaking their way across a desk; the only drawback might be that the film lasts only 5 seconds.
Ideally, Stop-Motion - Lite should be used in conjunction with a mobile phone camera tripod for the best results – this will ensure that the subject of your animation is perfectly lined up at all times.
Before proceeding, you will need to have downloaded Stop-Motion - Lite from the Android Market; it will run on devices using Android version 1.5 and later. Note that the full version is just $1.99, so you might opt to use this instead; the full version is fully featured and allows you to record movies in whatever resolution your camera is capable of. You can also download via AppBrain.com.
How to Create a Stop-Motion Movie with Your Android Camera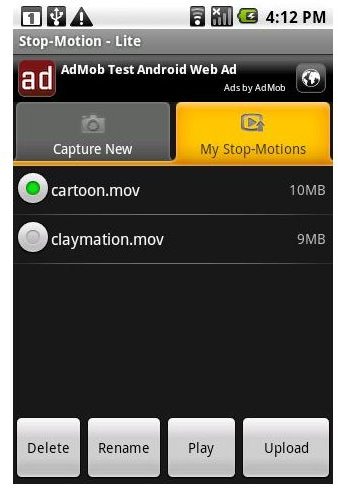 Using the example above, we'll look at how to create a stop-motion movie with an Android camera. For more in-depth tips, our Guide to Making a Stop-Motion Video offers plenty of ideas.
Run Stop-Motion - Lite; use the Capture New tab, where you can alter the playback rate by selecting an FPS (frames per second) as well as check what memory you have remaining. When you're happy with these, select Ready.
The app will then display an image from your Android camera viewfinder – however it will be in the form of a grid, ideal for lining up images.
Next, position the item you wish to animate on your desk. When it is in position, touch the grid in order to capture the image. Then, move the item, and capture another image. You should repeat this until your item has completed its journey, whereupon you should press the Save button in the top right of the screen.
Once saved the stop-motion clip will be saved in the My Stop-Motions menu – simply select and press Play to view the results! You can also upload your clips to YouTube using the Upload button!
Here's an example movie I uploaded to YouTube - the results speak for themselves!