Top Android Ereader App Round Up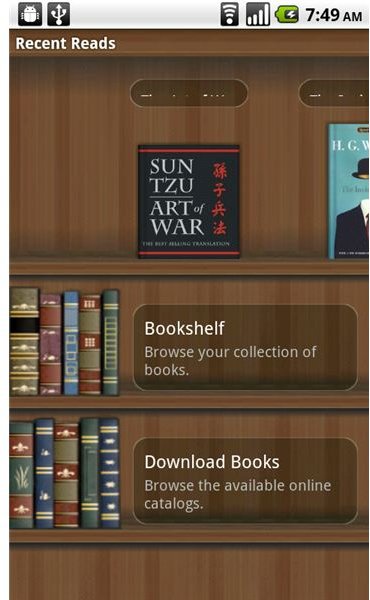 Aldiko eReader for Android
Before the major ereader apps for Android came out, there was already the Aldiko Book Reader Android app. Unfortunately, Aldiko is not backed by a major company, unlike Kindle and Nook, and so doesn't get much attention and hype. It's a pity because Aldiko is a very feature-rich ebook reader for Android. Aside from being a solid ereader app for Android, Aldiko also features a progress bar, background themes for day or night reading, page advance features via swipe or tap, word search, bookmarking, and ebook sharing among many others. This ebook reader for Android also features a well-designed main interface. The feeling of browsing through your book collection from the app's virtual book shelf is really quite pleasant. If you've amassed a huge ebook collection, the app will help you organize them through pre-assigned tags. (Android Market link)
Read our previous detailed review of Aldiko eReader for Android.
Nook eReader for Android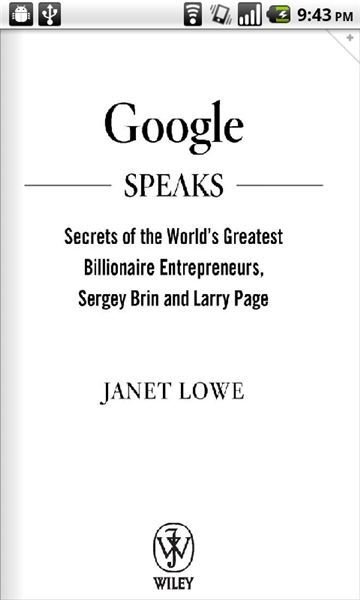 I've used the Nook eReader app on other platforms and I can say that it's rock solid in terms of features, interface and performance. Performance is an important aspect of the app since when you purchase ebooks using Nook for Android you are automatically kicked out of the app's interface and will be brought to a new window where the Barnes and Noble ebookstore will be loaded. So, to maintain your attention span, the app has to load the ebookstore's site as fast as it can even on a crappy 3G network. Fortunately, Nook for Android did not fail me on this. As for reading ebooks, the Nook App for Android delivers a solid experience too, especially with the great display screen of most Android phones. Turning pages is also fun on this app. You either choose to turn pages with animation or the classic sliding page turns. Overall, Nook for Android is a good Android ereader app.
QR Code to download Nook eReader for Android.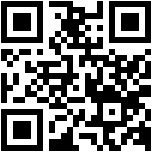 eBooks by Kobo Android eReader App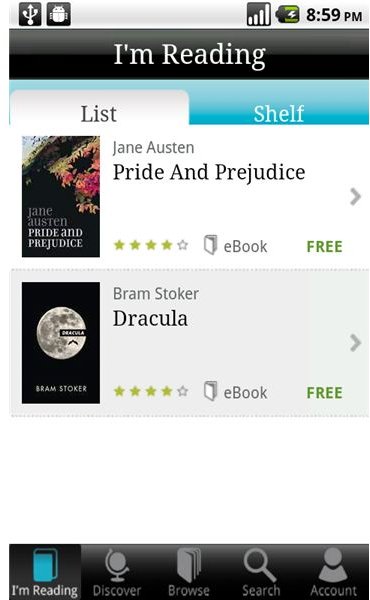 Quite surprisingly, Kobo's ebook reader for Android is a pretty good and stable app. While many other Android ereader apps give you tons of fancy interfaces and advanced features, eBooks by Kobo for Android simply delivers on the two most important features - purchasing and reading ebooks. While reading ebooks, the app displays crisp and clear text which is a pleasure to read. The app's interface and workflow is very straightforward and easy to use. The app also lets you purchase ebooks from the Kobo ebookstore. Overall, the eBooks by Kobo Android app is a good option if you are seriously considering using your Android phone for reading ebooks while on the go. (Android Market link)
Borders eBook for Android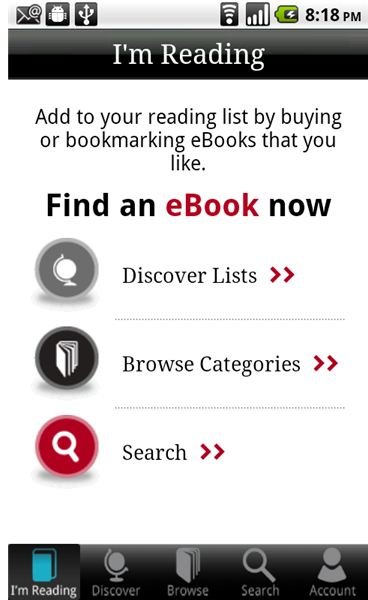 Borders' eBookr App for Android is another pretty good Android ereader. It can compete very well with the likes of the Kindle App for Android, Nook and Kobo. In fact, it uses the same ereader technology as Kobo so don't be surprised about the similarities between these two Android ereaders. The app performs well and loads your virtual book shelf fast enough to keep you engaged. The app also has a direct link to Borders' online bookstore where you can purchase ebooks. (Android Market link)
Kindle for Android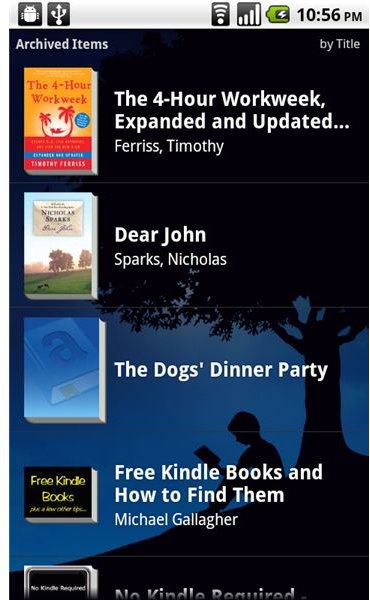 Finally, we have Kindle for Android which happens to be our top choice for Android ereader. Among the five Android ereaders we've reviewed, Amazon's effort is the most stable, feature-rich, interestingly fun and useful to use. And with the tie-in to the Amazon Kindle Ebookstore, you definitely won't have a problem finding and purchasing great ebook titles. Kindle for Android has all the bells and the whistles of the mobile Kindle apps available on other mobile platforms. It has the same interface, workflow and overall design. Of course, with Kindle for Android, you can synchronize your ebook reading across various platforms including your laptop. So, when you open a particular ebook using your Android phone, it will display the last page you've accessed using your desktop app. (Android Market link)