Is it Safe to Buy Apps on the Android Market?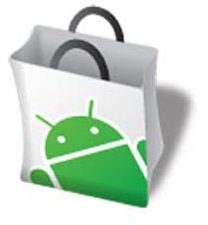 To Install or Not To Install
The Android OS continues to grow in popularity with more and more devices coming out all the time. Part of the attraction is the wide selection of apps and games that are available for Android phones. There are now over 100,000 different applications in the Android app store, known as the Android Market.
One reason why the numbers have grown so quickly is because Google doesn't have an approval system like Apple does with their app store. Anyone can create an app or game for Android and there are few restrictions on what can be listed in the Android marketplace. So, is it safe to buy apps on the Android Market? How do you know what you should and shouldn't install? Well that's exactly what we are going to look at in this article.
What are the risks?
The Android platform is similar to Linux. It is an extremely secure operating system and it is not prone to virus trouble. However, there are plenty of other risks when installing new apps. You may install something which is carrying a virus and while it might not impact on your phone, the next time you plug it into your PC for a sync you may find that your computer gets infected.
Probably the greatest risk is installing a piece of spyware or falling victim to a phishing scam. In this scenario the app may contain some kind of keystroke logger or other kind of software designed to steal private details such as your bank account log in. With phishing it may be a fake front to a website you trust such as eBay or PayPal which is once again designed to steal your log in details.
Precautions
There are various Android security apps available but they will use system resources and are mostly aimed at wiping or recovering stolen phones.
When you install new apps or games it pays to exercise some common sense. By being careful about what you install you can avoid running into trouble. There are some very basic precautions which can help safeguard against installing something malicious or just plain rubbish from the Android Market.
Check the Rating
Every app or game in the Android Market has a star rating out of five. This is a quick and easy guide to what is worth installing and what should be ignored. In general if it doesn't have four or five stars then it might not be worth bothering with and if it has less than three you should probably avoid it.
Read the Comments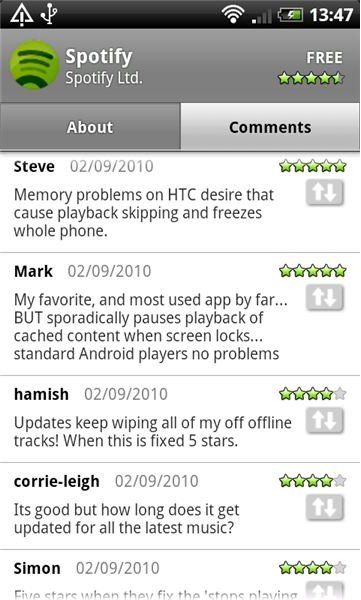 Every app or game in the Android Market has comments. These comments can be absolutely invaluable when you are trying to decide whether to install an app or not. Read through what other people have had to say and you'll have a better idea about the app. This will also highlight any problems with a particular phone model.
Google It
Stick the app or game name into Google (or alternative search engine of your choice) and see what turns up. See if you can find reviews, a developer website or other useful info. A quick blast of research will quickly turn up any problems. There should also be a link to the developer website from the app page in the Android Market.
Check the Permissions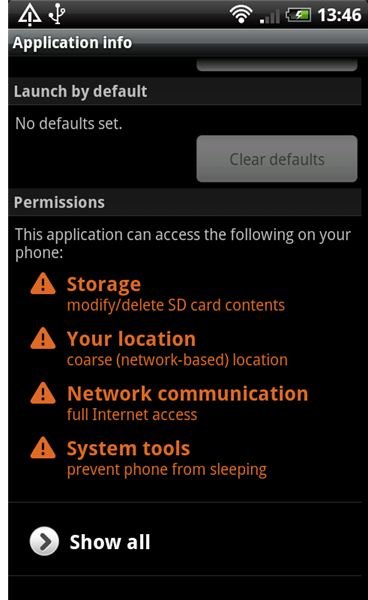 Every app or game you install will ask for certain permissions and because of the way Android works you get to see a list of exactly what the app is asking for. Think about what the app does and whether it really needs all the permissions it is asking for. Is there something there that seems unnecessary? Make sure you read the full list and consider it before accepting. Think about what you are giving the app access to especially if it wants internet access, the ability to make calls or send messages, or to be able to read your contact or calendar data.
The trouble is the permissions list does sound intimidating and there are many legitimate permission requests which can appear nefarious at first glance. For example the majority of games want to be able to read the phone state simply because they want to know when you are taking a call so that the game can be paused.
If you have installed apps without properly checking the permissions then you can always review them by going to Settings > Applications > Manage Applications and then select the app you want to check. If you scroll down on the app screen you'll see the list of permissions at the bottom. You can also uninstall apps from this screen.
Be Wary of Updates
You should also be careful about updates for your apps because they can contain new permission requests and will install new software on your phone. Don't blindly click yes and ignore your usual checks simply because it is an update to an app or game you already have.
Non-Market Sources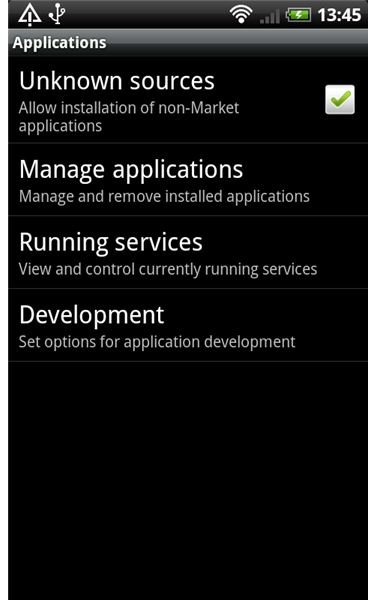 If you are going to install an app from outside of the Android Market you should be especially careful to do your background research first. This will also require you to go to Settings > Applications and tick Unknown sources. There are plenty of legitimate reasons you might want to do this just make sure that you run through the safety checks before installing anything and pay attention to those permissions!
There are plenty of Sources for Non-Market Android Apps.
Report Dodgy Apps
If you do come across something dodgy then report it to Google. Although they do not check apps before they are added to the Android Market they will remove illegal content when it is discovered. They even have the ability to remotely wipe apps from Android phones. If you do have a problem with a specific app then you can scroll down the screen which features the app in the Android Market and choose Flag as Inappropriate.