Surfing with the Android Smartphone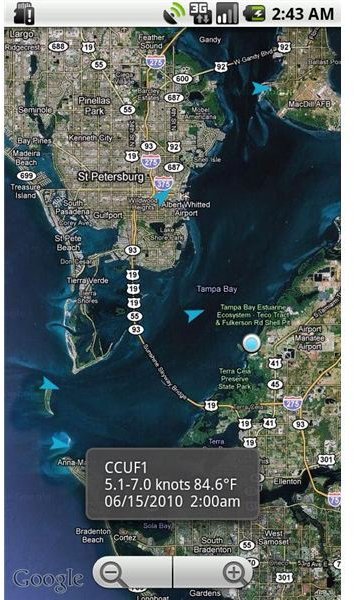 Surfing with the Android
Few hobbies better optimize the bells and whistles of a modern smartphone than surfing. Geography, climatic conditions, oceans, gear … all considerations at the fingertips of a smartphone-equipped surfer. An endless summer of quality surfing apps can dish up conditions for surfers across the globe. Quickly check surf forecasts, from your Android-enabled devices, and with a high degree of accuracy. In some regions, you can actually see the waves as they break.
Here are 5 top surfer apps for the Android:
Buoy Buddy
Buoy Buddy offers immediate access to data gathered from buoys across the globe. Virtually everything a surfer would care to know–wind, water temperature, wave height, and wave period. There are gaps in the global coverage of this app, including all of Australia. Buoy Buddy uses Google maps as a background, and offers either satellite or map views. You can also optionally use your device's GPS to show the current location. For simple buoy data, the website www.livebuoy.com may also suit your needs.
Buoy Buddy is available for $2.99, with a link to download directly from the Android Market on the developer's website.
Magic Seaweed Surf Forecast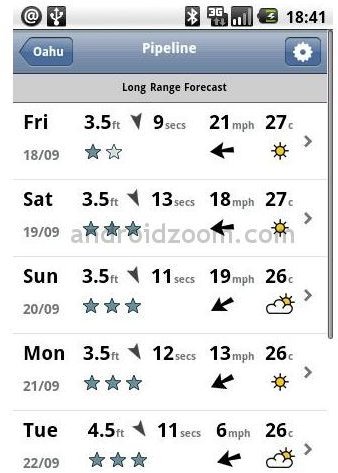 Independent developer Dale Jefferson has coded a mobile interface to the Magic Seaweed surf report. The app offers a bevy of data, including high and low tides, swell heights and periods, wind and weather forecasts, sea and air temperatures, and ratings for various surf locations across the globe. The app is unsupported by Magic Seaweed, but it does depend upon their data. Check MagicSeaweed.com for the availability of data for your favorite surf spot. Although they do offer wide ranging global coverage, there are missing beaches.
Magic Seaweed Surf Forecast is Free, and it can be downloaded from AppBrain.
Pacific Waverider Surf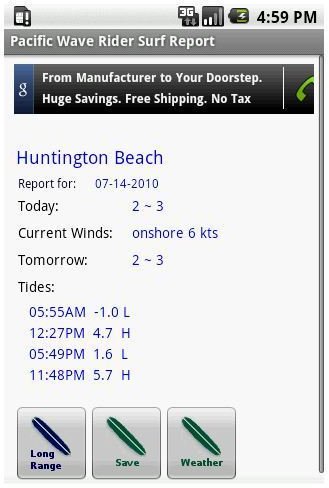 Pacific Waverider Surf offers surf reports primarily for North America, with detailed coverage of over 150 surf breaks. This app is a collaboration with the Pacific Waverider website, and relies upon their data. It offers a number of surfer-friendly features including daily tide reports, wave height, weather, and the ability to save favorite breaks. All data is updated multiple times daily. The interface is a bit ugly and dominated by in-app ads, but the data is certainly useful.
Pacific Waverider Surf is Free, and it can be downloaded from AppBrain.
Surfcheck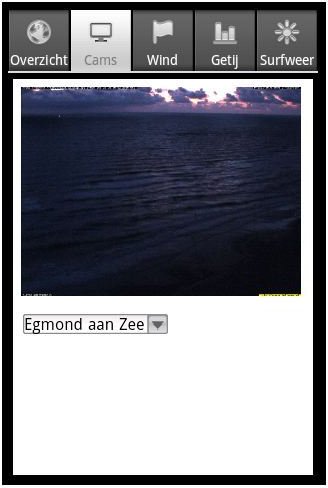 Surfcheck is probably of limited use to anyone who does not surf the North Sea. For those who do, this app is a treat. It offers a clean interface that transcends language and provides detailed data. The interface is in Dutch, as Surfcheck is primarily focused on surf and atmospheric conditions in the Netherlands. It provides a detailed overview, wind, tide, and a surf report. Rather uniquely, camera feeds actually show the waves at certain popular locations.
Surfcheck is Free, and it can be downloaded from the developer's website (look for the QR Code) or through AppBrain.
SwedenSurf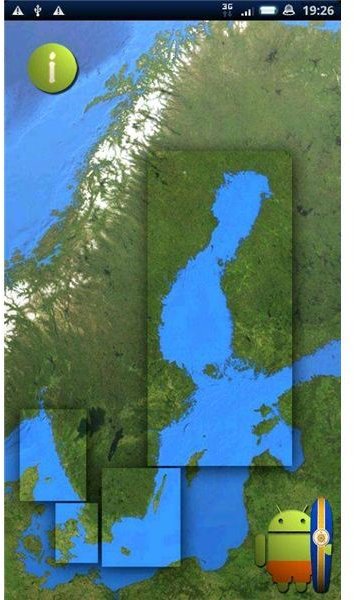 Swedish surfers have not been left out in the cold, with an app in the Android Market from DEVious applications. SwedenSurf, as the name suggests, offers surfing forecasts off the coasts of Sweden. The app provides the most detailed wave height forecasts of any surfing app. You can work with thumbnails or more detailed tiled maps. If you choose an area on the map, and then swipe on the touchscreen, you can quickly advance through a series of forecasts for different surf spots. Wind forecasts are not yet provided, and additional data is limited.
SwedenSurf is also Free, and it can be downloaded via QR Code on the DEVious apps website, or again via AppBrain.