Android Apps: Speech to Text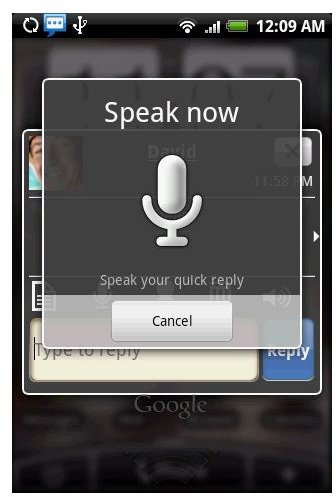 Speech to Text
Having a smartphone that translates your voice into text is one of the more popular applications being developed and sought after in today's Android Market. These applications allow you to simply speak into your phone and let the phone do all the work translating your words into text. There are a handful of applications currently available that can accomplish this task rather well. Google announced on August 12, 2010 that it will be introducing a speech to text application for phones running the 2.2 operating system called Google Voice Actions. This announcement is pretty exciting as the simplicity and power behind Google applications are a hit with Android users.
Handcent SMS
Using Handcent SMS on a daily basis, I can tell you that it is currently my favorite out of the handful of speech to text applications available on the Android Market. It is available as a free download and works on all Android smartphones that are currently available. What sets Handcent apart from the rest of the applications on the market, is that it translates your voice really well. You can drive down the interstate and have music playing and it still has the ability to translate correctly. Not only does Handcent SMS have the ability to recognize speech and translate to text, it has other options like customized themes for message windows and support for additional fonts and backgrounds. If you download this make sure you enable the option for Speak SMS in the Handcent SMS settings.
ShoutOut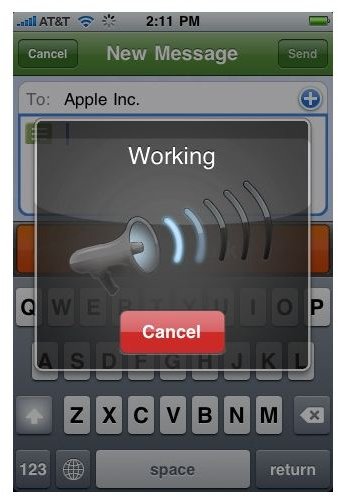 ShoutOut is another application that performs speech to text on Android phones very well. It does not have as many user options as Handcent SMS, but its simplicity may be appealing to you. Once you install ShoutOut, you are required to "train" the application to recognize your voice. This is accomplished by repeating a couple of phrases into the phone when prompted. ShoutOut will also translate your voice into text for mobile Twitter and Facebook programs. I have used this application and I can tell you that it has no trouble translating voice into text and only encountered a handful of errors. If you are looking for a simple application without all the bells and whistles to translate your voice into text, be sure to give ShoutOut a try.
Voice Text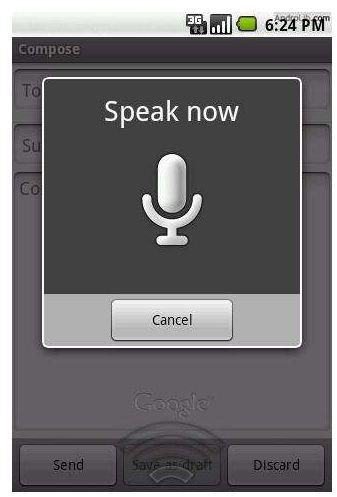 Another application worth checking out for translating speech to text is Voice Text. This application will work across all programs installed on your Android phone. It performs voice translation pretty well and like ShoutOut, is simple in design. The ability to translate voice into text across all programs on your Android phone is a really nice feature. Speaking the words for an entire email will save you from future doctor bills after being diagnosed with Carpal Tunnel Syndrome from all that typing.
Google Voice Actions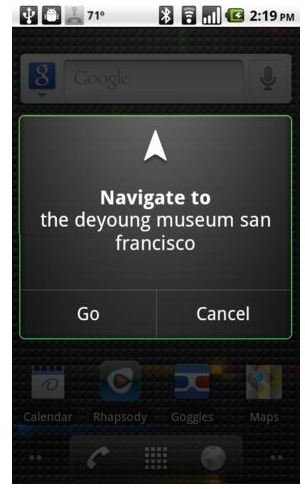 Brand new to the scene is Voice Actions by Google. This application is only available for Android phones running the 2.2 operating system. Voice Actions has a tool bag full of features that will make your life much easier. You will have the ability to say things like "listen to [song]", "navigate to [address]" and "go to [web address]" just to name a few. Google applications are usually smooth running apps that keep simplicity in mind. This application will make your phone truly hands-free. Google Voice Actions comes preloaded on Motorola and Verizon Droid 2 phones.
The Verdict
Cities across the United States are starting to implement laws that ban texting while driving. Speech to text applications might not be the best solution to keep texts flowing while you drive, but it promotes a much safer way. While all of these applications take advantage of Android's Voice Recognition Services, Google Voice Actions is the heavy hitter in this line-up. The ability to tell your phone what song you want to hear, where you want to go, what e-mail to send and what website address you want to see will give you the hands free experience you have been looking for. If your phone does not have Android 2.2 installed, the other applications discussed in this article will get the job done as well.
Downloads