Best Golf Applications for Android Phones – GPS – Scorecard – LeaderBoard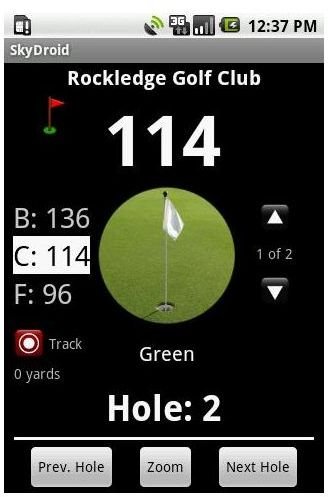 Golf Apps
Golfing is a super competitive game, which causes players to be constantly on the lookout for tools to give them an edge over their buddies. This roundup of golf applications for Android phones highlights some really great software to track: driving distances, scores, analyze play, and preview a golf course, among other relevant golfing information.
SkyDroid Golf GPS
Give yourself an edge with this very powerful golfing app for Android smartphones. In theory, SkyDroid users can download data on
an unlimited number of courses; as at the writing of this roundup the official SkyDroid site had more than 451 courses available for download. SkyDroid's other features include:
GPS distance to every green.
Distances to water hazards, bunkers, etc.
Satellite view of courses.
GPS power save mode.
Distance to any point on the map.
Shot Tracking.
SkyDroid costs $1.99 and is available in the Android Market or can be download through Slideme.org servers.
DroidCaddie
For many golfers, this will be the only Android golfing software they will need. The application can store scores for up to 4 players and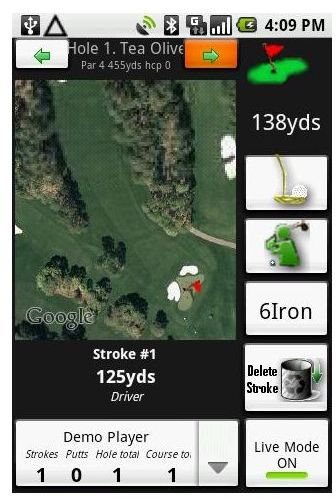 allows for the analysis of past rounds. DroidCaddie helps golfers to improve their game and make better decisions such as what club to use to play each hole. It does this by giving the player the distance to the next green as well as recording the distance covered in recent strokes. Because all the data is stored on the smartphone, there is no need to connect to an external service to use the app. In addition, you will be able to export your statistics and scores in the Google Earth KML format. The app is available for download for €5.95.
ScoreCaddie – Golf Scoring App
This is a great app for keeping track of your scores on various courses (5000 plus as at the writing of this review). If the app doesn't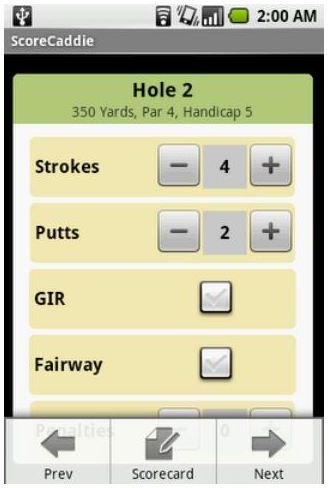 have your course, you can ask the developer to add it. One handy feature many golfers will appreciate is the app's ability to store your handicaps for future reference. Actually, the app helps with the calculation of the handicap according to the USGA formula. ScoreCaddie is available for download for $3.99.
How Far Am I? - Free GPS Golf
This is a great alternative to SkyDroid for those looking for a good GPS app for their Android smartphone. The app is a very simple one,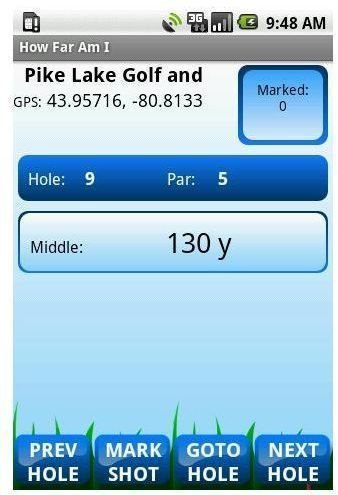 providing basic information on over 10,000 courses from all over the world. Once you find your course, you will be able to get the distance to the front, middle and back of the next green so you can more carefully plan your next shot. You can also request that a course be added if you can't find the one you need. As at the writing of this review, How Far Am I? was listed as a free to download app.
Golf Channel Mobile
This is the official Android app of the Golf Channel. Golf Channel Mobile brings the latest news, scores and analysis regarding the major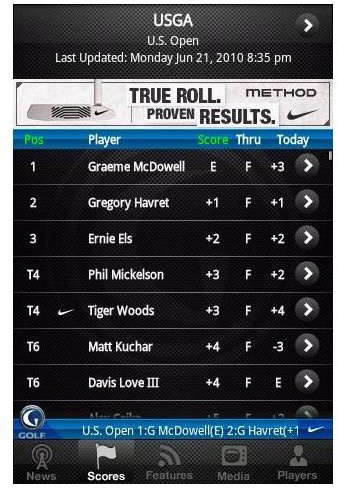 tours to your phone. Though the app provides information on international golfing events, the depth of information on European golfing events is not as well covered, but for those looking for a live US open leaderboard this app should do just fine. This app is free to download and use.
Golf Shot Tracker
This is an application for golfers who are looking to improve their game and how they select and use their clubs. The app not only allows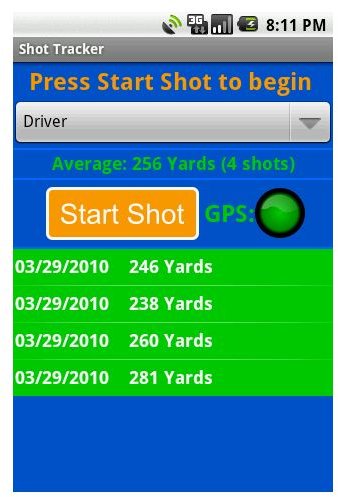 the user to record the drive distances in general, but also affords them the opportunity to record the numbers in meters, yard or feet for each club. The average drive distance for each club can then be reviewed to see where improvements or changes need to be made. By allowing performance numbers to be kept for each club, it is possible to compare the performance of two clubs, even if they are of the same type but from different manufacturers. The app is free for download.
There are quite a few golfing applications that are available for Android smartphones. Some are fantasy applications that are great to when you can't go out on a course. However, serious golfers will want an app that can track their handicaps, provide information on a particular course and help them improve their games. We hope this article provided some good options.