Android TV Apps - Watch TV On Android Phones!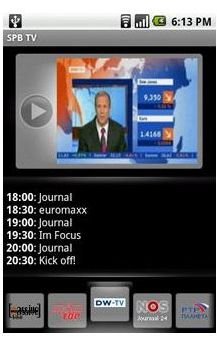 Android TV
Have you ever tried watching TV on your mobile phone while travelling by train or even from the temporary comfort of a hotel room? There is a certain liberating experience in knowing that you can take your phone anywhere that receives Wi-Fi or high-speed mobile internet, pull up a chair, and watch TV.
There are more and more Android TV apps available, some for use internationally like SPB TV, while others are exclusive to certain countries, such as myPlayer.
But it isn't just with special apps that you can watch TV on your Android mobile – simply by opening YouTube you can take advantage of hours of legal programming published there by popular international broadcasters.
Watch TV on Your Android with SPB TV
The top solution for viewing TV on your Android is SPB TV. With over 100 subscription free channels from around the world, this is the universal solution, with broadcasts streamed in many languages. Featuring channels from 17 countries and with an integrated TV guide and useful channel preview, SPB TV is worth every penny.
Most users will find that SPB TV is a vital application for anyone that does a lot of travelling – it features many news stations, which allow you to keep up to date with both political and business news internationally, as well as sports and local news.
SPB TV is available to purchase from www.spbsoftwarehouse.com/android-software/tv for just $9.95.
(Image from SPB website.)
Other Top Android TV Apps
Depending on what you want from your TV app, you can enjoy TV shows from around the world or catch up with local broadcasts that you might have missed.
The fact is, as far as decent Android TV apps go, the selection is currently limited to apps like SPB TV (and an army of poor imitators), and a couple of apps that can only be used in the UK – one of which is the myPlayer app which allows you to view content from the BBC network. MyPlayer effectively replaces the now-defunct beebplayer app, and is certainly more reliable. You can download myPlayer via the Android Market or via www.cyrket.com.
High-end Android phones such as the HTC Desire can also take advantage of special network-exclusive apps – for instance Vodafone users in the UK can enjoy Sky Mobile TV, which for an additional monthly fee can stream sports events to an Android phone. Visit www.vodafone.co.uk for more information on viewing Sky on your mobile.
There is, however, a third alternative for watching TV on your Android mobile – taking advantage of YouTube's growing joint ventures with broadcasters. Depending on the broadcast network, you can get clips or even full shows via YouTube, and watch them on the YouTube app. The YouTube app is available via the Android Market or from www.google.com/mobile/youtube.