How to Install and Use Launcher Pro for Android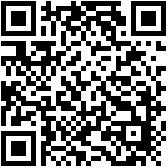 Introduction
LauncherPro is an application for Android that replaces your homescreen and application launcher. There is a current version out published by Federico Carnales with updates published regularly. LauncherPro is a free program as well, although there is an option to upgrade to the Plus version for $2.99 currently. According to Federico the $2.99 price is temporary though, and once he gets more widgets added to the Plus version that he will adjust the price accordingly. You can download this application from the Android Market by searching 'LauncherPro', from the LauncherPro website, or simply scan the QR code below with your phone's barcode scanner.
Installation
Installing LauncherPro is just like any other application except that when it is done installing you cannot launch it as you normally would. The best way to get to see what it looks like and how it acts is to simply press your 'Home' button after LauncherPro has been installed. Once you do that, a screen similar to this will pop up.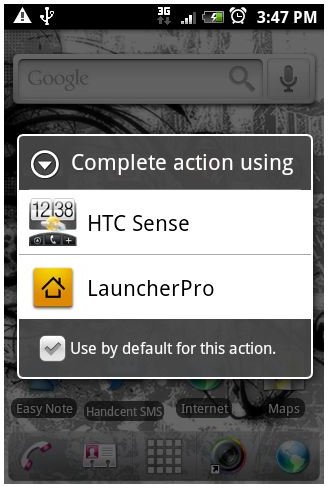 When that pops up click on LauncherPro and you will be able to start using it. You can click the checkbox at the bottom to make it your default launcher, but you may want to play with it for a little bit before doing so to make sure that you like the program. If you do make it the default and decide you want to change back, simply go to Settings > Applications > Manage Applications and scroll down to the LauncherPro tile. Click on it, scroll down, and then click the 'Clear Defaults' button or simply uninstall the app. Once it is successfully installed your homescreen will look similar to this.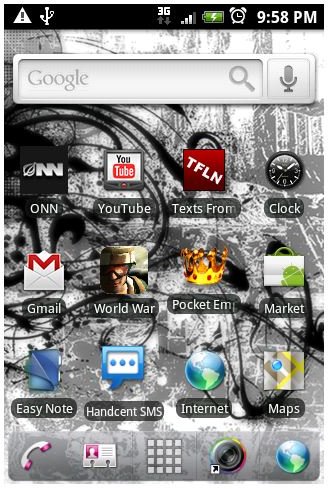 Usage
You use LauncherPro just as you would use your regular launcher program, however there are many more variables attached to this app. This first big thing to notice is the fact that your icon along the bottom now has a customizable dockbar with five buttons shown at a time. I say shown at a time because there are actually fifteen of them that you can customize to be almost anything on the phone you want including: Applications, Direct Dialing/Messaging a certain contact, Bookmarked websites, your App Drawer, shortcuts to switch homescreens, Gmail labels, Directions & Navigation, Music playlists and many more. These fifteen buttons scroll back and forth individually of your homescreens. To customize how many of those buttons there are and all the other features, simply click menu while on your homescreen as you normally would, but instead of 'Settings', click the 'Preferences' icon.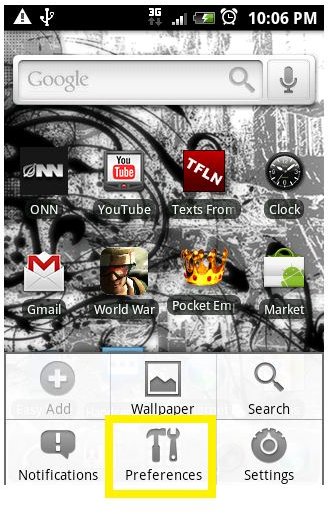 Once in that screen, you will see this menu and be able to customize many of the different features of LauncherPro.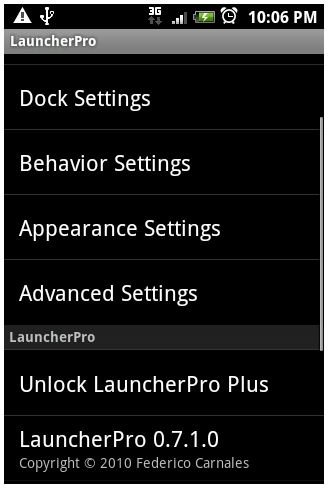 There are many great features that can be changed here. Here is a list of some of them.
Add the number of missed calls or number of messages in your Gmail account to the icon in the lower dock bar.
Customize the number of home screens anywhere from 1 to 7.
Hide apps from your app drawer.
Change the number of rows of icons on the home screen or in the app drawer.
My personal favorite is the 3D appdrawer, it flies your app drawer in and gives it a really neat scrolling effect as seen below.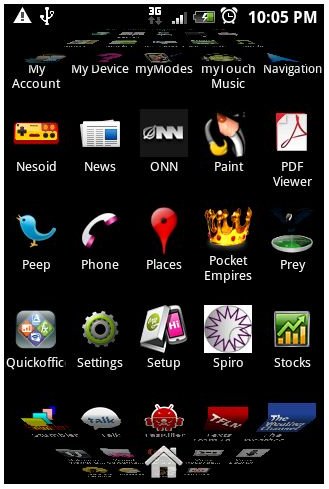 LauncherPro is a great replacement to the stock launcher app that anybody is sure to enjoy!