Top Android Fitness Software: Apps to Monitor your Fitness and Health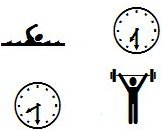 Android Apps to improve your life
Android apps can help you in many ways, from staying in contact, staying on top of your schedule, having fun - and staying healthy. This selection of Android apps can help you stay fit, eat well, keep track of your calorie intake and heart health, and even stay on top of emergencies.
With the right Android app, you make not only make your life easier, you can make it better. While these apps can let you track your fitness and workouts, many of them go right to the important issue involved in staying healthy- your weight. Calorie counters, food diaries, and access to recipes via your phone.
And at the end of a long day, your Android phone can help you relax from the stress of - everything.
Applications to help you train
CardioTrainer Application Review For Google Android. This fitness trainer offers to track your exercising, your pace during the exercise, and calories burned. As well, you can compare how you did with earlier workouts. Feeling competitive? Who better to beat than your own
record. Record your achievements, and see how close you are to meeting your goals.
YourSport Pro Review - A Personal Trainer For Google Android Phone. Want to exercise regularly? YourSport Pro has a collection of 38 exercises for different areas of your body, and also can set up your own exercises. Keep track of an exercise profile for yourself, and also track the exercise programs of your friends. Your own phone trainer will act as your personal coach, and keep you on track through your routine. When you are finished, you get a mental boost with the total calories you just worked off, based on the information from your profile. The reviewer did point out that not all directions for the exercises are easy to follow.
images from webdings and wingdings character fonts
Eating healthy with your Android's help
Review: Calorie Counter For Google. This Android app helps you before you start cooking- by helping you track the calories of the ingredients for recipes you want to try. It also contains the calorie values for fast food restaurants, and chains as well as supermarket brands of most foods. Wondering which size latte at Starbucks will fit in your food budget for the day? Pull out your phone. You can also keep a running total of your calorie intake.
Cooking Capsules for Android Reviewed: Recipes and Instructions. This app gives you recipes from many cuisines- some of which routinely

cook food that is healthier than our normal diet. While you can read the ingredients and recipes on your phone, it has a bonus,. Videos of the recipes are available, so you can follow how to create your culinary masterpiece step by step- and note how far you have completed, so you neither repeat nor leave out any ingredients and directions.
images from webdings and wingdings character fonts
Applications to help keep you healthy
Review: Absolute Fitness For Google Android. This app pulls together a number of the features in other apps in this review. Food consumption, comparisons of your workouts across time, how effective your exercise regime is for you, and - are your day to day decisions making you a healthier person - or not.
.
Can your Android really help you sleep better?
Sleepy Time For Google Android is an app that lets you put yourself to sleep with natural sounds from your phone. The easy to use application allows you to select the sound to help you relax and sleep, and then set a timer for the length of time you want your phone to play the sound. A reverse snooze bar effect allows you to stop the nature sounds whenever you want. Sounds that help your body relax promote restful sleep, and leave you ready to face the next day.
Night Stand App Review For Google Android. A Digital Clock. This app isn't as obviously health oriented - but if you need to set an alarm to get up for that early morning run, or remind yourself you had planned to visit the gym during that free hour in your schedule, this digital clock and alarm can be essential. Active reminders can be as useful as you let them be, and if you want reminders to help you keep your health on track, this app may be what you need.
In case of emergency, contact….
Life360 Android Review: Track People Affected by Natural Disasters This medical app for the Android phone is one of the more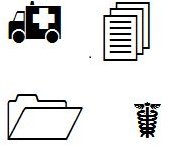 intuitively useful apps. Live in LA or any other likely hazardous area? Get notified of mudslides, wildfires- and if you hadn't noticed - any local earthquakes. Are you planning to evacuate? Let friends and family know you are leaving the disaster zone, so they don't need to worry. Track your friends still in the emergency zone, and make sure they are up to date on conditions- and know the best exit route from their current location.
You can also the app to send updated medical information and health records to emergency workers, if the situation warrents it. Allergic to penicillin? Your phone can let the EMT see the details and what meds they need to avoid.
images from webdings and wingdings character fonts