What are the Best Apps in the Android Market?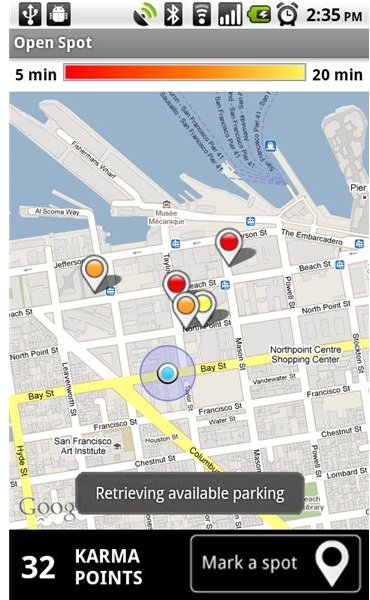 Open Spot
Open Spot is a pretty cool Android app that lets you share parking spots that you've just vacated to other Open Spot users. Developed by Google, Open Spot is definitely useful during peak hours when you're in a rush to get into a meeting but need to find a parking slot for your car first. Using this app, you can immediately spot nearby parking slots which are available. A cool feature of this app is the "karma points" which you earn every time you mark open spots. This app runs only on Android 2.1 and 2.2.
Download Open Spot.
MSpot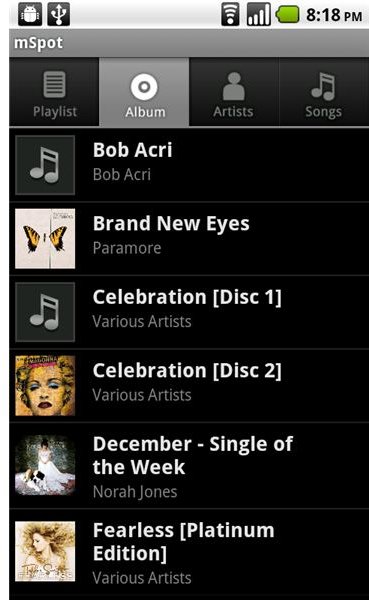 mSpot is a pretty simple Android app that lets you access your music collection which you've uploaded to the mSpot cloud using your Android phone. To download music files, you need to install the mSpot desktop app. Then after installing the app, you can start uploading your music files. The mSpot Android app's interface is dead simple as well and is similar to the default Android media player. Without the bells and the whistles this app does what it does well - lets you access music files from your mSpot account and play them on your Android phone.
APN Droid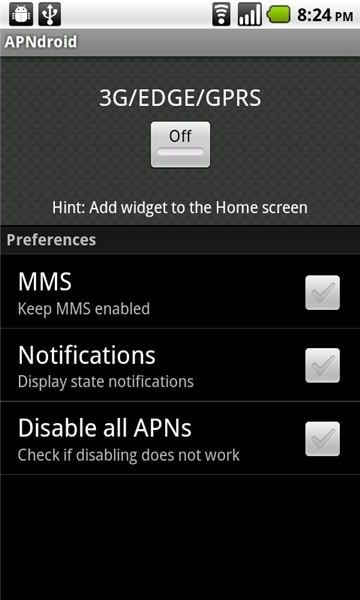 Another simple and yet useful app, especially if you incur big data charges. APN Droid lets you turn on/off your Android phones mobile settings easily, preventing your phone from connecting to the internet over 3G/EDGE/GPRS. Not only does it save battery life but it saves you from incurring unnecessary data charges as well. What's cool about this app is that you can add a widget to your Android phone's home screen so you can quickly turn on/off your phone's 3G/EDGE/GPRS settings. You can also disable all APNs that your phone's network is running on and disable notifications while keeping MMS enabled. Since it can save you money and extend the battery life of your phone this is one of the best apps in the Android Market.
Download APN Droid.
Meebo IM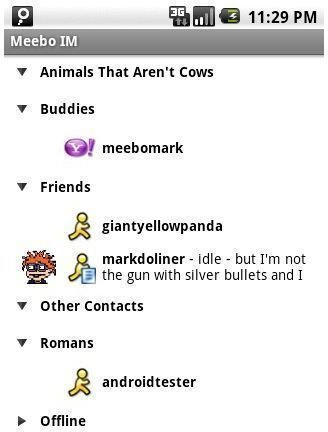 Here's another Android app that probably needs no further introduction - Meebo IM. It's one of the most popular IM clients. For its Android iteration, Meebo IM lets you connect with your Meebo ID as well as your IM accounts on AIM, Yahoo, Facebook, Windows Live Messenger, MySpace, Google Talk, ICQ and Jabber. If you have accounts in any, or all of these IM clients, you'll want to have Meebo IM on your Android phone.
Download Meebo IM for Android.
Handcent SMS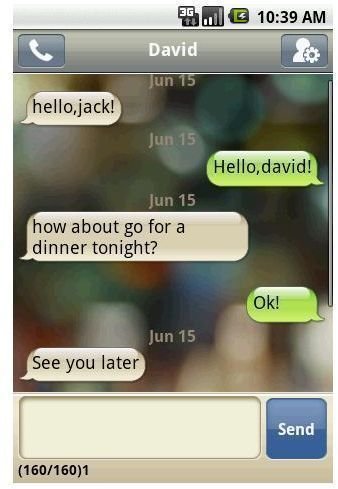 Most users do not like the default Android phones' SMS app. Thankfully there's Handcent SMS an MMS app offering a very good alternative. This Android app fully upports SMS and MMS including attachment of picture, movie and audio files. It features a beautiful user interface, theme and conversation bubble style. It lets you set different ringtone, vibrate options, LED light, background, signature and bubble style for different people. These and other great features makes Handcent SMS one of the best apps in the Android Market.
Download Handcent SMS.
Spotify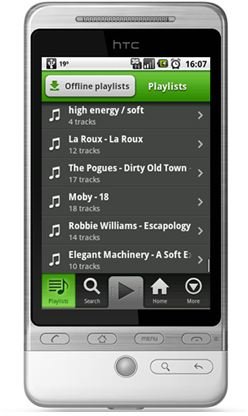 If you're a Spotify Premium member, you'll want to have the Spotify app on your Android phone. The app lets you listen to music whenever you like by streaming it over Wi-Fi or 3G. It also allows you to store your playlists in offline mode. The app also automatically syncs to your Spotify app on your computer. To stream music, your phone must be connected online.
Download Spotify for Android.
Slidescreen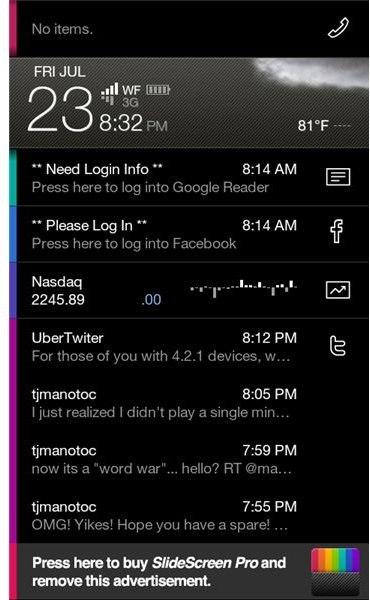 Want a highly functional and useful homescreen for your Android phone? Slide Screen app for Android will let you do that. What the app does is to replace your current homescreen displaying app widgets with a new homescreen displaying various mobile stuff that you usually check out on your phone. These could include your Twitter timeline, SMS Inbox, Weather widget, Phone Call registry, and more. The homescreen is transformed into a colorful list of these mobile features. And you can easily check out the information by simply tapping on them from the homescreen. If you want quick access to this mobile information, you'd be better off using the Slide Screen app for Android.
Download Slide Screen for Android.
Gesture Search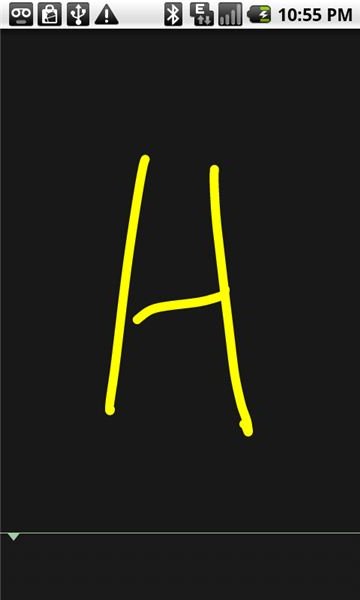 The last of the Google-developed Android apps goes by the name - Gesture Search. As you can guess by the app's name, this Android app lets you search for anything on your Android phone simply by drawing alphabet gestures on your phone's screen. It lets you search for contact, bookmark, application or music track. Simply enough, Gesture Search for Android is a fast and fun to use app.
Download Gesture Search.
Runtastic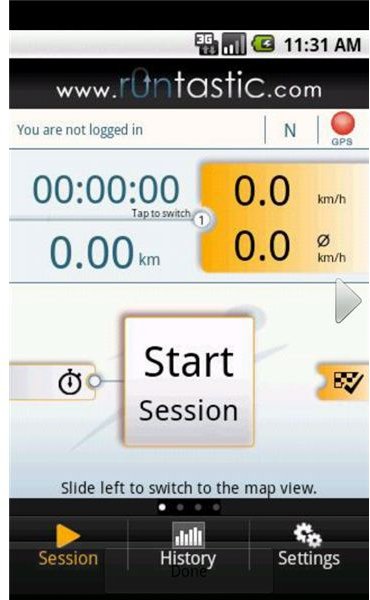 Runtastic is a great sports app for Android, available in both free and premium paid versions. Both versions give you more than you need from a sport-related, physical fitness app. Runtastic lets you track distance, time, speed and pace, display your route on the map, as well as share your running activities with your friends. The paid version adds some more functionality such as voice feedback for your activities and the facility to create your own running workout. This app will be most useful for runners, both professional and enthusiasts.
Download Runtastic for Android.
Layar Reality Browser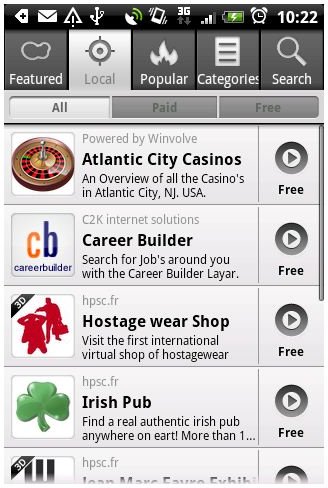 Are you into augmented reality stuff? Well, here's a cool app for your Android phone - Layar Reality Browser. To put it simply, this app lets you see the world from a different perspective - it lets you see what you could be checking out in the world. By using your location info and the camera, you can get an overlay which highlights things worth checking out wherever you are.
Download Layar Reality Browser.
This post is part of the series: Top 50 Best Android Applications
This series covers the top 50 best Android apps available for your Android phone.