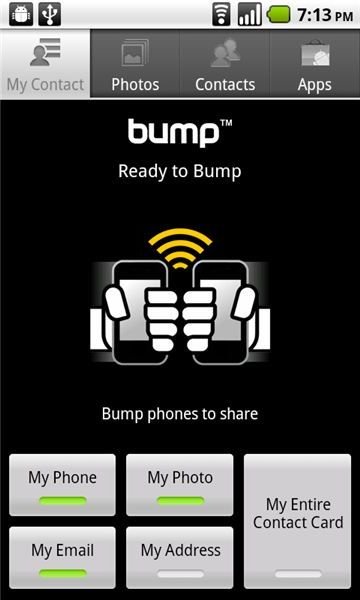 Bump for Android
Bump became an instant hit in the iPhone App Store when it become the 1 billionth app downloaded. But other than this accolade, Bump is a pretty cool mobile phone app. For its Android version, Bump makes it easier for your to share photos, contacts and apps with other people. How? Just by bumping your phone together. Of course, both phones have to be connected via Wi-Fi to make the app work. Now, here's the best part - you can use Bump installed on an iPhone and Bump installed on an Android app to share photos, apps, and contacts from between these two phones.
Download Bump for Android.
MLB.com at Bat 2010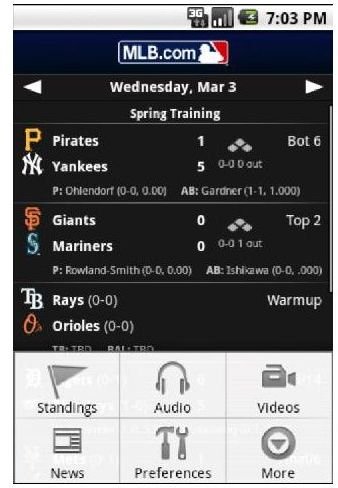 If you're an MLB fan, this Android app is a must download for you. The app gives you daily MLB fixtures including live, real-time box scores and player stats, game highlights, news, team standings, live regular season and postseason games and more. The live video provided by the app runs decently over 3G or Wi-Fi. (Price: $15.00)
Download MLB.com at Bat 2010.
Double Twist Player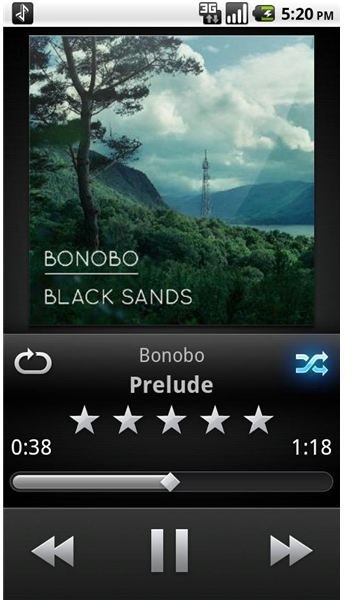 DoubleTwist media player app for Android is still in beta. Already, this media player is one of the top Android apps and the developers want to push it further. Currently, the app provides a simple, straight-forward media player interface. But what makes this app great is the accompanying desktop app that you can sync with the Android app. Others tout it as an iTunes for the Android platform for it allows flawless syncing of your music and videos from your Android phone to your computer. I've tried this and was very impressed. Hopefully, more features will be introduced to future updates of this Android app.
Download DoubleTwist for Android.
Qik Video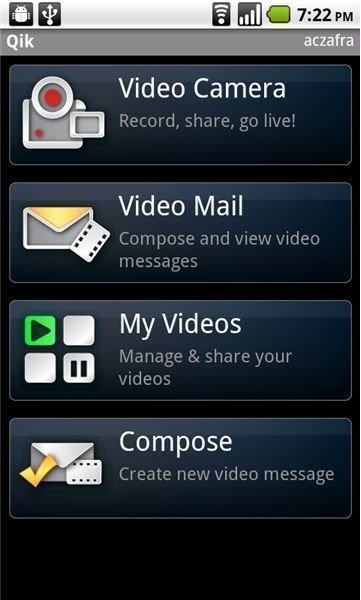 Qik is a nice video recording app that lets you easily broadcast your video live over Wi-Fi or the 3G network privately to your friends and family or publicly to your Facebook, Twitter or even YouTube account. What's good about this Android video app is that you can easily switch between the public or private settings whenever you want to. Its video recording capability produces pretty decent video but streaming it live will deteriorate this quality depending on the speed of your Internet connection. Still, Qik is a worthy app to have on your Android phone.
Download Qik for Android.
Mobile Package Tracker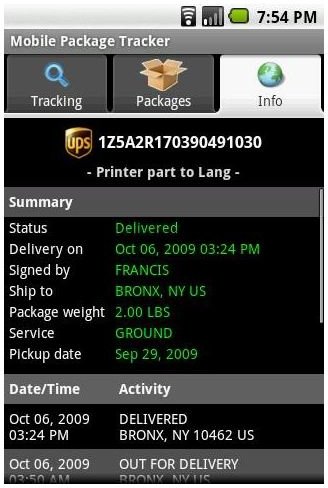 If you're like me and you often shop online, one of the most daunting problems that you've probably encountered is tracking the shipment status of your package. Now, the days of refreshing your computer's browser to find out the current status of your package are finally over. You can now do this on your Android phone without opening a new browser window. This app tracks FedEx, DHL, GlobalMail and more. It has an auto notification feature so you'll know if an update has been posted on the status of your package. You can also set the app to send you notifications via email on the whereabouts of your package and more. (Price: $1.99)
Download Mobile Package Tracker.
iReader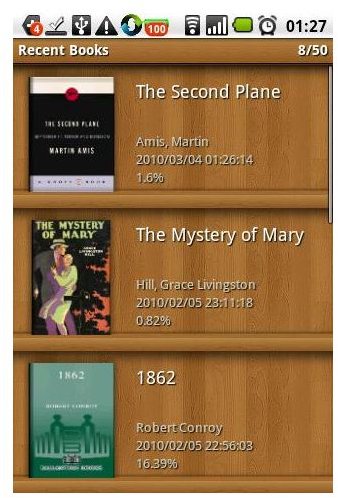 iReader is a pretty good ereader app for Android released way ahead of Kindle, Kobo and other Android ereader apps. It supports many e-book formats including text, chm, umd, pdb as well as image files. The app supports customized font sizes, colors and styles, background color or image, backup and restore your history and preference, support auto-detect encoding, simple file operations, full screen mode and more. It's a pretty simple, straight-forward ereader that gets the job done pretty well. Unfortunately, the developer has stopped developing this app for a while now due to a busy schedule but promises to continue working on it later on. (Price: $1.99)
Download iReader.
Find My Phone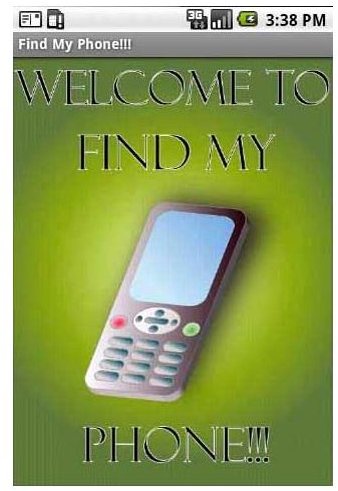 If there's one useful app you need for your Android phone this has got to be it. You never know when you're going to misplace your phone, we all do, at some point in time. So when it happens to you this app will help you find it. All you have to do is send a simple text message and your phone's volume will be turned all the way up, helping you locate where you last placed it. (Price: $0.99)
Download Find My Phone Android app.
EStrongs Task Manager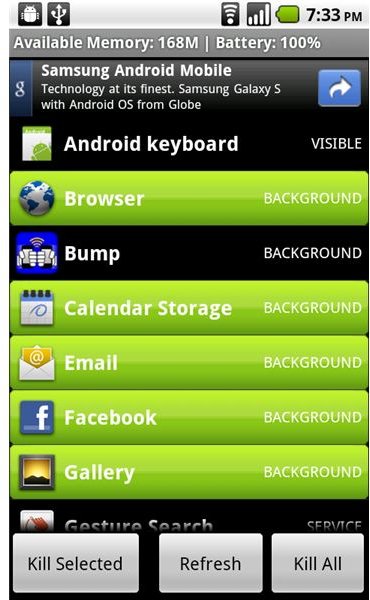 Most Android phones or any phone with a large display screen, especially in bright resolution, is power sapping. So at some point you'll want to have an app that will let you easily kill apps which are running on your phone. EStrongs Task Manager app for Android pretty much answers this need. It lets you kill all processes running, uninstall apps, as well as specify a list of apps that it should avoid killing. The app also lets you add a widget to show memory and processes info as well as show battery info on the title bar of your Android phone.
Download EStrong Task Manager.
Shopping List Plus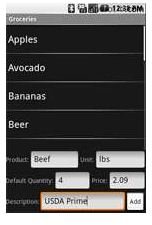 If you tend to forget important items whenever you're out doing your grocery, you'll certainly want a shopping list app. Here's your best bet on Android - Shopping List Plus. Quite simply, this app lets you create shopping list by typing items or looking them up from updateable lists. The app's features include - hide or show checked off items, CSB import/export facility, email lists, quantity and total cost of items, copy lists to/from clipboard, auto-complete product and renaming of lists.
Download Shopping List Plus.
Aldiko Reader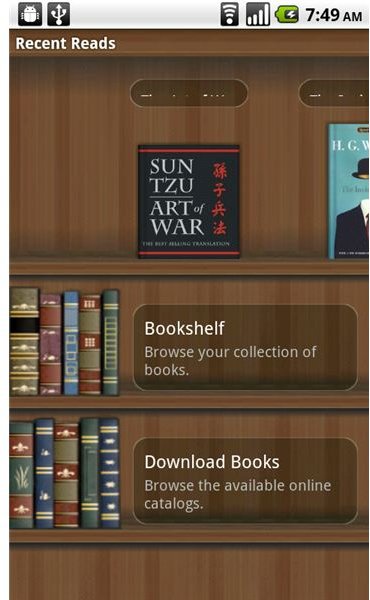 If there's no Kindle for Android, Aldiko Reader would have been our best ereader app for Android. Aldiko is a great ereader app that can put Kindle for Android to shame with its great features and overall interface. The app lets you seamlessly download thousands of books to your phone, explore extensive online book catalogs, discover book reviews, and search hard-to-find books that you've been looking for. It allows you to organize your ebook collection intuitively, edit book's detail information, resume reading ebooks from where you left off, and arrange your collection by tags. It gets better when you start reading ebooks as it allows you to fully customize your reading experience with full screen view, adjust font and background color, font size, margin, screen brightness as well as create your bookmark. Definitely one of the top Android apps.
Download Aldiko for Android.
This post is part of the series: Top 50 Best Android Applications
This series covers the top 50 best Android apps available for your Android phone.