Review of the MasterCard PayPass Locator App for Android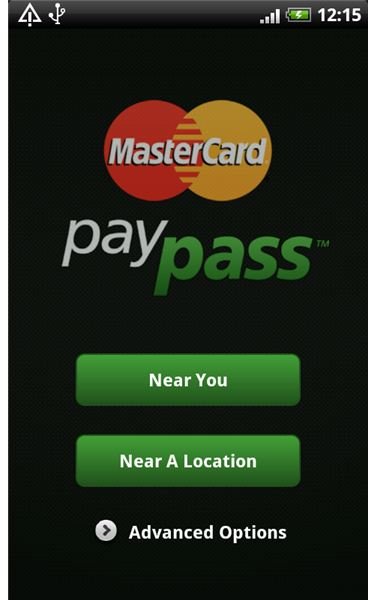 As payment technology develops we are being offered more convenient ways to pay for our goods and services. The idea behind PayPass is "contactless" payments with a PayPass card, key fob or device (such as your Android smartphone). You go into the store, pick up what you want and then tap your PayPass enabled card or device on the PayPass reader in store. There's no PIN number to input or signature required (currently for purchases under $50). It's quick and easy.
Finding PayPass Locations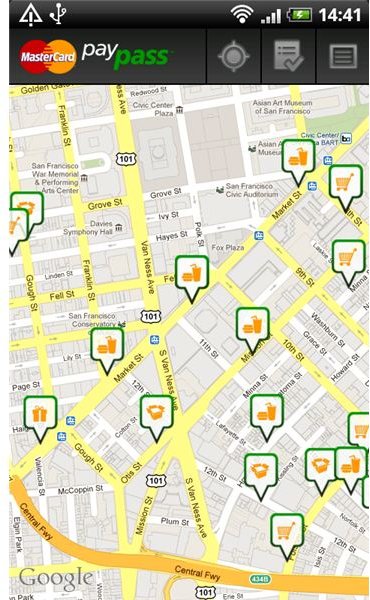 Since this is relatively new technology and it is still being rolled out MasterCard has released the PayPass Locator app in the Android Market in order to help you find businesses that accept PayPass payments.
The app is very simple to use. Fire it up and you'll be greeted by the main menu screen which offers three simple options – Near You, Near A Location and Advanced Options.
Near A Location simply allows you to select a country, address, city, postal code or airport code and the app will search that area. Advanced Options allows you to select a category filter and a business name before searching, so if you know you're after something specific you can use it pinpoint the right location.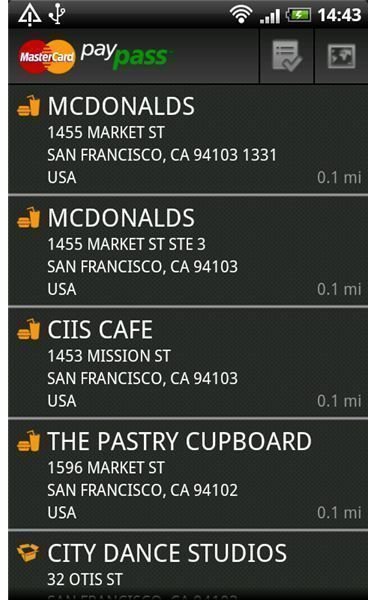 If you select Near You then the app will use your built-in Wi-Fi, network or GPS connectivity to establish your current location. If you don't have at least one of these turned on then you'll be prompted to do so. You'll then be presented with a map of your local area with all the PayPass options marked clearly. At the top right of the screen you'll find options to center the view on your current location, filter the results or display them in a list format.
The various businesses are divided into categories such as Apparel, Newsstands, Restaurants/Bars and Gift shops. Each category has its own clearly identifiable icon and you can filter the results for a specific category if you want to.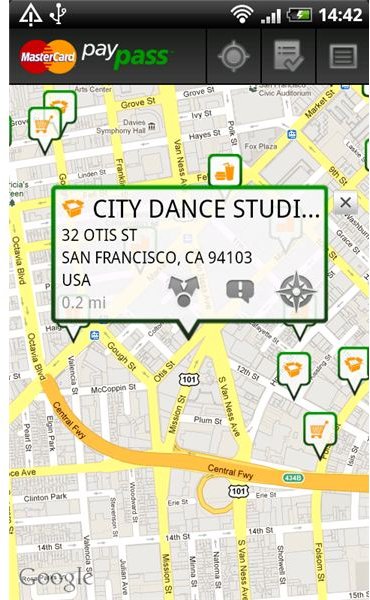 To have a closer look at your options simply tap on the icon for a particular business. The pop-up window will reveal the name and address of the business and show the distance from your current location. At the bottom right of the window you'll find three options. You can send the location of the business via SMS. You'll be prompted to enter the number if you select this option which isn't terribly convenient because who memorizes numbers anymore? It would be handy if this linked to your contacts instead. You can also report a problem with a highlighted location such as – it doesn't support PayPass or it is not currently working. There's also a text field in case you want to enter some specific information. The last option is to grab directions to the location and it ties into Google Maps.
Google Wallet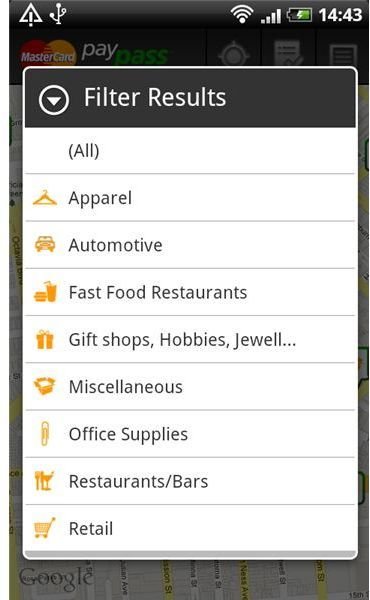 For most people PayPass is something they'll use with a plastic card. However, the service does also support Google Wallet. Currently Google Wallet only supports a couple of card types – the majority of PayPass eligible MasterCard credit cards and the Google Prepaid Card. It is also only available on the Nexus S 4G. However, more card types will undoubtedly be added and as more Android 4.0 smartphones roll out with the NFC feature it will become available on more devices. This means that you can tap your smartphone on the PayPass receiver to pay instead of your card.
The technology is accurate and has been extensively trialled. There are two bonuses for people using PayPass with their smartphones. Firstly you only need to carry your smartphone and secondly it provides an extra layer of security. If someone steals your card then they could use it with PayPass. Google Wallet on your phone requires you to enter a PIN number, so even if your phone is stolen the thief will not be able to use it to make payments.
Pros and Cons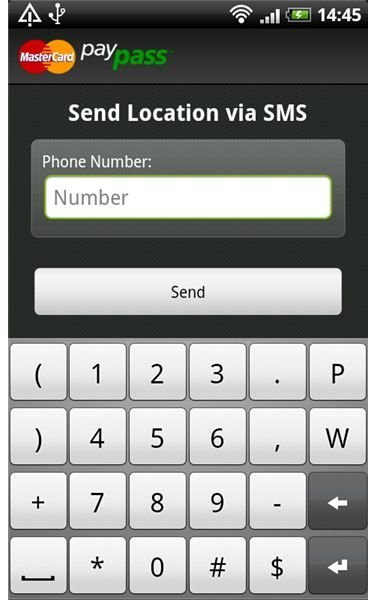 The PayPass Locator app was quick and easy to install. It took up 1.57 MB on my phone and unfortunately there was no option to move it to the SD card.
The pros are fairly obvious – the app allows you to find PayPass locations. It works well, it is relatively fast, it is well laid out, and the integration with Google Maps is great. The PayPass service itself is very convenient and it speeds up your transactions.
There are some cons too. There's no denying that it is cool to be able to tap your card or, even better, your phone to make a payment and so it's good to get an idea of where you can enjoy the functionality. However, I wouldn't choose to shop in a specific location or eat at a specific restaurant simply because it accepts PayPass.
The other most obvious problem is the fact that the service is fairly limited. Cities are generally well-covered and there are over 150,000 merchants in the U.S. with PayPass receivers. If you live in San Francisco or another major city then you'll find a wealth of options through this app, if you live in a rural or remote area then you won't find many. Of course this will change over time as the technology rolls out. MasterCard has issued almost 100 million PayPass enabled cards and devices already so we can be certain that it will expand quickly, especially with the added support of Google as they look to expand the Google Wallet service.
The Verdict
There's a definite novelty to PayPass right now and so if you are itching to try out the service then this app will prove very useful. The integration with Google Maps and the location services on your smartphone is great. I also like the fact you can search for a specific location so you can scope out the options for somewhere you intend to visit. The PayPass Locator app does exactly what it should do – it helps you to find businesses that support the PayPass service quickly and easily. The app is free in the Android Market.
References