Best NFL Apps for Android Phones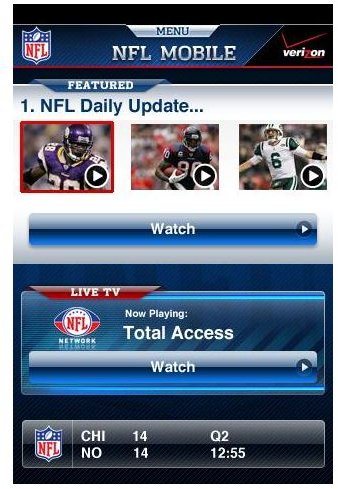 NFL Mobile
The official NFL app for Android is only available for Verizon Wireless subscribers. This is unfortunate for AT&T, T-Mobile or Sprint users, because the official NFL Android app is quite impressive. Not only can you watch game highlights and keep track of the latest news, but you can also monitor games in real time, a feature similar to NFL.com's GameCenter. Best of all, the official NFL Mobile app lets you listen to live game audio – for free. NFL Mobile also gives you access to the NFL Network's RedZone, and lets you stream every primetime game for free. NFL Mobile for Verizon requires Android 1.5 or higher.
NFL '11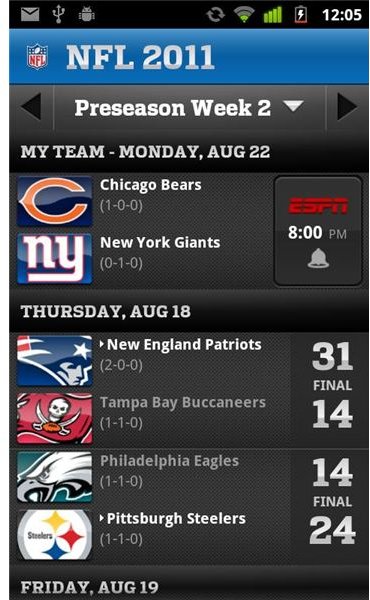 NFL '11 is an official NFL app for Android phones. Unlike NFL Mobile, which includes a few more features, NFL '11 is available for all in the Android Market, regardless of the wireless carrier. The app will likely be updated in the future, unless the NFL opens its NFL Mobile app up to other carriers. NFL '11 lets you stay up to date with the latest scores, highlights and transactions from your favorite NFL team. It includes NFL.com Fantasy Football integration, and there's also a tablet version made for Android Honeycomb. The Android app requires version 1.6 or higher. Unlike the NFL Mobile app for Verizon subscribers, NFL '11 does not let you watch games online or listen to live audio.
NBC Sports Talk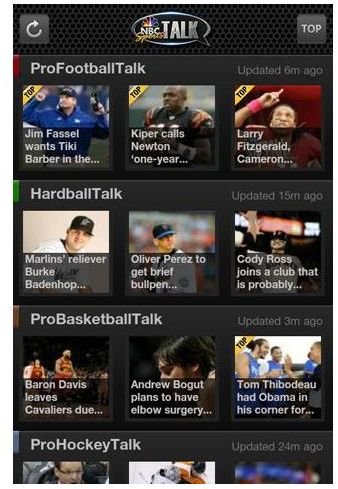 The NBC Sports Talk app is the official Android app of the popular sports blog, ProFootballTalk. PFT is read by millions of users every week, and is considered one of the best sources for breaking news, opinion and rumors around the league. NBC Sports Talk, however, is a basic Android application – it doesn't provide access to media, such as audio and video. Instead, it's built for reading. NBC Sports Talk requires Android 2.1 or higher.
NFL Sunday Ticket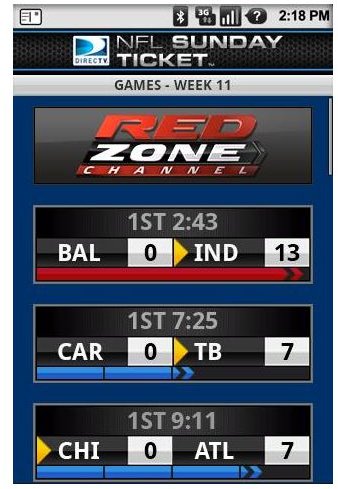 Are you a DirectTV subscriber with NFL Sunday Ticket access? You can now watch all the games on the go with the official NFL Sunday Ticket Android app. Users without a subscription, however, will not find much use for the app. The NFL Sunday Ticket app integrates the features found on the desktop version, producing a quality live stream of whichever NFL game you want to watch. NFL Sunday Ticket requires Android version 1.5 or higher.
NFL Game Pass Mobile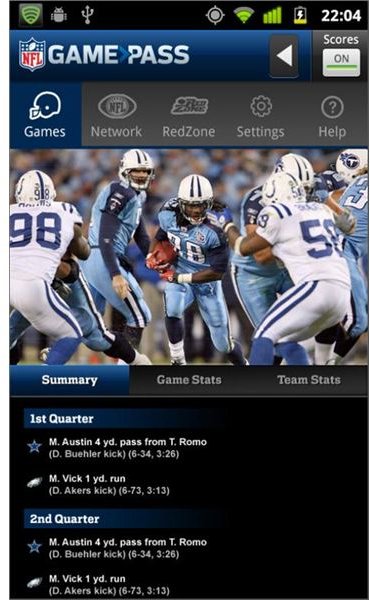 NFL Game Pass is an online subscription service that allows users to watch any NFL game via an online stream. It's available on NFL.com. Unfortunately, Game Pass is not available in the United States. Nevertheless, it's a fantastic resource for NFL fans temporarily or permanently overseas. The official NFL Game Pass app for Android brings most of the features of the desktop version. The app requires Android 2.1 (Eclair) or higher.
NFL.com Fantasy Football 2011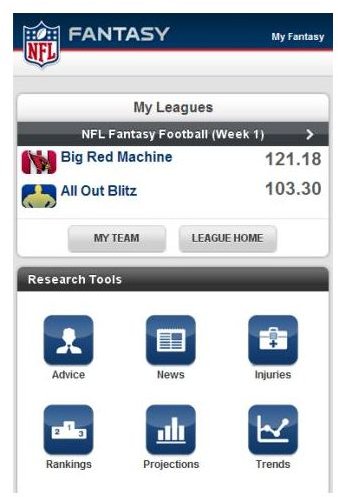 Do you play fantasy football on NFL.com? If yes, download the official Android app to keep track of your players' performance throughout the 2011 NFL season, and beyond, providing the app is updated. Not only does the official app let you monitor performance, it lets you edit your starting fantasy lineup and make other roster moves. You can perform most of the functions of running a fantasy football league from your mobile phone with this Android app. Although some of its features are integrated into NFL '11 and NFL Mobile, the specialized fantasy football app is more comprehensive. The app requires Android 2.1 (Froyo) or higher. This app is geared toward fantasy football enthusiasts, and does not include video highlights from around the league.
NFLRUSH Pick 'Em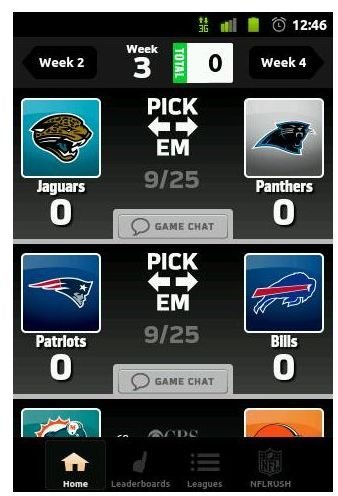 The official NFLRUSH Pick 'Em app is designed for users of NFLRUSH, the service offered by NFL.com that lets you pick weekly winners and losers. The app lets you communicate with the NFLRUSH community and includes a chat feature. It also keeps you updated with the latest scores, to give you an idea of how you're faring against your buddies. The NFLRUSH Pick 'Em app does not include video highlights or live streams.
ESPN ScoreCenter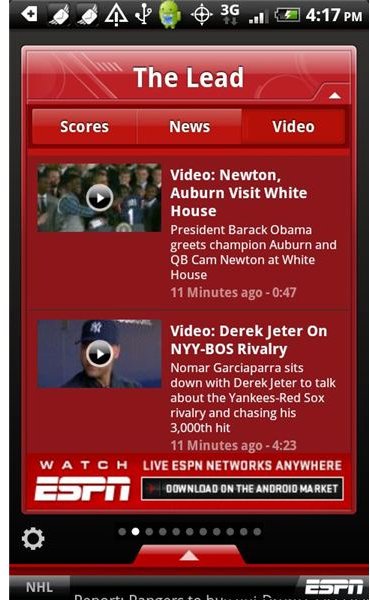 The official ESPN app for Android integrates most of the features found on ESPN.com's ScoreCenter. The app is feature rich, letting you follow your favorite team on game day and throughout the week, with news, roster moves, statistics and scores. ScoreCenter also lets you access the same data for other leagues, including MLB, NBA, MMA and Formula One, making it perfect for multi-league fans. The app requires a minimum Android build of 2.1 (Froyo). The app, unfortunately, does not broadcast live games.
References