Best Android Features You Won't Find Elsewhere

The fanboy wars over mobile platforms seem to be an inevitable feature of the smartphone landscape. They provoke ridiculous arguments by hopelessly biased fans of specific platforms – often ignorant of what is being offered by the competition. It shouldn't really come as any surprise that fans of the various platforms attack each other on forums and in comment sections across the web because many of the top people at these companies are equally bitchy and immature when it comes to arguing their point. Take a look at the Google vs Microsoft slagging match for example.
As smartphones grow in popularity and the platforms develop they are actually becoming more and more similar. There is a two-way transfer of ideas on every platform. This is purely and simply based on what people want. Apple fans tend to argue that everyone steals ideas from Apple but the new notification system looks borrowed from Android and iMessage is pretty damn similar to BBM. The truth is everyone copies everyone in order to produce a better experience for us – the end users. That's the main reason I get sick of the constant patent battles in the courts, they are blocking this kind of development and lining the pockets of lawyers in the process – that's a double dose of suckage.
Now, I have tried all of the major platforms – iOS, BlackBerry, Windows Phone, Symbian and Android, plus a few more besides. I can honestly say when it comes to smartphones that Android and iOS are way ahead of the competition and Windows Phone is working hard to catch up (especially with the recent Mango update). My favorite platform right now is Android and I thought I'd explain why.
Widgets and Customization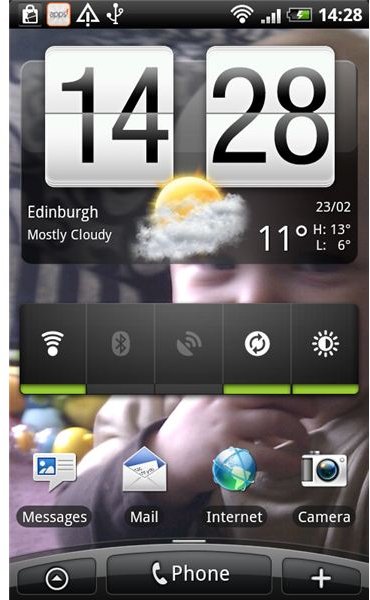 I use widgets every day. They are awesome. You can have the information you want on your home screen. There's no need to start up an app to find the weather forecast, check your to-do list or play some music – you can just use a widget. You don't have to delve into any settings menu to turn Wi-Fi on or off – you can just use a widget. From a user friendly perspective widgets are great and I'd miss them if they weren't there.
This feeds into customization as well because I can have whatever widgets I want and place them wherever I want on my various home screens. Everything I need to access on a frequent basis on my smartphone is a simple swipe away. I rarely have to bother looking through the app list.
I can also have the exact look I want with Android. I honestly don't understand why customization is so limited on other platforms. Third-party launchers allow you to do all sorts of things – you don't even have to root your phone.
Free Apps
There's no denying that most Android app are garbage. The lack of quality control in the Android Market can be a frustration but it also leads to greater choice. More importantly if I want an app for a specific purpose on Android I can almost always find one that does the job for free. Even better you'll find a lot of apps and games that cost money on iOS, BlackBerry or Windows Phone are free on Android. They might be ad supported but for me that's a fair trade. Android has more free apps than any other platform.
Web Browsing and Flash
The Android Browser isn't perfect but it offers the best web browsing experience you're likely to find. It is fairly fast, you can load full web pages with all of the content and Android supports Flash. Whatever you may say about the future, right now Flash is still in heavy use on the Internet so having a smartphone that can handle it is useful.
Easy Syncing and Mass Storage Mode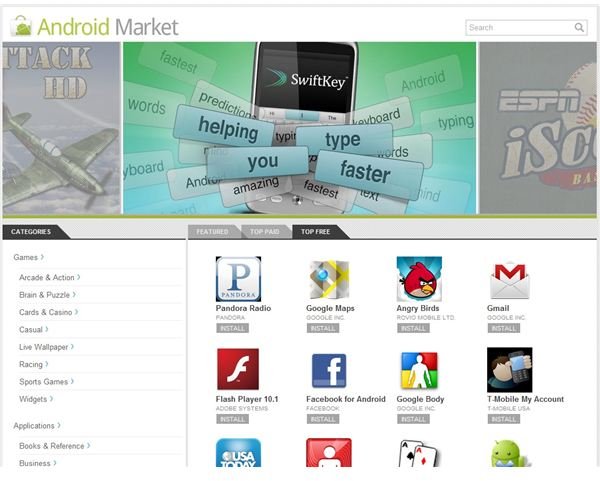 I don't like syncing software. I don't want to have to have some dedicated smartphone syncing program on my PC. Whether it is iTunes or BlackBerry Desktop Manager or even HTC Sync there are always problems. With Android I can go into mass storage mode and drag and drop whatever I want. I can also use simple apps like Awesome Drop to drag files into my browser and have them transfer wirelessly to my smartphone. I can even browse on the Android Market on my PC now and queue up apps and games for wireless transfer to my phone. It's simple and easy.
Navigation and Voice Search
The fact that Android has integrated Voice Search and Google Maps is extremely handy. So many of the really good options for navigation on other platforms are premium services, but on Android you can get accurate directions for free. It's very easy to use and it works.
I realise the new iPhone 4S has Siri and it does look good, but I've been enjoying the ability to ask my phone to do things for well over a year now. It also works on any Android phone – it's not confined to one specific model.
Removable Storage and Battery
If I want to, then I have the option to remove my battery or my memory card from my Android smartphone. I can upgrade the memory, move files and carry a spare battery. I can buy a 32 GB card for under $40 yet if I want a 32 GB iPhone 4S it will cost me $100 more than the 16 GB variety.
If my battery runs out when I'm out and about I can just slot a new battery in. It's simple, easy and convenient.
More Android Pros
There are a lot of other plus points for the Android platform such as custom ROMs, a wider choice of hardware, and a wider choice of carriers and plans. If you really want to maximise the efficiency and automation of your Android smartphone you can use Tasker which is an awesomely powerful Android app that lets you set up all sorts of conditions for your smartphone settings.
Obviously Android isn't without its weaknesses, but for me these pros are a powerful reason to stick with the platform. What do you think? Post a comment and let me know.
References